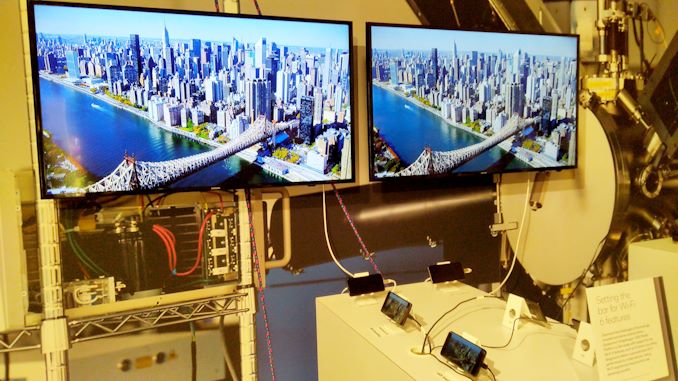 While the headline features of the new Snapdragon 855 Mobile Platform might be its 5G connectivity, or the Cat 24 LTE modem, or the new CPU/GPU combination, further down the list is the fact that the S855 chip is also 802.11ax-ready. Under the new branding, this is 'Wi-Fi 6'. Qualcomm had a demo to show it in action at the Qualcomm Snapdragon Summit.
All In For Wi-Fi 6, the new name for 802.11ax
Without requiring an extra chip, the new Snapdragon 855 SoC will enable the next generation flagships to be 802.11ax ready. This is the update to the popular 802.11ac standard, enabling higher throughput with similar hardware. A big point where 802.11ax wins is in congested networks: when multiple devices require substantial bandwidth, such as 4K/8K video, the new SoC supports 8 spatial streams concurrently, allowing it to perform better in these congested network situations.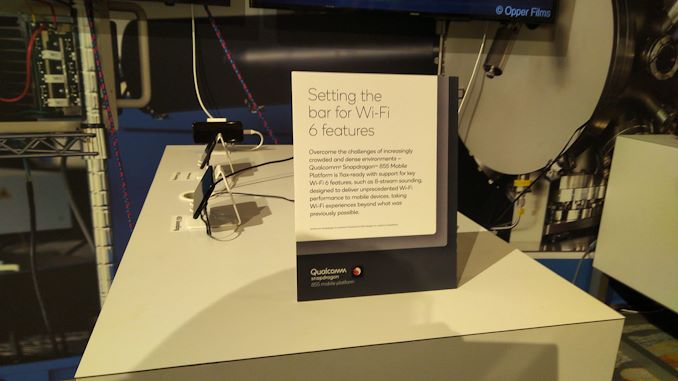 The demo Qualcomm had at hand was straightforward – an 802.11ax access point with eight antennas going to three 802.11ax devices and three 802.11ac devices, each doing a form of streaming video with variable bit rates matching the available access point-to-device bandwidth. In this congested network, the 802.11ax devices had higher bit rates and therefore higher quality and fewer dropped frames.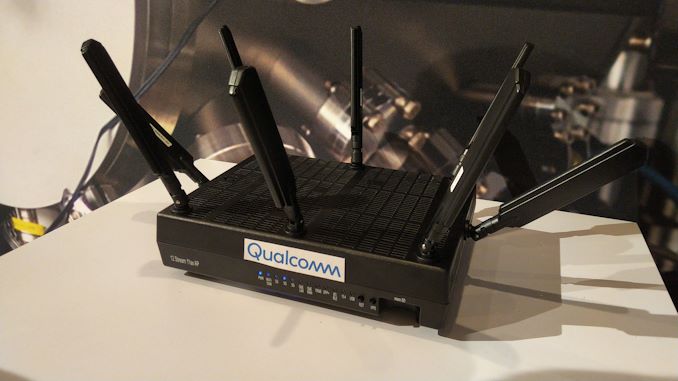 The router being used was a Qualcomm internal design, not for sale, and was interesting in the fact that it had a SFP+ connection from the cabinet into the router in order to provide the data. This likely means that even with multiple devices asking for lots of bandwidth, the backbone of the data delivery still has to be sufficient to support it.
We should point out here that the Snapdragon 855 SoC is 802.11ax-ready, which is different to being fully 802.11ax compliant. The standards are in the final phase of ratification; however Qualcomm had to stop developing the hardware at one point in order to bring it to market on time. As a result, the 855 SoC supports a subset of the 802.11ax standard, and most likely not the whole standard as it will stand.
This won't be an issue for most things, and some of our regular readers will remember when we had '802.11ac-ready' or '802.11n-ready' routers and devices hit the market before those standards were complete. Nonetheless, it will be interesting to see which smartphone manufacturers list 802.11ax support or 802.11ax-ready support.
For those confused with all the 802 numbering, the Wi-Fi Standards Alliance recently rebranded the whole lot to make it easier. Here's the conversion table:
Wi-Fi Names and Performance
Naming
Peak Performance
New Name
IEEE
Standard
1x1
Configuration
2x2
Configuration
3x3
Configuration
Wi-Fi 4
802.11n
150 Mbps
300 Mbps
450 Mbps
Wi-Fi 5
802.11ac (80 MHz)
433 Mbps
867 Mbps
1.27 Gbps
802.11ac (160 MHz)
867 Mbps
1.69 Gbps
2.54 Gbps
Wi-Fi 6
802.11ax
867 Mbps
1.69 Gbps
2.54 Gbps
To add to the mix, 802.11ay, which is the 60 GHz networking which the S855 also supports (an extra chip is required), doesn't have a number but is called Wi-Gig.