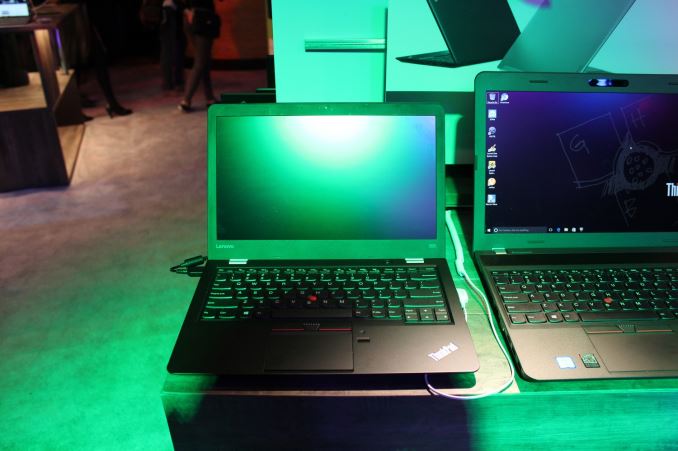 Once again Lenovo took over the Aquaknox in the Venetian hotel to show off all of its new products for 2016. Lenovo launched a big refresh for CES, with new products, and updates to existing models. As with all PC makers, the release of Skylake has necessitated a refresh of all products, giving us the chance to see what the various PC makers are doing with this chance for a refresh. We've covered the announcements already here, here, here, and here, so this will just be some hands-on time and thoughts about the new products.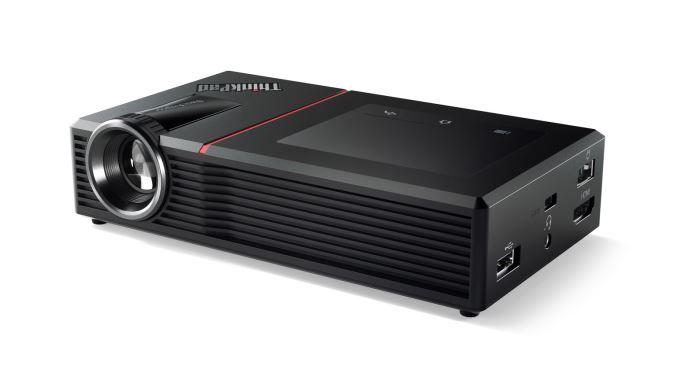 One product that I didn't cover, but got a nice demo of, is the ThinkPad Stack lineup, which was initially launched last year at CES with four devices. The original four were a 1 TB hard drive, 10,000 mAh power bank, Bluetooth speaker, and wireless access point. For 2016, Lenovo is also introducing a ThinkPad Stack Mobile Projector, which is a compact 150 lumen 720p projector, and it's a fully standalone product, with an integrated speaker, Miracast and battery for 2 hours of wireless projection. Because it's a Stack product, it can be combined with the power bank and Bluetooth speaker to give it an 8-hour projection time without recharging, with decent sound quality out of the Bluetooth speaker. The other addition to the Stack lineup is the Charging Station, which can be used to charge mobile devices either with a cable or wireless. It can also be combined with the power bank to be able to charge several devices, or a single device several times. The projector will be $400 and the charging station will be $50 when released in April.

The entire stack lineup is gaining some traction, according to the Lenovo spokesperson I was talking to. It's not inexpensive, but the modular lineup is very flexible and solidly built. The size of all of the devices makes them easy to take with you on the go, and the ability to mix and match is a big advantage. The demo I got of the projector was very slick, with Miracast providing the wireless connection. When it was docked on top of the other stack units, the Stack speaker instantly took over the duties. I could see this being a great set of tools for a mobile sales force to provide quick demos or slides to clients.
The ThinkPad lineup got a nice refresh, and many of the devices are a bit thinner and lighter than previous models, yet they also offer larger batteries in some of the models despite the reduction in weight. That's a good thing, since I did like the X1 Carbon a lot, but the battery life was far from class leading. Any improvement to that is welcome in my books. Let's start with the X1 Carbon. Overall, it would be difficult to tell the difference between last year's model and this one, but the 2016 version has lost a bit of weight and gained on battery. It has also lost the option of a touch screen display. Since this is a traditional notebook, the loss of touch should help a bit on battery life, and I found the display to have a bit of grain too it on the 2015 model. Quick inspection of the new version looks like it's better now, but we'll have to wait and see if we can get a hands-on in a location with better lighting in order to provide final judgement.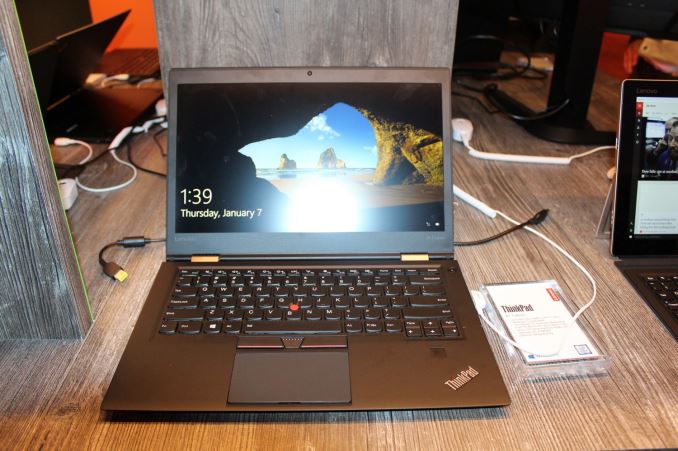 ThinkPad X1 Carbon
The 2015 T450s was one of my favorite laptops of last year, mostly due to the amazing keyboard. For 2016, the T460s moves to Skylake, and also drops about half a pound in weight, and it now comes in at just three pounds. The loss in weight is immediately noticeable, and despite the 0.74-inch thick chassis, it's almost as light as the X1 Carbon's 2.6 lb weight. The keyboard is exactly the same, which is good news. The T450s also features Power Bridge, so you can swap the rear battery out while the notebook runs off of the front battery, and the 72 Wh rear option is still available, giving 96 Wh total if you are OK with the extra thickness and weight of the larger battery.
The X1 Tablet was very nice, and I am a big fan of the 3:2 aspect ratio for these convertible tablets. The X1 line has a very nice ThinkPad style keyboard attachment, and its unique aspect is the modular accessories. As I covered in the launch news, there are three attachable modules. You can attach either a productivity module which adds over 50% more battery capacity, along with an HDMI port, USB 3.0 port, and OneLink+ for docking. The Presenter module is an add-on pico projector, and the final module is an Intel RealSense 3D camera system for scanning objects. The build quality of the X1 Tablet was very solid, and the unique kickstand lets the projector be used with the tablet as a stand for it. You can get the X1 Tablet with up to Core m7 with vPro, and there is even an LTE-A option. This is a great looking productivity tablet and hopefully we can get one in to compare it head to head with the competition in this space (read that as Surface Pro 4).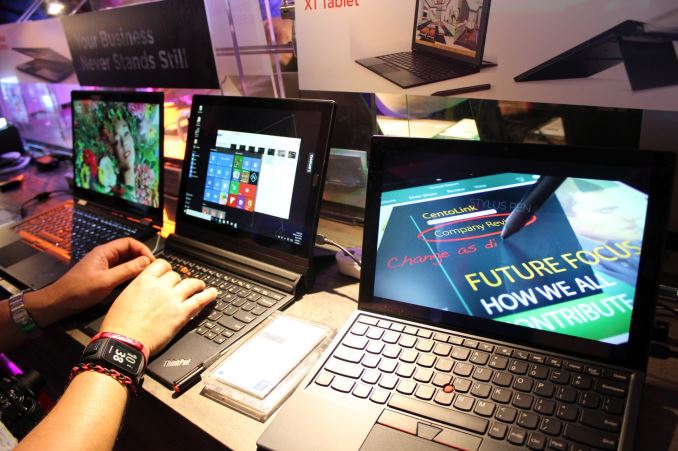 ThinkPad X1 Tablet
On the PC side, I think the star of the show was the X1 Yoga though. I'm a big fan of the Yoga convertibles, since they offer features like Stand mode and Tent mode which make them even better for some consumption activities than a true tablet, since you don't have to hold onto them. They also offer a much better laptop experience than the detachable screen convertibles due to the better weight distribution. The X1 Yoga offers the same keyboard experience as other ThinkPad Yogas, where when you rotate the keyboard around past 180°, the keys become flush with the case so they are less awkward when using it in the tablet mode. Amazingly the ThinkPad X1 Yoga is only 2.8 lbs, meaning it weighs almost the same as the X1 Carbon, yet offers the reversible display.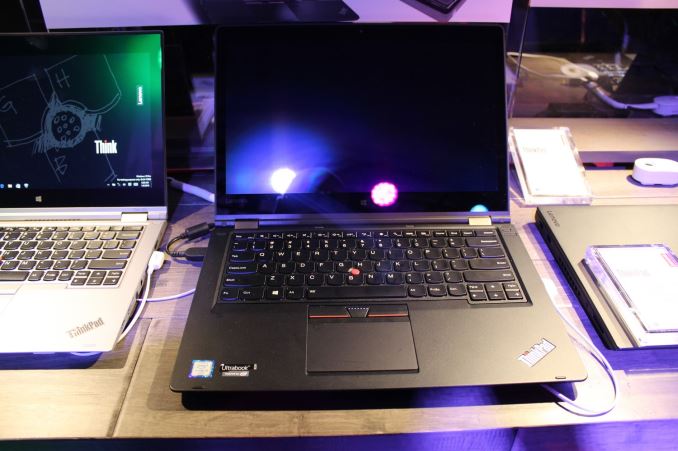 ThinkPad X1 Yoga
The standout feature though of the X1 Yoga is that it can be had with an OLED display. Lenovo had one of these available, and it truly looks stunning in person. OLED does have some drawbacks, especially power consumption on brighter average picture levels, and Lenovo has some extra software to try and lessen the blow here. They have an option you can enable to automatically dim all windows except the active window, which should help a bit, assuming you don't run Excel at full screen. They also have a setting to turn the task bar black, which should help with concerns about it burning in. OLED is in its infancy on the PC, so I think there are going to be some growing pains, but for those that like the amazing contrast available, you will want to at least see these in person. For those that are more comfortable with an IPS LCD, the X1 Yoga will also offer that.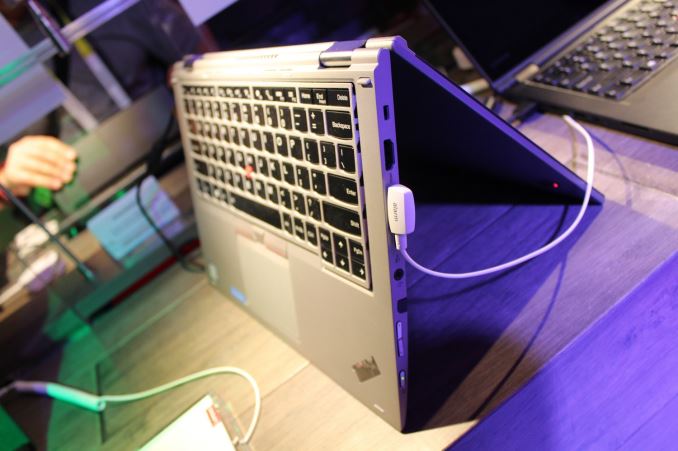 Yoga 260 showing the flush keyboard in tablet mode
I also got a quick look at the MIIX 700 tablet, which is another 12-inch 3:2 model, and a few of the larger ThinkPads as well. The new Yoga 900 was on-hand as well, and it looks like a solid upgrade over the outgoing Yoga 3 Pro. Unfortunately it keeps the same RGBW 3200x1800 display, which needs to be addressed soon since it is far from the best panel in a notebook. Lenovo also has the ThinkPad 13, which is a low cost ThinkPad branded notebook. It looks to come in around $500 with Windows 10, and it includes flash memory. There is also a Chrome OS version of this notebook.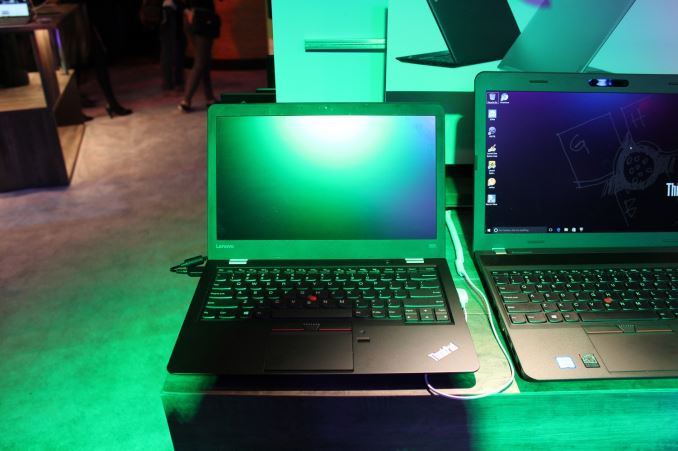 ThinkPad 13
Lenovo also launched a couple of USB-C monitors, with the ThinkVision X24 Pro and ThinkVision X1. I think these are very nice looking displays, and they are also very thin. The stand can optionally include wireless charging, and when doing the news piece I guessed that it would be Qi, but it is actually Rezence based. The prices on the displays are pretty reasonable, and they both feature very thin bezels. Some people commented on the odd looking webcam at the top, but once I saw it in action it made a lot more sense. The webcam can slide out and tilt down, which allows you to use the webcam as a document scanner. When you think about what the "Think" lineup is all about, this is a pretty smart move for a lot of office workers. Both displays looked great, and the USB-C addition allows a single cable docking solution for notebooks with the correct USB-C implementation.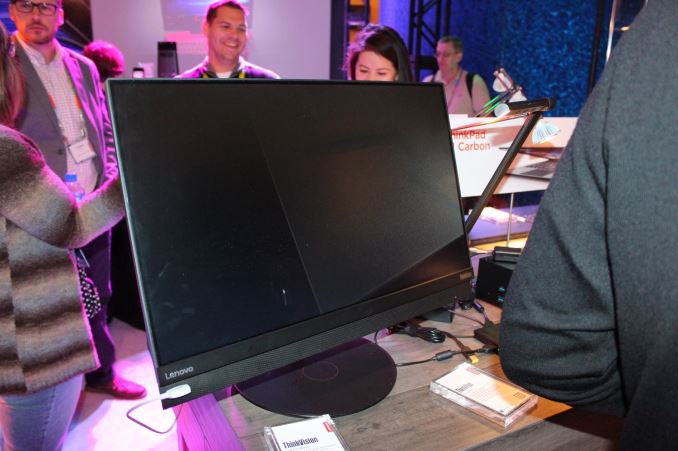 Notice the Webcam being able to be moved
I also asked Lenovo about the state of their bundled software. They had made statements about reducing their pre-loaded software in the Windows 10 timeframe, and clearly 2015 was not a banner year for Lenovo in regards to bundled software. I was told that they would be offering cleaner bundles, as well as optional fully clean bundles on ThinkPads which should help speed up business deployment since they won't need to be imaged first. Hopefully this is the case and Lenovo can step up and be a leader here.
Overall, Lenovo had a lot of new products for CES. Some were just refreshes, some were already launched, but the new products for CES were all nicely done. The X1 Yoga looks like a great convertible notebook. We will work closely with Lenovo over the coming months to try and get some of these new devices in for review, and put them through their paces.