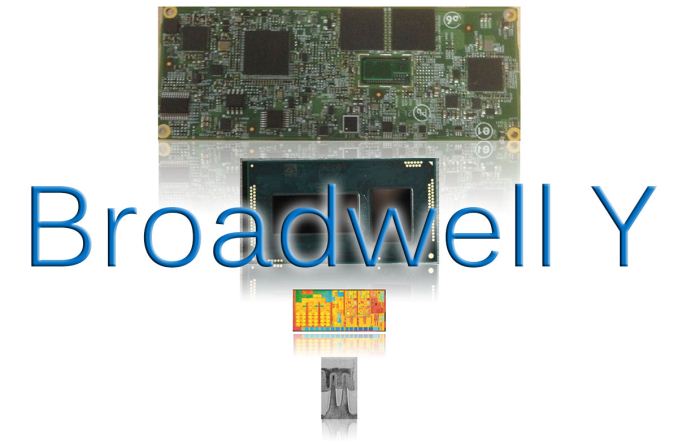 Intel has slowly been feeding us information about their upcoming Broadwell processors for a couple years now, with the first real details kicking off almost a year ago at IDF 2013. Since then, the only other noteworthy piece of information came back in March when it was revealed that socketed Broadwell CPUs with unlocked multipliers will be available with Iris Pro Graphics. Today, Intel is ready to begin providing additional information, and it starts with the Broadwell-Y processor, which Intel is now referring to as an SoC (System On Chip). We have an in-depth article on the subject, but for Short Bytes we want to focus on the bottom line: what does this mean for end users?
The big news for Broadwell is that it will be the first 14nm processor available to the public, following on the success of Intel's 22nm process technology. Shrinking the process technology from 22nm to 14nm can mean a lot of things, but the primary benefit this time appears to be smaller chip sizes and lower power requirements. The first parts will belong to the Core M family of products, a new line catering specifically to low power, high mobility form factors (typically tablets and hybrid devices). With Core M, Intel has their sights set on the fanless computing market with sub-9mm thick designs, and they have focused on reducing power requirements in order to meet the needs of this market. This brings us to Broadwell-Y, the lowest power version of Broadwell and the successor to Haswell-Y and the codename behind the new Core M.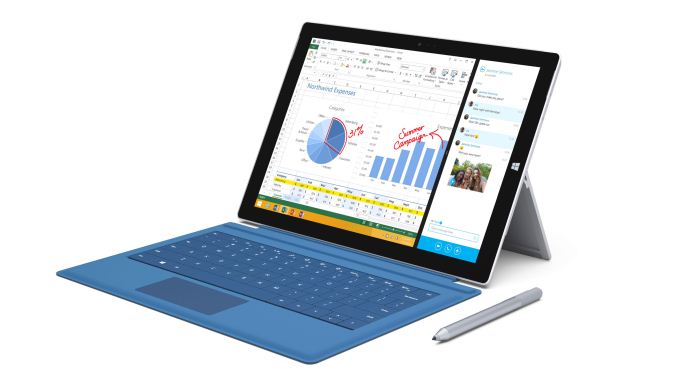 The reality of Intel's Y-series of processors is that they haven't been used all that much to date. Only a handful of devices used Haswell-Y (and even fewer used Ivy Bridge-Y), mostly consisting of 2-in-1 devices that can function as both a laptop and a tablet. For example, the base model Surface Pro 3 uses a Core i3-4020Y, and Dell's XPS 11 and certain Venue Pro 11 tablets also use Y-series parts; Acer, HP, Sony, and Toshiba also have some detachable hybrid devices with the extreme low power processors. Unfortunately, pricing on the Y-series is generally much higher than competiting solutions (i.e. ARM-based SoCs), and there have been criticisms of Intel's higher power requirements and lower overall battery life as well.
Core M thus serves marketing needs as well as technical requirements: it replaces the Core i3/i5/i7 Y-series parts and gives Intel a brand they can market directly at premium tablets/hybrids. And in another move likely driven by marketing, Core M will be the launch part for Intel's new 14nm process technology. Transitions between process technology usually come every 2-3 years, so the 14nm change is a big deal and launching with their extreme low power part makes a statement. The key message of Broadwell is clear: getting into lower power devices and improving battery life is a critical target. To that end, Broadwell-Y probably won't be going into any smartphones, but getting into more premium tablets and delivering better performance with at least competitive battery life relative to other SoCs is a primary goal.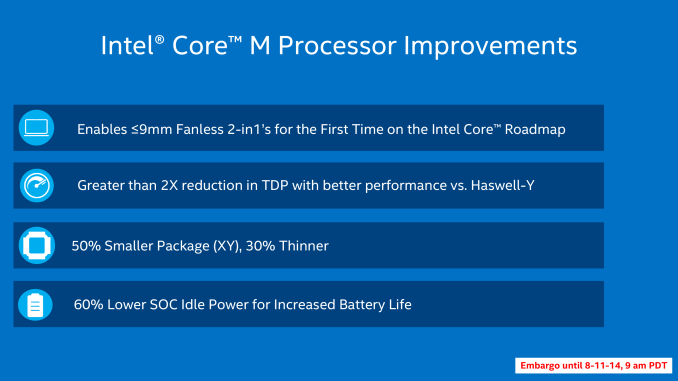 Compared to the Haswell-Y parts, Intel has made some significant advances in performance as well as power use, which we've covered elsewhere. The cumulative effect of the improvements Intel is bringing is that Broadwell-Y has a greater than 2X reduction in TDP (Thermal Design Power) compared to Haswell-Y. It also has a 50% smaller and 30% thinner package and uses 60% lower idle power. Intel points out that Broadwell-Y is set to deliver more than a 2X improvement in performance per Watt over Haswell-Y, though that's a bit more of a nebulous statement (see below). Many of the improvements come thanks to Intel's increased focus on driving down power requirements. Where previous Intel processors targeted laptops and desktops as the primary use case and then refined and adjusted the designs to get into lower power envelopes, with Broadwell Intel is putting the Y-series requirements center stage. The term for this is "co-optimization" of the design process, and these co-optimizations for Broadwell-Y are what allows Intel to talk about "2x improvements". But you need to remember what is being compared: Haswell-Y and Broadwell-Y.
Broadwell parts in general will certainly be faster/better than the current Haswell parts – Intel doesn't typically "go backwards" on processor updates – but you shouldn't expect twice the performance at the same power. Instead, Broadwell-Y should offer better performance than Haswell-Y using much less power, but if you reduce total power use by 2X you could increase performance by 5% and still claim a doubling of performance per Watt. And that's basically what Intel is doing here. Intel estimates the core Broadwell architecture to be around 5% faster than Haswell at the same clocks; specifically, IPC (Instructions Per Cycle) are up ~5% on average. Similarly, changes and improvements to the graphics portion of the processor should deliver more performance at a lower power draw. Add in slightly higher clock speeds and you get a faster part than last generation that uses less power. These are all good improvements, but ultimately it comes down to the final user experience and the cost.
Everywhere you go, people are increasingly using tablets and smartphones for many of their daily computing needs, and being left out of that market is the road to irrelevance. Core M (Broadwell-Y) is Intel's latest push to make inroads into these extremely low power markets, and on paper it looks like Intel has a competitive part. It's now up to the device vendors to deliver compelling products, as fundamentally the choice of processor is only one element of an electronics device. Being the first company to deliver 14nm parts certainly gives Intel an edge over the competition, but high quality Android and iOS tablets sell for $300-$500, so there's not a lot of room for a $100+ processor – which is why Intel has their Atom processors (due for the 14nm treatment with Braswell, if you're wondering).
Core M is going after the premium tablet/hybird market, with benefits including full Windows 8 support, but will it be enough? If you're interested in such a device and you don't already own the Haswell-Y version, Core M products should deliver slimmer and lighter devices with improved battery life and better performance. Don't expect a 10" Core M tablet to deliver the same battery life as a 7" Android/iOS device (at least, not without a larger battery), since the display and other components contribute a lot to power use and Windows 8 has traditionally been far less battery friendly than Android; still, Core M tablets may finally match or perhaps even exceed the battery life of similarly sized iOS/Android tablets. The first retail products with Core M should be shipping before the end of the year, so we'll find out later this year and early next how well Broadwell-Y is able to meet its lofty goals. And we'll also find out how much the Core M products cost.