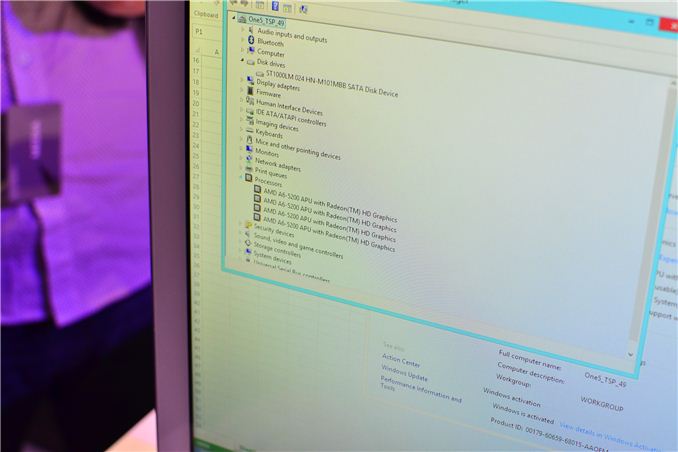 Samsung was curiously quiet on talking about specs with a couple of its newly announced PCs, and now we know why. Both the ATIV Book 9 Lite (affordable ultraportable) and ATIV One 5 Style (21.5-inch all-in-one) both feature AMD Kabini SoCs. As a refresher we're talking about four AMD Jaguar cores alongside an AMD GCN based GPU, all on a single die.
The ATIV Book 9 Lite features a 13.3-inch 1366 x 768 display, and will be available in touch and non-touch variants. The demo systems at Samsung's event had 4GB of DDR3 and a 128GB LiteOn SSD, although it's not clear if all shipping machines will use SSDs. We also don't know clock speeds at this point. In person the machine looks good and feels solid. We don't have any indication of pricing or availability yet unfortunately.
The ATIV One 5 Style on the other hand makes less of an attempt to hide the SoC vendor inside. The touch-enabled all-in-one features AMD's A6-5200 with four Jaguar cores running at up to 2.0GHz. The demo systems all featured hard drives. The 21.5-inch display features a 1920 x 1080 resolution and comes touch enabled.
The Galaxy S 4 styling makes the jump to an all-in-one relatively well. The big deal with Kabini really boils down to pricing. In my editorial on the topic I mentioned that if OEMs can take Kabini's cost savings and in turn give the end user a better overall experience (e.g. better display, storage, etc...) then AMD will have a real winner on its hands. None of the Kabini based systems at Samsung's Premiere 2013 event looked or felt cheap at all, and in some cases they did have features that I wouldn't have otherwise expected on a value machine (E.g. SSD in the ATIV Book 9 Lite). All that remains is for Samsung to deliver on the pricing front.