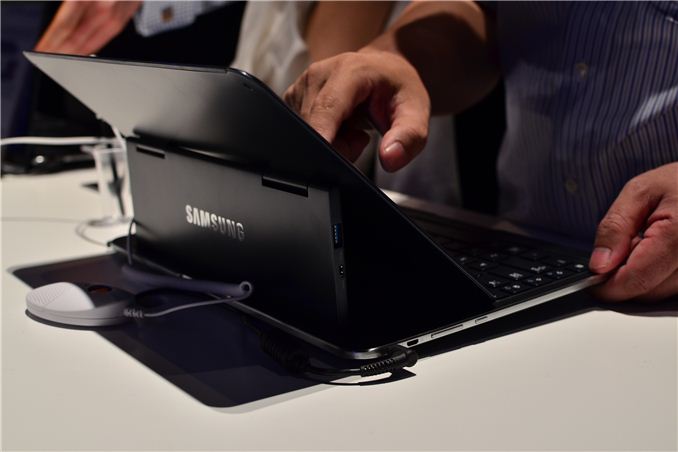 We just finished playing with Samsung's newly announced ATIV Q, a convertible tablet that runs both Windows 8 and Android 4.2.2. The display is the main attraction. The 13.3" panel features a 3200 x 1800 resolution (276 PPI). Although some of the screen shots from Samsung's presentation of the ATIV Q showed Windows 8.1 running, the demo units themselves ran vanilla Windows 8 and as a result had to rely on traditional Windows DPI scaling. I fully expect Windows 8.1 to make this 3200 x 1800 13.3" panel usable through new OS X-like DPI scaling upon its release.
Despite having to light 5.76 million pixels, the ATIV Q seemed bright indoors. The demo tablets were running at max brightness to begin with, which was comfortable (but not too bright at all). I'd be very curious to test outdoor brightness performance.
Internally the demo ATIV Q features a Core i5-4200U (Haswell ULT, dual-core + Hyper Threading, 2.6GHz max turbo, 3MB L3, Intel HD 4400). The demo systems featured 4GB of DDR3L. Powering the system is an integrated 47Wh battery.
The dual-OS functionality is what you'd expect: Android runs in a VM on top of Windows 8. Networking, storage and CPUs are all virtualized resources. Virtualization is the only way to enable Samsung's instant switching between Windows 8/Android on a single set of hardware. The switching process itself is pretty quick as Android is treated like another application running on Windows 8. Performance within Android seemed good enough, the UI wasn't butter smooth however. I'm not all that sure about the benefits of running Android on top of full blown Windows 8, but the option is there. There's even a dedicated key on the keyboard to switch between OSes.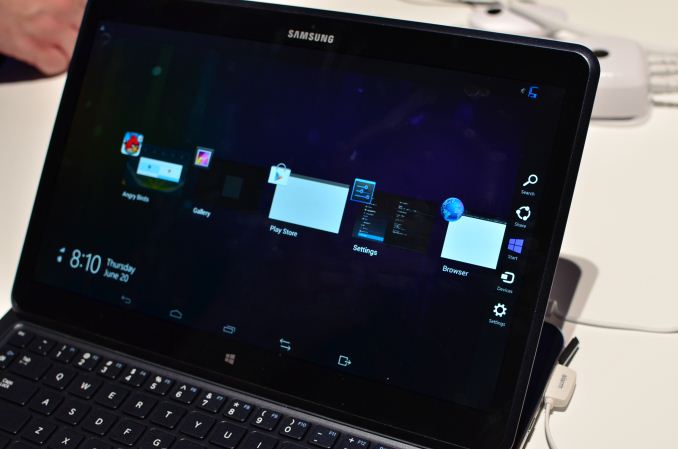 Although the ATIV Q has a large surface area for a tablet, the overall design feels very light and portable. Lifting the display up to reveal the integrated keyboard is simple enough. The keyboard itself feels decent, although there's no room for a standard trackpad so you're left with a little nub that is reminiscent (but no where near as functional) as what you'd find on an old ThinkPad. You glide your finger over the nub to move the mouse, with slim physical buttons at the edge of the keyboard for left/right click. Touching the display is definitely the way to go, but the ATIV Q absolutely needs Windows 8.1 style DPI scaling in order to make UI widgets in desktop mode better for touch.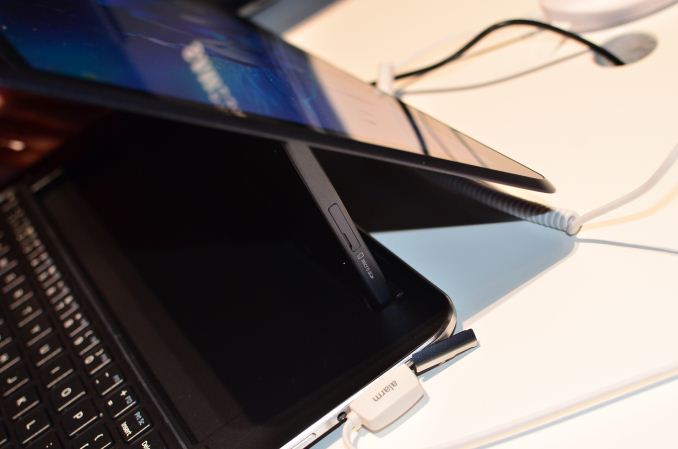 Hidden in the display hinge is a USB 3.0 port, micro HDMI and a micro SD card reader.
I'm a big believer in convertibles. I don't know that anyone has gotten it perfect with design yet, but it's very good to see everyone trying. Battery life is a big unknown, as is pricing - that display can't be cheap. Given its light weight construction, the ATIV Q seems like it could actually be a very compelling option.