First, a recap. Clover Trail is the dual-core 32nm Atom platform that will power the first generation of value x86 Windows 8 tablets (and go up against ARM based Windows RT designs). Clover Trail will be in ASUS' Tablet 810 as well as Acer's W510. The two 32nm CPU cores are based on the Saltwell design, which happens to be the same CPU core used in Intel's Medfield platform for smartphones. The GPU core is expected to be the PowerVR SGX 544MP2, and clocked high enough to be competitive with the 543MP4 in Apple's A5X SoC.
Cedar Trail is the 32nm netbook/nettop platform. It uses 1 - 2 Saltwell derived Atom CPU cores and a PowerVR SGX 545 GPU from Imagination.
Now onto what's new.
An unintentional leak a few months ago brought the codename Valleyview to light. Take up to four 22nm next-generation Atom cores and pair them with Intel's own Gen7 graphics (currently used in Ivy Bridge) and you've got Valleyview. Bay Trail is the platform name.
Today EXPreview posted a bunch of slides offering additional insight into Valleyview. Valleyview will replace Cedar Trail's SoC, although you can expect that a Clover Trail/Medfield replacement will come down the road. The SoC will feature between 1 and 4 22nm Silvermont cores (Out-of-Order Atom, new architecture) running at anywhere from 1.2GHz to 2.4GHz. Each core gets a hefty 512KB L2 cache, for a total of 2MB in a quad-core configuration.
The combination of new architecture, more cores and higher max clock speeds should yield much better performance than Cedar Trail. Whenever this does go into a Windows 8 tablet, the performance should be quite good.
The big news are the four integrated Gen7 graphics engines, which I can only assume refer to Intel's EUs (Intel's HD 2500 has 6 EUs, while HD 4000 has 16 EUs). We've expected Intel to move away from licensing Imagination's GPUs for quite a while now, and it seems like Valleyview might be the first attempt at doing just that. By the time Intel gets to 14nm, I wouldn't be too surprised if it starts playing around with gen-graphics in a smartphone.
That being said, Imagination isn't totally out of Valleyview. In a bizarre move, a VXD392 decode block is still included from Img - despite Intel's own decoder being present in the design. There's a lot of guessing we can do as to why, including having a discussion around power efficiency of decode engines, but otherwise it's unclear why Intel opted to implement both decoders. There's support for hardware accelerated 1080p60 video decode (or 2 x 1080p30 streams). The usual codecs are listed (VC1, H.264, MPEG1/2/4) as well as some additions due to the VXD392 block (WebM, JPEG).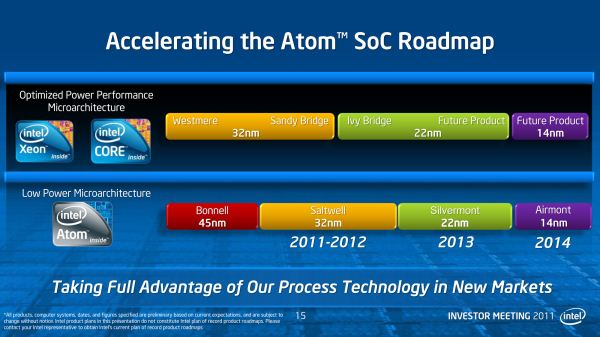 The timing on Valleyview and the Bay Trail platform appears to be late 2013 and into 2014. This seems a bit late, but the netbook/nettop platform isn't really begging for a faster refresh. What really matters is how quickly Intel will bring Valleyview to Windows 8 tablets and a similar setup to Intel's smartphone SoCs. Intel's current roadmaps tell us that we'll see Silvermont based smartphone SoCs in 2013, likely in the latter part of the year. I am hoping for sooner than Q4 2013 if Intel wants to be taken seriously in the smartphone space however. As of now it's efforts have been good, but distinctly not Intel-like.
Source: Expreview