An Update on SandForce
Before we get to the topic at hand today I wanted to give a brief update on SandForce. In our last SSD article I mentioned that I'd been able to replicate the infamous SF-2281 BSOD bug. In my testing the issue never appears as a full on BSOD, instead I either see periods of very high IO latency (multiple seconds) or a hard lock requiring a reset. The problem doesn't appear with any amount of regularity in most of my testbeds, however I can get one specific test system (the ASUS P8Z68V-Pro I mentioned in the earlier article) running the right workload to exhibit this issue at least once in any 72 hour period. I don't know whether or not this issue is related to the BSOD bug that many complain about, but I do know that the behavior isn't desirable and doesn't appear to impact other comparable SSDs. At the same time, the issue doesn't appear to be present and/or as severe on all platforms. Since the last article I've deployed two more drives in separate systems, neither of which has come back with any serious issues yet.
I still believe whatever issue plagues these drives to be limited in scope, but without a way of predicting whether or not the problem will occur it's still a thorn in SandForce's side. Contrary to what you may have heard, I believe this issue impacts all SF-2xxx based drives and I've reproduced it on drives from multiple vendors.
SandForce is going to be flying down a representative to take a look at my test system to help determine the root cause of the issue.
The Crucial m4 Update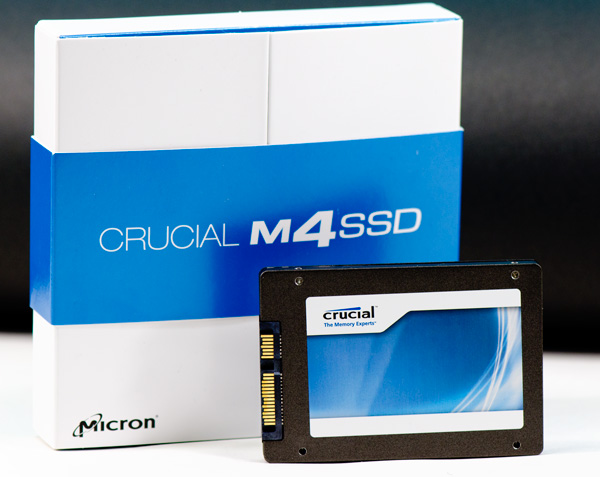 When we first reviewed Crucial's m4 SSD we came away with mixed feelings on the drive. In some cases it was the first or second fastest drive we'd reviewed, while in others it struggled to outperform last year's C300. While Crucial has been diligent in updating the m4 to fix compatibility issues, we haven't seen any of the performance increases Crucial promised at the drive's introduction.
That all changed last week as Crucial posted the latest 0009 firmware for the m4 and Micron C400. The firmware updates drives that shipped with the original 0001 firmware as well as those with the previous 0002 version. Crucial supplies a bootable ISO that you can either burn to a CD or image to a USB drive.
The firmware update process went smoothly for me. I tested on an Intel DH67BL motherboard with the SATA ports set to AHCI. I used a USB stick imaged with the ISO via UNetbootin.
Crucial's release notes indicate improved performance as a major feature of FW0009:
Release Date: 08/25/2011
Change Log:
Changes made in version 0002 (m4 can be updated to revision 0009 directly from either revision 0001 or 0002)
Improved throughput performance.
Increase in PCMark Vantage benchmark score, resulting in improved user experience in most operating systems.
Improved write latency for better performance under heavy write workloads.
Faster boot up times.
Improved compatibility with latest chipsets.
Compensation for SATA speed negotiation issues between some SATA-II chipsets and the SATA-III device.
Improvement for intermittent failures in cold boot up related to some specific host systems.
The Test
| | |
| --- | --- |
| CPU | Intel Core i7 2600K running at 3.4GHz (Turbo & EIST Disabled) - for AT SB 2011, AS SSD & ATTO |
| Motherboard: | Intel DH67BL Motherboard |
| Chipset: | Intel H67 |
| Chipset Drivers: | Intel 9.1.1.1015 + Intel RST 10.2 |
| Memory: | Corsair Vengeance DDR3-1333 2 x 2GB (7-7-7-20) |
| Video Card: | eVGA GeForce GTX 285 |
| Video Drivers: | NVIDIA ForceWare 190.38 64-bit |
| Desktop Resolution: | 1920 x 1200 |
| OS: | Windows 7 x64 |