Gigabyte are currently attacking the X58 market; with no less than 10 boards, from the budget EX58-UD3R (and it's upgrade, the X58A-UD3R) to the premium EX58-EXTREME, their latest board tacks on the moniker of the X58A-UD9.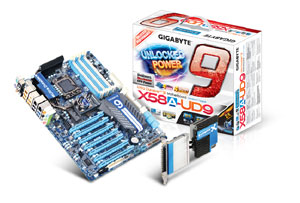 In terms of board features, you get support for 6-core Gulftown processors, 4 way SLI and Crossfire X across 7 PCI-E 2.0 slots using 2 NF200 chips (for x16, x8, x16, x8, x16, x8, x16 lanes), support for tri-channel DDR3-2200+ memory, onboard buttons for power, reset and clear CMOS, 2x Realtek Gigabit ethernet connectors, 2x SATA 6Gb/s connectors using the newest Marvell controller, and 2 USB3 connectors.
Unsurprisingly, Gigabyte are also marketing their own specific motherboard standards: DualBIOS, allowing for BIOS backup protection; Hybrid Silent-Pipe 2 design for heat conductance across the chipset and VRMs such that a fan is not needed (however connectors are provided for water cooling); and a hardware control IC for precision voltage control. Gigabyte's penchant for high phase counts also rears its head in the form of a '24 phase' VRM (current handling capabilities are unknown to us at present). Also of note is the On/Off Charge support, allowing USB devices to be powered by certain USB ports when the motherboard is powered down - Gigabyte can utilise this by supplying 3x more power to these USB ports.
The board is obviously aimed at enthusiasts wanting to break overclocking records. There's no word on price, but it's most likely to be more expensive than the EX58-Extreme, which currently retails at a $349 minimum.
If this board comes our way, we'll let you know how it performs.