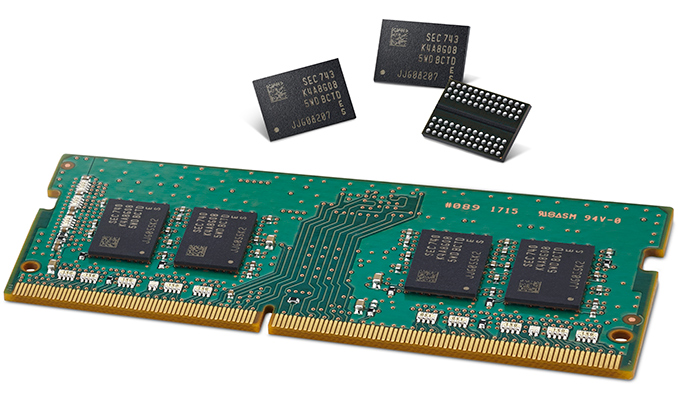 For many years leading DRAM module manufacturers have used Samsung's B-die 8 Gb memory chips for their fastest and most advanced DIMMs. This quarter Samsung intends to discontinue production of B-die, forcing its partners to find a worthy replacement.
According to Samsung's most recent Product Guide, the company will EOL its B-die 8 Gb memory chips in Q2 2019. It is not particularly clear when exactly Samsung ceases to make its legendary memory chips, but it looks like it is time for companies like Corsair or G.Skill to stock pile B-die ICs for existing DDR4-4000 and faster kits.
Samsung will continue to produce C-die and D-die 8 Gb memory chips using its 10 nm-class process technologies. Officially rated for DDR4-3200 and DDR4-3600 speed bins, these ICs have been in production since 2016 and 2017 respectively. By now, these memory devices have to be mature enough for high-end memory modules, but far not all makers of DIMMs use them for leading-edge products. Also their overclockability beyond those speeds pales in comparison to B-die.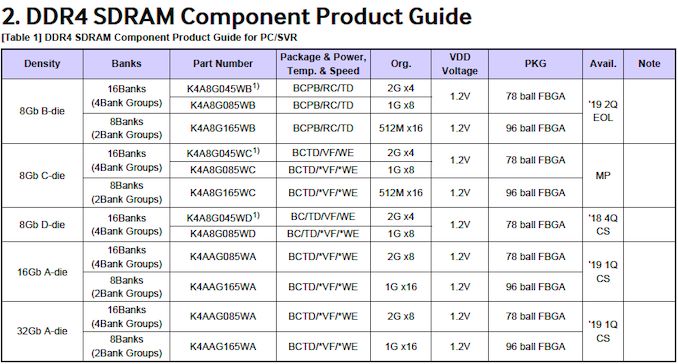 It is worth noting that in the same document, Samsung has listed its 16 Gb A-dies memory devices made using a 10 nm-class process technology that are used to build high-capacity 32 GB UDIMMs and other memory modules required for servers and workstations.
We have reached out to makers of memory modules to find out which memory chips will replace Samsung's legendary B-die memory chips on high-end modules. We are yet to receive their responses. These products will not disappear overnight, but it looks like their days are numbered.
Related Reading
Source: Samsung (via Tom's Hardware)