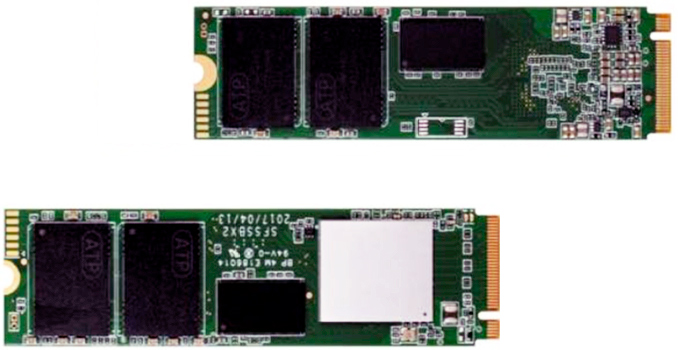 ATP has introduced its new lineup of SSDs aimed at industrial applications and are designed to withstand harsh environmental conditions, such as extreme temperatures and humidity. The new ATP M.2 NVMe drives use 3D MLC memory to maximize their endurance, and are driven by what we believe to be a SM2260 controller. They come in come in M.2-2280 form-factor (as the name suggests), use a PCIe 3.0 x4 interface and demonstrate a rather high read performance of up to 2.5 GB/s. Such performance levels are rare for industrial-grade SSDs, as they typically rely on a SATA interface and offer fairly conservative performance levels to match.
ATP's M.2 NVMe family of SSDs consist of two sub-families: the N600c for commercial applications and the N600i for industrial applications. The drives are based on Micron's 3D MLC NAND memory (certified to work in extreme conditions in case of the N600i) as well as a Silicon Motion controller that ATP does not disclose. Based on performance figures (see below) and the fact that we are dealing with SSDs for commercial and industrial workloads, it is highly likely that the drives use SMI's time-proven SM2260 SoC that supports LDPC as well as RAID data recovery for advanced error correction.
ATP's M.2 NVMe N600c and N600i SSDs will be available in 128 GB, 256 GB, 512 GB and 1 TB configurations. As for performance, ATP specs the drives for up to 2.5 GB/s sequential read speeds and up to 1.1 GB/s sequential write speeds (when pSLC caching is used). When it comes to random performance, the M.2 NVMe SSDs are rated for up to 100K read/write IOPS (which is a rather conservative figure for SM2260-based drives).
The M.2 NVMe N600i series is designed to withstand up to 16.4 G vibration and 1500G/0.5ms shock, extreme temperatures from –40°C to +85°C, as well as high humidity (5%-95% RH, non-condensing at 25°C). To put extreme temperatures into perspective, the M.2 NVMe N600i can operate in Antarctica (but not in "winter") or in the Lut Desert in Iran. In the real world, the SSDs will serve inside space-constrained industrial, embedded or commercial PCs, servers, and military-grade equipment. Since such applications are barely write intensive, the drives are rated for up to 1.75 DWPD (but ATP does not disclose over which period). Meanwhile, the M.2 NVMe N600c series is aimed at commercial applications, so they are not designed for extreme environments: their operating temperature range is between 0°C and 70°C, but they can sustain up to 2.1 DWPD.
ATP's M.2 NVMe N600c (Commercial) and N600i (Industrial) SSDs
Capacity
128 GB
256 GB
512 GB
1 TB
Controller
Silicon Motion SM2260 (?)
NAND Flash
3D MLC NAND
Form-Factor, Interface
M.2-2280, PCIe 3.0 x4, NVMe 1.2
Operating Temperature
Commercial
0°C to 70°C
Industrial
-40°C to C to 85°C
Vibration Resistance
1.6G (10 - 2000 Hz)
Shock Resistance
1500G/0.5 ms half sine wave
Operating Humidity
5% - 95% RH non-condensing at 25°C
Sequential Read
1060 MB/s
2100 MB/s
2500 MB/s
2540 MB/s
Sequential Write
600 MB/s
700 MB/s
1100 MB/s
Random Read IOPS
~100K
Random Write IOPS
~100K
Pseudo-SLC Caching
Supported
DRAM Buffer
Yes, capacity unknown
TCG Opal Encryption
Yes
Power Consumption
Idle
1.38 ~ 2.05 W
Read
4.26 ~ 6.7 W
Write
5.61 ~ 7.29 W
Power Management
DevSleep, Slumber (?)
Endurance
Commercial
Random Write
76 TBW
153 TBW
307.2 TBW
614.4 TBW
Sequential Write
192 TBW
384 TBW
768 TBW
1536 TBW
DPWD
?
?
?
2.1
Industrial
Random Write
?
Sequential Write
up to 1280 TBW
DPWD
up to 1.75
Warranty
unknown
MTBF
>2,000,000 hours
MSRP
Commercial
$96.21
$148.12
$255.86
$523.21
Industrial
?
ATP's M.2 NVMe N600i and N600c SSDs are expected to be available shortly. Pricing will vary depending on volumes, exact configurations and other factors. MSRPs for commercial drives range from $96 to $523.
Related Reading:
Source: ATP