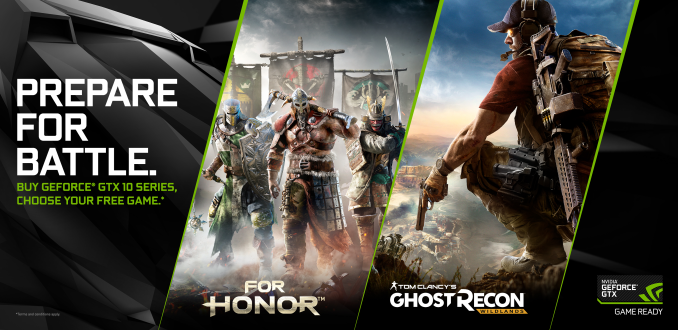 The gaming scene tends to be slow this time of the year, and some may still feel burned out from Christmas spending, others still feel like giving. Leading up to two more big budget releases that are fast approaching, NVIDIA has prepared another bundle for those considering an upgrade to their gaming hardware.
The "Prepare for Battle" game bundle is launching today. Anyone who purchases a GeForce GTX 1080, GTX 1070, or a PC or laptop equipped with these cards will have the option to download either Ubisoft's For Honor or Tom Clancy's Ghost Recon Wildlands for free.
For Honor is a fast paced single and multiplayer action game that pits together Knights, Samurai and Vikings in hand-to-hand combat, requiring tactical thinking and fast reflexes. At the other end of the technology spectrum we have Tom Clancy's Ghost Recon Wildlands, the next step in a franchise that has been running for almost long enough to drive. 'Wildlands' is pitched as the very first military shooter in a massive open world that you can play entirely solo or in four-player co-op. For Honor will see release on February 14th, while Ghost Recon Wildlands will arrive on March 7th.
NVIDIA Current Game Bundles
Video Card
Bundle
GeForce GTX Titan X (Pascal)
None
GeForce GTX 1080/1070
Prepare for Battle
GeForce GTX 1060/1050Ti/1050
None
GeForce GTX 1080/1070 Desktops
Prepare for Battle
GeForce GTX 1080/1070 Notebooks
Prepare for Battle
NVIDIA is also debuting a new, and hopefully easier, way to redeem codes through GeForce Experience. Now customers will no longer have to wade through sign up webpages but can simply enter their code within GeForce Experience itself and have their choice of game automatically added to their Uplay account. Though I imagine one would still need to be signed into GeForce Experience, which for some may make the difference moot.
We haven't yet received news to how long this offer will run, though we will update here when we catch news of the end date. Meanwhile it is worth remembering to verify the participation of any vendors purchased from as NVIDIA likely will not give codes for purchases made from sellers that are not participating.
Source: NVIDIA