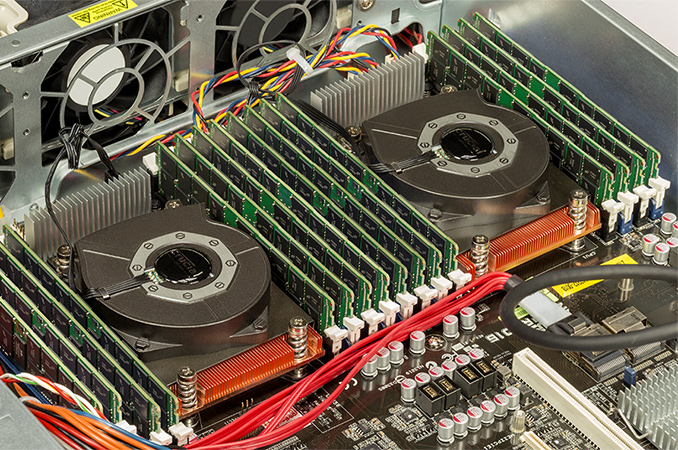 Crucial this week introduced an expansion of its server-grade modules lineup with DDR4-2666 offerings. The new DIMMs will be compatible with some of the current as well as upcoming server platforms featuring Intel Xeon and other processors.
Announced by Crucial this week are the new DDR4 LRDIMMs, RDIMMs, VLP RDIMMs, ECC SODIMMs and ECC UDIMMs rated to operate at 2666 MT/s interface speed with CL19 19-19-38 timings and at 1.2 V. The modules are available in 4 GB, 8 GB and 16 GB configurations and are aimed at less memory-dense server configurations. All the new DIMMs are powered by Micron's 8 Gb DDR4 ICs made using 20 nm process technology, just like their DDR4-2133/2400 predecessors.
Specifications of Crucial's Server DDR4-2666 Memory Modules
Module Capacity
Latencies
Voltage
Height
ECC SO-DIMM
4 GB, 8 GB, 16 GB
CL19-19-19-38
1.2 V
30 mm
ECC UDIMM
31.25 mm
LRDIMM
RDIMM
VLP RDIMM
19 mm
Increasing DDR4 interface speed from 2400 MT/s to 2666 MT/s amplifies theoretical peak bandwidth by 11% to 42.6 GB/s for a dual-channel memory sub-system, to 85.3 GB/s for of a quad-channel memory sub-system as well as to 127.9 GB/s for a six-channel memory sub-system. In any case, an 11% performance increase in bandwidth-hungry workloads without any rise of power consumption is a tangible benefit for many servers. On the other hand, it is noteworthy that to increase interface speeds to 2666 Mbps, the module maker also had to adhere to JEDEC specifications rise its CAS latency from CL15/CL16 and CL17 (DDR4-2133 and DDR4-2400) to CL19, which diminishes the latency performance benefits of higher clocks.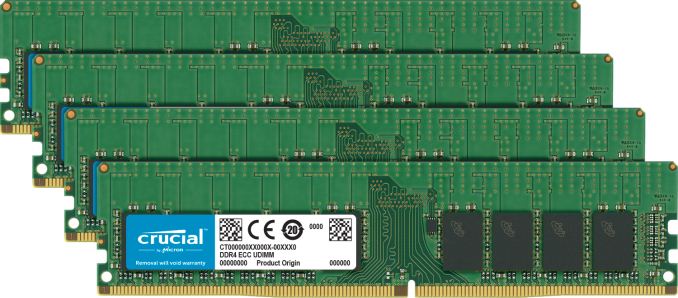 Suppliers of server-class memory announce their products well ahead of their high-volume availability because CPU developers and makers of actual servers have to validate DIMMs before they use them in commercial machines. The situation is a bit different today. Officially, Intel's current-generation Xeon E5 processors featuring the Broadwell-EP cores are compatible only with DDR4-2400 or slower DIMMs. However some OEMs offer Broadwell-EP machines that can officially support DDR4-2666 for lower memory density servers. Meanwhile, Intel and other manufacturers plan to introduce next-generation server platforms (such as Purley/Skylake-EP) that officially support new DDR4 configurations in 2017 and before those machines hit the market, new DIMMs need to pass a variety of validation process.
The new server-grade DDR4-2666 memory modules from Crucial are available for purchase now. Their exact prices depend on volumes and negotiations between Crucial and its customers.
Related Reading:
Source: Crucial