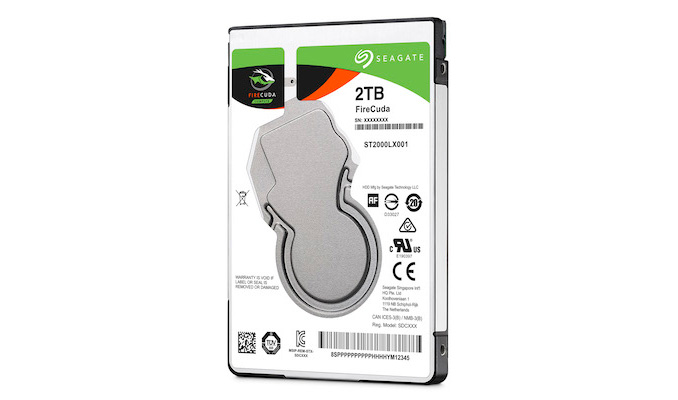 Seagate has officially introduced its fifth-generation solid-state hybrid drives (SSHDs) under the FireCuda brand name. They have a thinner form-factor compared to previous-gen solutions. The drives use Seagate's 1 TB SMR platters as well as the company's multi-tier cache technology. The FireCuda 2.5" are the first SSHDs to use shingled magnetic recording (SMR).
The Seagate FireCuda 2.5" family will offer 500 GB, 1 TB and 2 TB capacities and will be compatible with both desktops and thin laptops, thanks to its 7 mm z-height (down from 9.5 mm in case of the Laptop SSHD drives). To a large extent, the Seagate FireCuda SSHDs resemble the recently announced BarraCuda 2.5" HDDs: the drives are also based on the 1 TB SMR platters which have an areal density of more than 1.3 Tb/in2 (note that the areal density of the FireCuda products is higher compared to that of BarraCuda devices). They feature 5400 RPM spindle speed and come with 128 MB of DRAM cache buffer. The maximum transfer rate and average latency for the BarraCuda 2.5" and FireCuda 2.5" are the same: 140 MB/s and 5.6 ms.
Seagate FireCuda 2.5" SSHDs
2 TB
1 TB
500 GB
NAND
8 GB MLC
Platters/Heads
2/4
1/2
Spindle Speed
5400 RPM
Cache
128 MB + multi-tier caching technology
Transfer Rate
140 MB/s
Avg Latency
5.6 ms
Areal Density
1327 Gb/in² avg
Recording Density
2296 Kb/in avg
Track Density
580 Ktracks/inch avg
Idle Power
0.5 W
0.45 W
Read/Write Power
1.7/1.8 W
1.6/1.7 W
Interface
SATA 6 Gbps
Form-Factor
2.5"/7 mm
Model Number
ST2000LX001
ST1000LX015
ST500LX025
The differentiating aspect of the FireCuda SSHDs is their 8 GB NAND buffer. It caches data from frequently used sectors to enable faster boot times and shorter load times for certain applications. Therefore, when it comes to real-world performance, FireCuda 2.5" SSHDs should provide better performance compared to the BarraCuda 2.5" HDDs. However, it is unknown how the FireCuda 2.5" drive stack up against the Laptop SSHDs based on PMR platters. Seagate has not revealed whether the new FireCuda SSHDs use a new caching algorithm compared to the previous-gen hybrid hard drives, but this is certainly a possibility given the use of SMR platters. As before, the company says that the algorithm is continuously trying to optimize performance of FireCuda SSHDs.
Seagate has started to ship the FireCuda drives to its customers, but has not listed official prices or market availability dates. The latter depends on retailers and/or PC makers. Seagate tells us that the FireCuda 2.5" 2 TB will cost around $100, but the supply/demand situation is bound to affect that pricing. Meanwhile, Amazon offers the FireCuda 2.5" 1 TB for $70. All of the previous-gen Laptop SSHDs ended up in retail, so, it is a question of time before the whole FireCuda 2.5" family will be up for grabs. One of the advantages of Seagate's hybrid drives is their five-year warranty, which is longer than that of typical HDDs.
Source: Seagate