At Computex in June, Micron announced that Crucial's Ballistix brand was being promoted to a standalone brand for gaming-oriented products. Their exhibit included three tiers of Ballistix DRAM products and one SSD: the Ballistix TX3 M.2 PCIe SSD. Based on Micron 3D MLC NAND and the Silicon Motion SM2260 NVMe SSD controller, the TX3 was to be Micron's first consumer/retail SSD with 3D MLC or a PCIe interface and was slated for a release sometime in the second half of 2016.

Micron has informed us this week that the Ballistix TX3 program has been canceled. This leaves Micron's consumer SSD strategy up in the air. With the release this summer of the Crucial MX300, Micron moved their mainstream SATA MX line from MLC to 3D TLC NAND, casting doubt on the future of the value-oriented BX series and implying that their 3D MLC might be regarded as premium enough to be reserved for PCIe SSD. With the Ballistix TX3 canceled, we no longer have any clear indication of how Micron plans to move forward with their consumer SSD products.
Micron may have decided to switch SSD controllers. While Silicon Motion reported last week at Flash Memory Summit that final firmware for the SM2260 controller is ready, Phison's E7 controller is also available and ready to roll out, and Micron has been shipping Marvell's 88SS1093 NVMe controller on their 7100 series enterprise SSDs in both U.2 and M.2 form factors, albeit with planar MLC NAND rather than their 3D NAND. Micron may also have decided that the timing was wrong to be getting into a market segment that Samsung has been handily dominating; beating Samsung's PCIe M.2 drives on performance will be an uphill battle to say the least, and substantially undercutting them on price may not be possible while Micron is still ramping up production of their 3D MLC NAND.
Micron's OEM and enterprise offerings may offer some clues to their plans, but the Micron and Crucial SSD product lines are no longer mere alter egos of each other. Micron's 1100 series SATA SSD is the nearest equivalent to the MX300 with the same controller and same 3D TLC NAND, but the 1100 is more a little more conservative by retaining the traditional power of two drive capacities with generous overprovisioning while the MX300 dedicates some of the extra capacity of Micron's 3D TLC chips to increasing the usable drive capacity.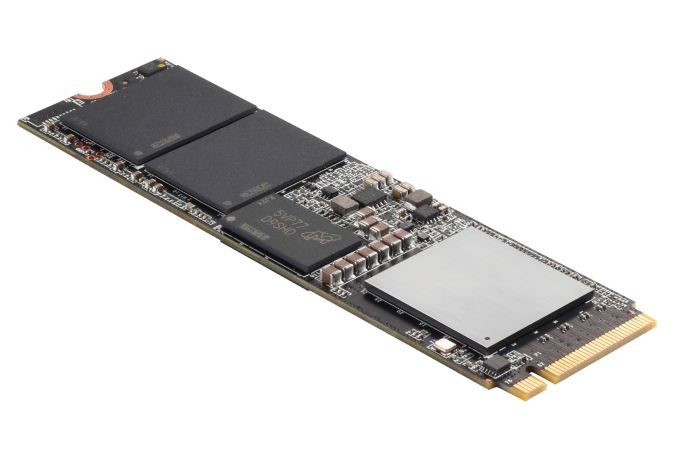 Micron announced a 2100 series at the same time as the 1100 series, but did not provide full details as it was scheduled for a later introduction than the 1100, but still by the end of summer this year. The photos provided of the 2100 clearly showed the Silicon Motion SM2260 controller and the drive was stated to be using 3D NAND, but whether it would be MLC or TLC was not specified. The layout of the 2100 M.2 card was different than that of the Ballistix TX3 prototypes shown at Computex, but they still clearly had a few things in common. Micron's website still lists the 2100 as "Coming Summer 2016", and with regards to its fate Micron had this statement for us:
Micron is committed to delivering client PCIe NVMe solutions. While we are excited by the possibilities with our OEM partners, we are not disclosing availability details at this time. We will be sure to keep you updated as we are ready to share more.
We are eager to hear what Micron decides to do, as they are still only the second manufacturer to deliver 3D NAND for the client and consumer SSD market and we have not yet had the chance to test their 3D MLC NAND. Competition in the consumer PCIe SSD space will be heating up with or without Micron's participation as more drives based on Phison, Marvell and Silicon Motion PCIe NVMe controllers hit the market over the next few months, but Micron's entry was particularly promising for the inclusion of 3D NAND.
Source: Micron