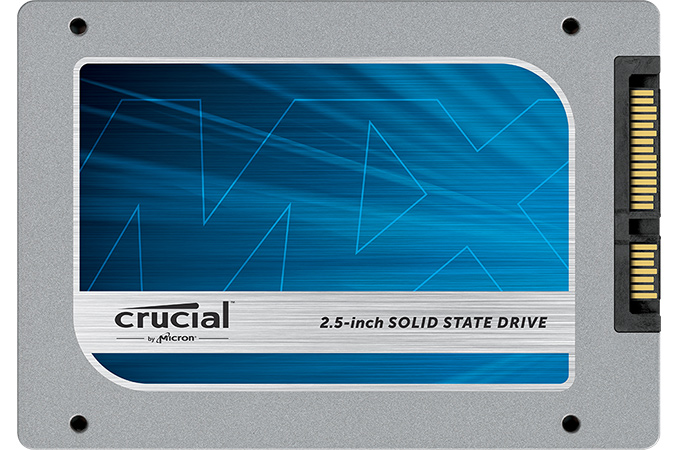 Crucial this week made two announcements. Its MX300 family of 3D NAND-based consumer-grade SSDs has been expanded with additional models, and also Crucial revealed plans to start sales of its MX300 drives in the M.2 form-factor. The family of affordable SSDs now includes models with 275 GB, 525 GB, 750 GB and 1 TB of usable NAND flash. In addition, Crucial intends to roll out a 2 TB version of its MX300 in the near future and has already disclosed its specs.
The Crucial MX300 SSDs are based on the company's first-generation 32-layer 3D TLC NAND as well as Marvell's 88SS1074 controller. Just like other MX-series drives, the new devices fully support encryption, pseudo-SLC caching for faster writes, partial power loss protection and a three-year warranty. We reviewed the 750GB version of the MX300 earlier this year, and you can read the review here.
Due to the 384 Gb (48 GB) capacity of Micron's 3D TLC NAND, the configurations of actual SSDs seem somewhat unusual, but Micron has stated this does not affect performance or endurance of the novelties. According to the manufacturer, the MX300 drives support sequential read performance up to 530 MB/s as well as sequential write performance up to 510 MB/s (which is in line with affordable TLC NAND-based drives). The SSDs are also rated for up to 92K/83K random read/write IOPS.
Crucial MX300 Series Specifications
Capacity
MX300
275 GB
MX300
525 GB
MX300
750GB
MX300
1 TB
MX300
2 TB
Form Factors
2.5", M.2
2.5"
2.5", M.2
2.5"
Controller
Marvell 88SS1074
NAND
Micron 384 Gbit 32-layer 3D TLC
DRAM
unknown
512 MB
unknown
Seq Read
530 MB/s
Seq Write
500 MB/s
510 MB/s
4K Rand Read
55K IOPS
92K IOPS
4K Rand Write
83K IOPS
DevSleep
4mW
Slumber Power
75mW
Max Power
unknown
5.2W
unknown
Encryption
TCG Opal 2.0 & IEEE-1667 (eDrive)
Endurance
80 TB
160 TB
220 TB
360 TB
400 TB
Warranty
Three years
Price (2.5")
$69.99
$129.99
$189.99
$259.99
unknown
Back in April, Crucial introduced its limited edition MX300 750 GB SSD (which we reviewed) and this week it expanded the family with 275 GB, 525 GB as well as 1 TB models to address different segments of the market. The currently available Crucial MX300 drives come in a 2.5"/7mm form-factor with a SATA interface, with an M.2 version coming later in August for the 275 GB/525 GB/1 TB models. A good news is that the forthcoming MX300 M.2 drives promise to deliver the same performance and endurance as the 2.5-inch drives.
As for pricing, the 275 GB, 525 GB, 750 GB and 1TB 2.5-inch versions of the MX300 from Crucial will be available for MSRP of $69.99, $129.99, $189.99 and $259.99 respectively (note that the 750 GB version is $10 cheaper than launch). Prices of the MX300 M.2 drives, as well as MX300 2 TB SSDs, are not set yet.
Source: Crucial