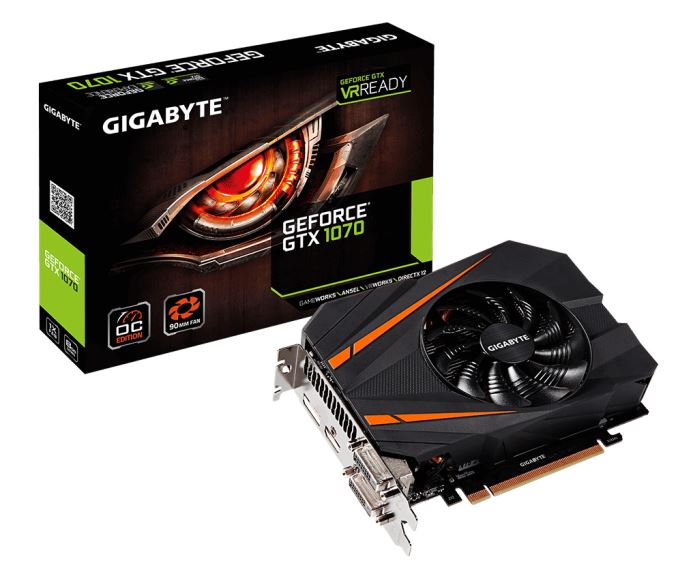 As the various board partners finally begin unveiling their custom GTX 1000 series designs, GIGABYTE has arrived with their latest entry in the Mini ITX game. GIGABYTE's GeForce GTX 1070 Mini ITX OC is a compact 17cm (7in) in length, allowing it to fit into Mini ITX gaming builds. The cooler on this card houses a 90mm fan with custom blades, which GIGABYTE claims will enhance the airflow. In the heatsink itself we can find three heat pipes which make direct contact with the GPU core. The aim of this cooler is of course to bring higher performance at lower temperatures. Though from my own experience good performance a less audible GPU fan behind the television is greatly appreciated as well.
The board itself is built out of higher quality materials in an effort to increase lifespan while giving improved performance. To go with the cooler and component choices, this card has been given a 5+1 phase power delivery system, as compared to the 4+1 phase system of the GTX 1070 reference PCB.
GTX 1070 Specification Comparison
GIGABYTE GeForce GTX 1070 Mini ITX OC (OC Mode)

GIGABYTE GeForce GTX 1070 Mini ITX (Gaming Mode)

GTX 1070
Founders Edition
Core Clock
1556MHz
1531MHz
1506MHz
Boost Clock
1746MHz
1721MHz
1683MHz
Memory Clock
8Gbps GDDR5

8Gbps GDDR5

VRAM
8GB
8GB
TDP
150W?
150W?
150W
Launch Date
?
6/10/2016
Launch Price

?

$449
On the topic of overclocking this card comes with two performance profiles, Gaming and OC Mode. Gaming Mode is the default profile, which the slightly higher clocked OC Mode is enabled through their Xtreme Engine utility. Both the Gaming and OC Mode options offer a mild overclock over the founder's edition card.
As more Mini ITX cards come along it will indeed be interesting to see how powerful compact gaming rigs will become. Beginning with cards such as the AMD Radeon R9 Nano, enthusiasts in the last generation who wanted to save on space gained a lot of freedom on what they could do while maintaining big performance. This generation should improve performance in mITX systems by a good amount, and I don't expect this is the last mITX GTX 1070 we're going to see.
Source: GIGABYTE