CPU Performance
Chrome OS is extremely lightweight, which makes sense for an operating system that has to run on processors that range from Intel's Core i7 at the high end, to Intel Atom and ARM processors at the low end. Most devices running Chrome OS are closer to that lower end, and that coupled with the web application nature of Chrome OS doesn't make it a large target for benchmark developers. The situation is arguably even worse than mobile benchmarking since the only benchmarks a device can be tested in are web benchmarks, but we have to work with what we have. The new Chromebook Pixel is powered by Intel's Core i5-5200U processor, which is one of Intel's new Broadwell-U parts.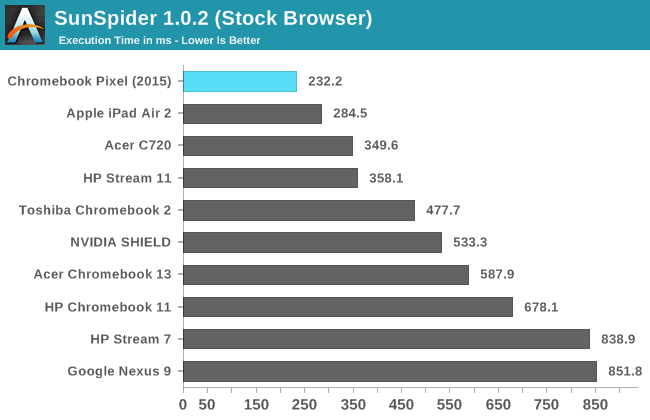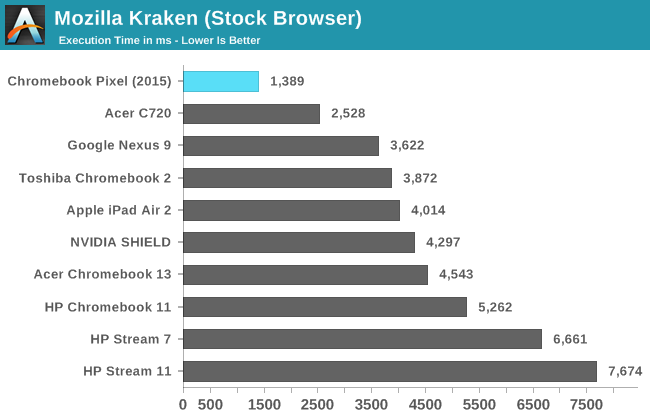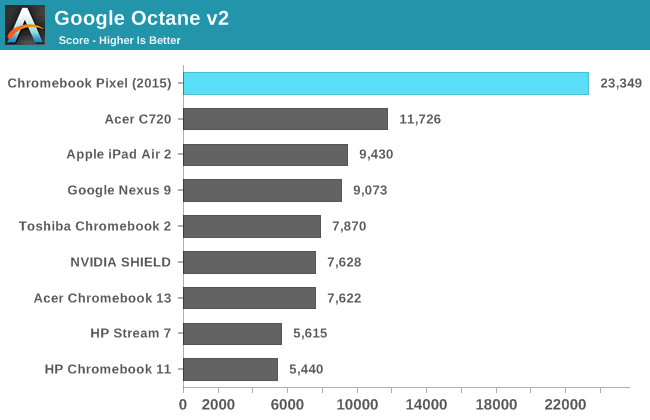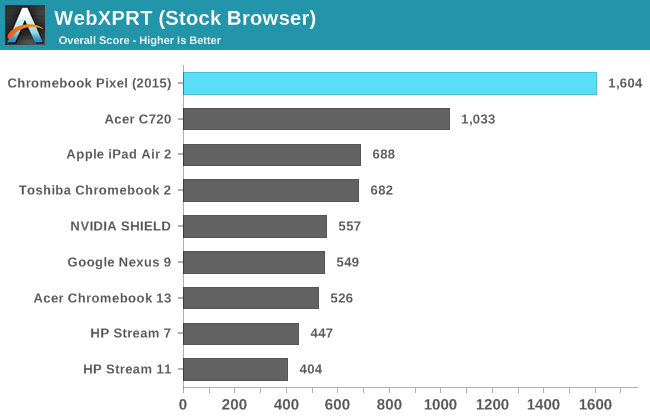 Additional Performance Results
Acer C720
Acer CB13
Toshiba Chromebook 2
Chromebook Pixel (2015)
CrXPRT
96
55
61
161
Spacerocks (WebGL - FPS)
18
30
11
45
The CPU performance of the original Pixel could be described as completely overkill for running Chrome OS, and the same is true for this year's iteration. The Pixel gives you whats is undoubtedly the smoothest and fastest Google Chrome experience available. While I find the performance of an Intel i5 to be unnecessary to do something as simple as run Chrome and web apps, it definitely comes in handy if you're running some other version of Linux overtop of Chrome OS.
WiFi Performance
The 2013 Chromebook Pixel had dual spatial stream 802.11n WiFi and Bluetooth 3.0. In early 2013, this was fairly common among laptops, although 802.11ac adoption on high end laptops began not long after. The 2015 Chromebook Pixel uses Intel's Intel 7260 WiFi + BT 4.0 module, with 2x2 802.11ac support. This brings the max theoretical WiFi speed up to 866Mbps, a substantial improvement over the 300Mbps max on the 2013 model. Real world performance will almost always be lower than theoretical maximums, and to test WiFi performance I've used iPerf to get an idea of what the maximum throughput is on the Pixel.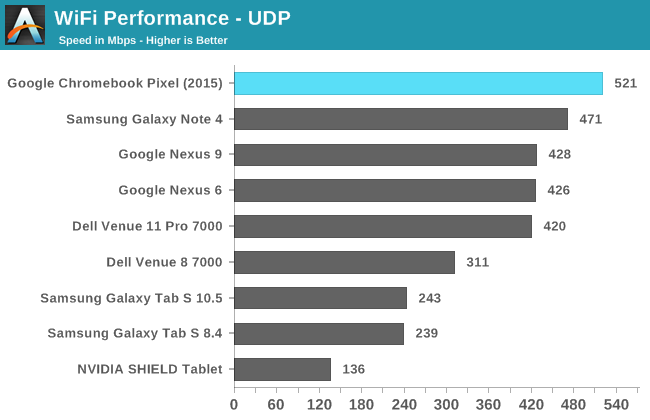 In most of our tests I've compared the Pixel to other Chromebooks, tablets, and smartphones. This is mostly due to the previously mentioned benchmarking limitations on Chrome OS. To keep consistent with this, and to avoid making unfair comparisons to laptops which aren't tested using iPerf, I've just run the Pixel through our smartphone/tablet WiFi benchmark. This still gives an idea of how fast the Pixel is, without comparing it to other laptops that were not tested in the exact same manner.