MSI X79A-GD45 Plus In The Box
A $250 package in the Z87 arena would/should be numerate in its extras and offer the user something extra. In the X79 space, $250 is rather low on the radar – not the lowest, but there are motherboards that cost over $500 that go all out on the feature set. There is scope for MSI to do something good here.
With the X79A-GD45 Plus we get:
Rear IO Panel
Driver DVD
Manuals
Six SATA Cables
Flexi SLI Bridge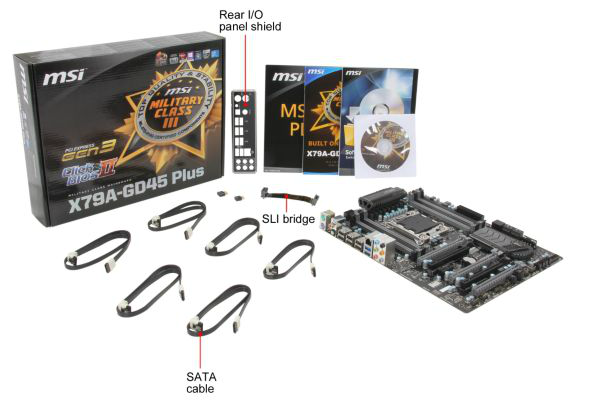 Along the line of few additional controllers on board, the MSI package also lacks any significant additions. Having a full complement of SATA cables is probably a good thing, although having a second SLI cable for multi-GPU allocations might help, given X79 is the focus for >2 GPU setups.
MSI X79A-GD45 Plus Overclocking
Experience with MSI X79A-GD45 Plus
To begin with, all was not well with the X79A-GD45 Plus. The OC Genie button does not seem to do anything from default. The motherboard, when XMP is applied, gives MultiCore Turbo (top turbo when all cores are loaded), and it seems OC Genie does the same thing when XMP is not applied. I expected at least a 4.2 GHz jump here when I tested.
For manual overclocking, our main limiting factor here is more our Ivy Bridge-E CPU sample than anything else. Like the other Ivy Bridge-E refresh motherboards we have reviewed, our limit was around 4.4 – 4.5 GHz, the main issue being OCCT stability before the temperature of the CPU rose above suitable levels.
Methodology:
Our standard overclocking methodology is as follows. We select the automatic overclock options and test for stability with PovRay and OCCT to simulate high-end workloads. These stability tests aim to catch any immediate causes for memory or CPU errors.
For manual overclocks, based on the information gathered from previous testing, starts off at a nominal voltage and CPU multiplier, and the multiplier is increased until the stability tests are failed. The CPU voltage is increased gradually until the stability tests are passed, and the process repeated until the motherboard reduces the multiplier automatically (due to safety protocol) or the CPU temperature reaches a stupidly high level (100ºC+). Our test bed is not in a case, which should push overclocks higher with fresher (cooler) air.
Manual Overclock:
Our overclock results were as follows: