Acer V7-482PG General Performance
We'll start with the usual selection of system benchmarks to show how the V7 handles everyday tasks. I don't have a full set of results for some things, but let me just start with some general OS numbers. The V7 boots reasonably quickly – 23 seconds from power on – and it resumes from hibernate faster – around 15 seconds. Shutdown/hibernate times are typically 11-13 seconds, but unless you need to make sure the system is off before walking away/stowing it in a bag, or if you're rebooting, I don't find the time to shut off/hibernate to be particularly important. The boot times are definitely one area where Windows 8 has greatly improved over previous versions of the OS.
Moving on, before we get to the graphs I want to provide a quick overview of our comparison points. As usual, you can find all of the benchmark results for the V7 in Mobile Bench, along with previously tested laptops, so you can always make your own comparisons. Our selection of laptops this time is a bit more varied, as the V7 is both an Ultrabook as well as a potential gaming laptop. From the Ultrabook side of things, this is actually our first full review of a Haswell Ultrabook, so we have to return to Ivy Bridge for most of these comparisons. I'll include the numbers that we have from the Acer S7-392 preview, but it's not in all the charts; I'll also include the Acer R7, Clevo W550EU, HP Spectre XT TouchSmart, and Toshiba KIRAbook. From the gaming side, we'll include the MSI GE40, MSI GX60, MSI GT70, and the Razer Blade 14; all of these are higher-end gaming notebooks that don't necessarily compete directly with the V7, but it's sometimes useful to see what you give up – or in some cases don't give up – in performance.
Overview of Comparison Laptops
Laptop
CPU
GPU
Storage
RAM
LCD
Battery
Acer R7-571-6858
Intel Core i5-3317U
HD4000
500GB HDD + 24GB SSD
1x4GB + 1x2GB
15.6" 1080p Glossy AHVA Touchscreen
4-cell 54Wh
Acer S7-392-9890 (Preview)
Intel Core i7-4500U
HD4400
2x128GB RAID 0 SSDs
2x4GB
13.3" 1080p Glossy IPS Touchscreen
4-cell 46Wh
Acer V7-482PG-9884
Intel Core i7-4500U
GT750M DDR3 / HD4400
1TB HDD + 24GB SSD
1x4GB + 1x8GB
14" 1080p Glossy AHVA Touchscreen
4-cell 54Wh
Clevo W550EU (Mythlogic)
Intel Core i5-3340M
HD4000
256GB SSD
2x4GB
15.6" 1080p Matte IPS
6-cell 62-Wh
HP Spectre XT TouchSmart
Intel core i7-3517U
HD4000
500GB HDD + 32GB SSD
2x4GB
15.6" 1080p Glossy IPS Touchscreen
4-cell 48Wh
MSI GE40
Intel Core i7-4702MQ
HD4600 / GTX760M
128GB SSD + 750GB HDD
1x8GB
14" 1600x900 Matte TN
6-cell 65Wh
MSI GT70 Dragon
Intel Core i7-4700MQ
HD4600 / GTX780M
128GB SSD + 750GB HDD
4x8GB
17.3" 1080p Matte TN
9-cell 87Wh
MSI GX60
AMD A10-5750
HD8650G / HD7970M
750GB HDD
1x8GB
15.6" 1080p Matte TN
9-cell 87Wh
Razer Blade 14
Intel Core i7-4702HQ
HD4600 / GTX765M
256GB SSD
2x4GB
14" 1600x900 Matte TN
6-cell 70Wh
Toshiba KIRAbook
Intel Core i7-3537U
HD4000
256GB SSD
2x4GB
13.3" 2560x1440 Glossy IPS Touchscreen
4-cell 52Wh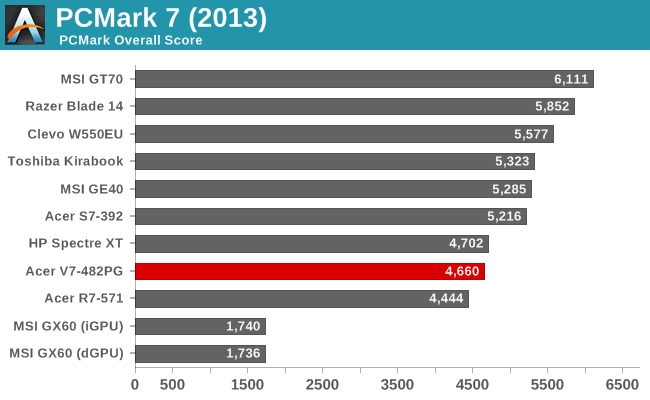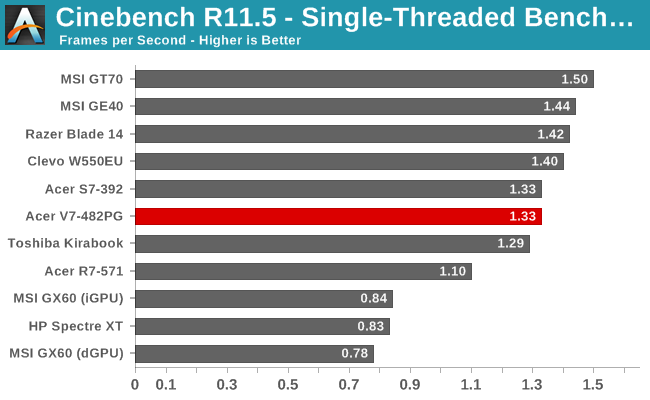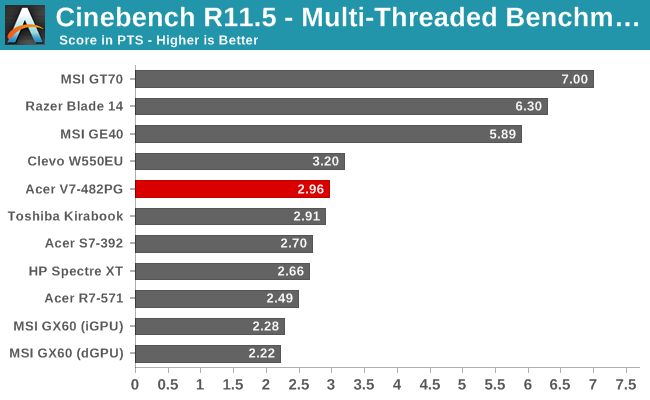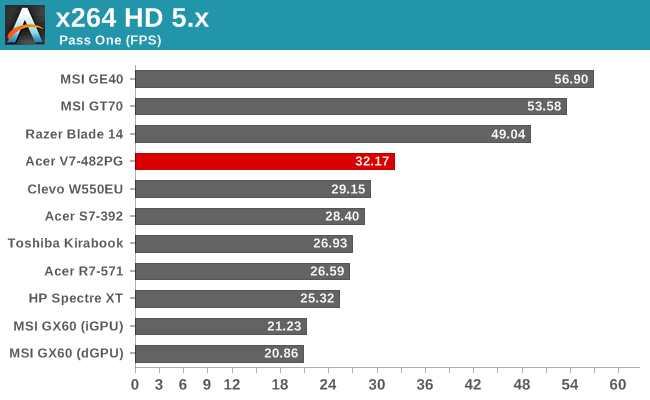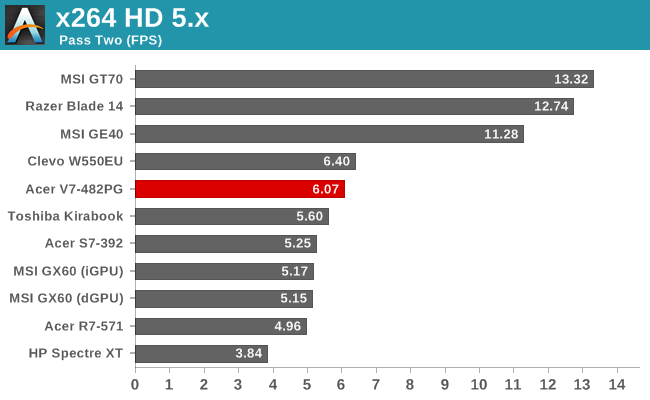 Starting as usual with PCMark 7, obviously the MSI GX60 is seriously penalized by not having a solid state drive. The rest of the systems all come together, with quad-core SSD systems at the top, followed by the dual-core SSD systems, and bringing up the rear we have hybrid SSD + HDD laptops like the Aspire V7. Personally, I find that hybrid storage feels a little closer to pure HDD than it does pure SSD, and benchmarks like PCMark 7 tend to paint a rosier picture than reality. Still, hybrid storage is far better than not having any solid state storage at all. For general use, the fact is that just about any modern system is more than fast enough – and other than a few specific use cases, a solid state drive doesn't make your system two or three times faster, but it's still definitely something I want to have in any modern system.
Our next set of performance benchmarks put more of the strain on the CPU, and here we see something that most of us already expected: Haswell isn't substantially faster than Ivy Bridge. It seems like cooling and thermal throttling (or in other words, bios and firmware optimizations) can have a larger impact on performance than the choice of CPU. For example, the Toshiba KIRAbook and HP Spectre XT have virtually the same Core i7 Ivy Bridge CPU, but the Spectre XT ends up being substantially slower. In terms of where Haswell sits, the i7-4500U comes out ahead of all of the Core i7 ULV Ivy Bridge CPUs, but the difference ranges from a negligible 2-3% in Cinebench to a slightly more noteworthy 8-20% in x264 HD. How much of the difference in x264 is from IPC improvements and how much of it is just a question of BIOS/firmware differences is difficult to say – keep in mind that the Acer S7-392 has the same CPU, so firmware is probably the bigger factor.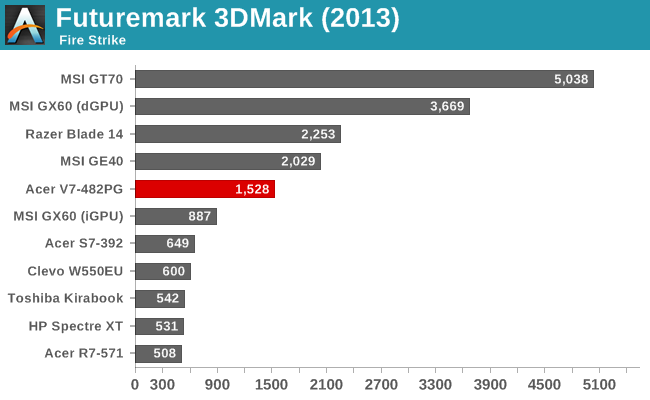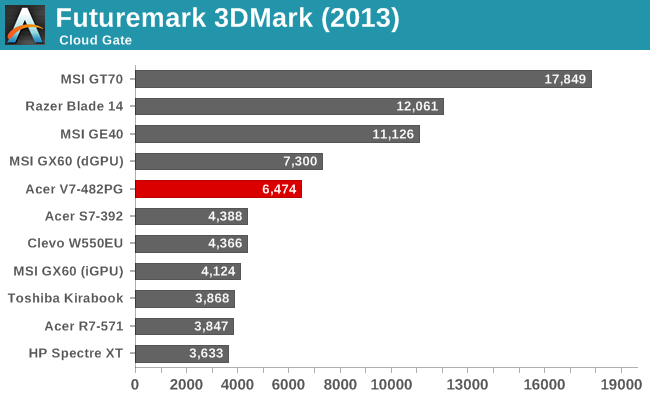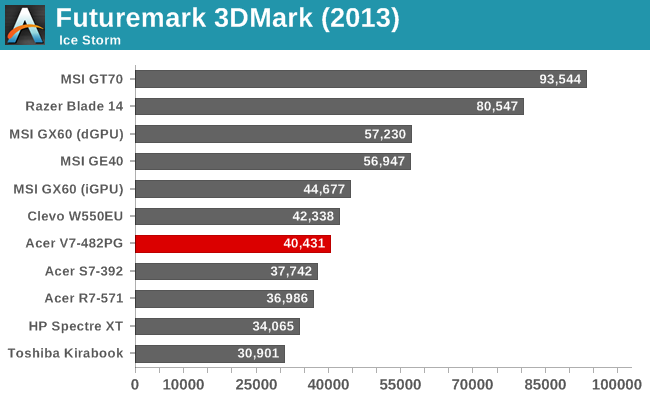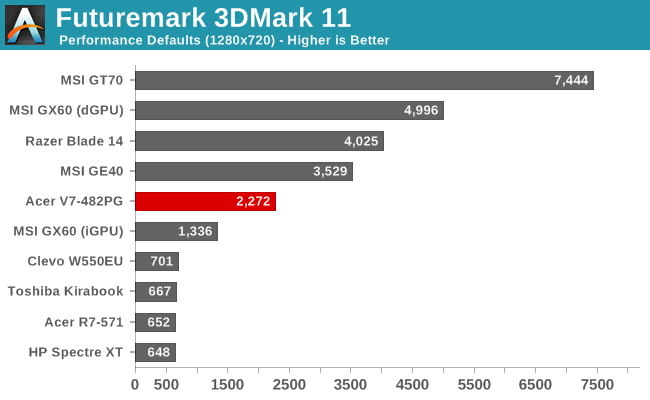 In terms of graphics performance, using 3DMark as our baseline estimate, there's clearly a pecking order established: high-end GTX and HD 7900 GPUs, moderate GTX 760 GPUs, the GT 750M used in the V7, AMD's Richland/Trinity iGPU, and then all of the Intel integrated graphics solutions. I'm still surprised that the GT2 implementations of Haswell haven't really improved over the GT2 Ivy Bridge iGPU, but variations in clock speed certainly play a role. We should also be getting our first Crystalwell (Haswell GT3e) laptop in the next week, which of course will improve performance quite a bit but at a pretty hefty price. Depending on how much OEMs have to pay NVIDIA for something like the GT 750M, and considering the lack of GT3e on dual-core parts, I suspect we might end up waiting for Broadwell for a truly compelling mainstream iGPU from Intel.
And with that said, let's move on to gaming benchmarks.