The Chip
The Duron 850 remains unchanged from the past five Duron processor releases that we have seen.  The Socket-A processor is still given the benefit of the Athlon's 100MHz DDR EV6 FSB that offers bandwidth equivalent to that of a 200MHz bus.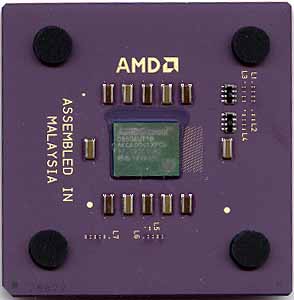 Combining a high bandwidth FSB that keeps the processor fed healthily with a very large L1 data cache (64KB data/64KB instruction) and a sizeable L2 cache (64KB), the Duron offers approximately 90% of the performance of the Athlon in most cases.
Currently all Durons are manufactured in AMD's Fab25 plant in Austin, Texas, using aluminum interconnects.  While the old trick of simply looking at the polishing used on the processor's die used to tell us whether an AMD CPU was produced at Fab25 or Fab30 in Dresden, variations in the polishing dyes have degraded the usefulness of that method.  The one thing to keep in mind though is that currently no Durons, regardless of the shade of the polishing dye used on the processor, are manufactured using copper interconnects.  The first Durons to come out of Fab30 in Dresden may end up being the upcoming parts based on the Morgan core, however depending on how quickly AMD needs to ramp the clock speed of the Duron this may not hold true.
For more information on the Duron's architecture, be sure to read our original review of AMD's Duron processor. 
In comparison to the Celeron, we have illustrated time and time again that the Duron is the faster solution on a clock for clock basis.  When combined with a UMA (unified memory architecture) platform (e.g. SiS 730S, VIA KM133) the Duron's performance lead over the Celeron is cut significantly.  A major reason behind this is that the Celeron's most popular UMA platform is the i810E, which is definitely much more mature than both of the Duron's UMA platforms. 
We have already compared the Duron to the Celeron on their respective UMA platforms; for a clock for clock comparison read our Celeron 800 Review. 
As an overclocker, the Duron 850 is no better and no worse than the Duron 800.  We have seen reports around the web of users hitting up to 1.2GHz with their Duron 800s, however the 950MHz - 1.1GHz range is more realistic for the average overclock with a processor like the Duron 850. 
Duron 850 Specifications
· 25 million transistor 0.18-micron Duron core with Aluminum interconnects
· 850MHz clock speed - 8.5x clock multiplier
· 128KB on-die L1 cache running at core speed
· 64-bit exclusive 64KB on-die L2 cache running at clock speed
· 462-pin Socket A EV6 CPU interface running at 100MHz DDR (effectively 200MHz)
· 1.60v core voltage
CPU Specification Comparison

AMD Duron

AMD Athlon

Intel Pentium III

Intel Celeron

Core

Spitfire

K7

K75

Thunderbird

Katmai

Coppermine

Mendocino

Coppermine128

Clock Speed

600 - 850 MHz

500 - 700 MHz

750 - 1000 MHz

750 - 1200 MHz

450 - 600 MHz

500 - 1000 MHz

300 - 533 MHz

533 - 800MHz

L1 Cache

128KB

32KB

L2 Cache

64KB

512KB

256KB

512KB

256KB

128KB

L2 Cache speed

core clock

1/2 core

2/5 or 1/3 core

core clock

1/2 core

core clock

L2 Cache bus

64-bit

256-bit

64-bit

256-bit

System Bus

100 MHz DDR (200 MHz effective) EV6

100 - 133 MHz GTL+

66/100 MHz GTL+

Interface

Socket-A

Slot-A

Socket-A
Slot-A (OEM only up to 800MHz)

Slot-1

Slot-1
Socket-370

Socket-370

Manufacturing
Process

0.18 micron

0.25 micron

0.18 micron

0.25 micron

0.18 micron

0.25 micron

0.18 micron

Die Size

100mm^2

184 mm^2

102mm^2

120mm^2

128mm^2

106mm^2

153mm^2

106mm^2

Transistor Count

25 million

22 million

37 million

9.5 million

28 million

19 million

28 million