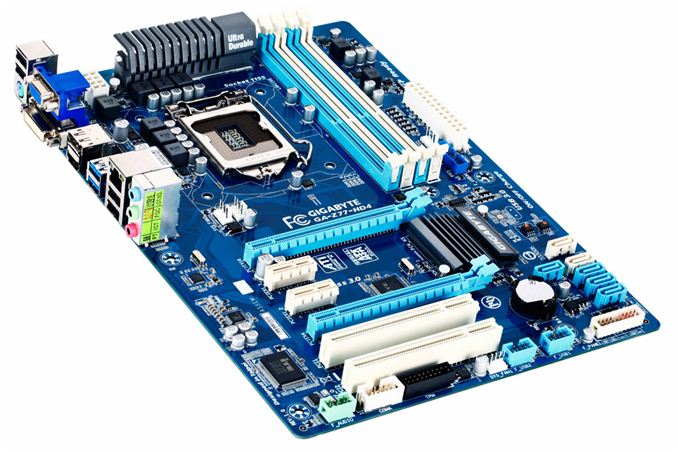 While most of the focus for motherboards is on the big models, what happens when we get down to the lower price points? If you want a basic ATX Z77 motherboard with all the IGP video outputs, Gigabyte has you covered at $120 with the Z77-HD4. At this price point we are dealing with an overclockable chipset designed for a single GPU but still has basic audio and all Z77 features. Typically using HDMI invokes a small price premium due to the licensing, and in a budget board stripping down everything is the number one priority. Gigabyte wanted to have that stripped down Z77, but also offer a full video output set without pushing the price up too high.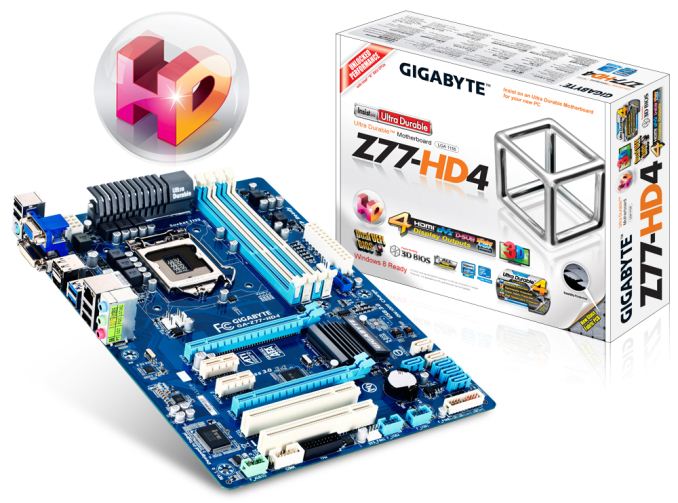 Gigabyte Z77-HD4 Overview
When writing a review, we go to great lengths to be unbiased in our analysis – I give no favor to branding on the box. An issue comes along when dealing with a sub $125 motherboard like the Z77-HD4 because we simply do not do enough in this price range. Is it a good price? I honestly do not know. There are a lot of motherboards in that price range and below, meaning that the Z77-HD4 will be a focus on two fronts – if you need a feature that Z77 provides that H7x, Q7x or B7x does not, and you want any of the digital IGP ports.
The points that make a user want a Z77 motherboard will be in the overclocking, the PCIe lane allocation, and the combination of RST/SRT. If you do not need overclocking, then H77/Q77 will be the port of call. There are a few B75 motherboards south of $70, but you lose overclocking, RAID, RST and SRT.
The Gigabyte Z77-HD4 then covers the basic Z77 platform for a single GPU user. We get six SATA ports from the chipset (two SATA 6 Gbps, four SATA 3 Gbps), three fan headers, a PCIe layout for an x16 GPU, an extra x4 device, and a pair of PCIe x1 and PCI devices – the latter via a controller. Like almost all Gigabyte motherboards we get a TPM header and a COM port as well. Audio is in the form of a Realtek ALC887, Ethernet via a Realtek 8111E, USB 3.0 from the chipset and a full complement of DIMM slots.
Overall the board performed reasonably well, even while overclocking. Performance on Gigabyte boards has been getting more and more efficient as the BIOSes mature, giving the Z77-HD4 some higher scores than expected. Clearly there are some draw backs with cheaper motherboards – in this case the Windows 7 posting time for a dual GPU setup was nearer 20 seconds than 10 seconds, the DPC Latency suffered from spiking in normal usage and the audio testing was way down compared to an ALC898 or enthusiast variation therein. In terms of layout, using the PCIe x4 from the chipset for a dual slot GPU will reduce the number of SATA ports available.
But for a board that works, overclocks, supports 32GB of high speed memory and a base number of Z77 devices, the Gigabyte Z77-HD4 does hit those checkpoints.
Visual Inspection
As this is our first real budget board of the Z77 range (something we are going to rectify with Haswell), it is hard to put down on paper what to expect. Essentially, I expect the chipset defaults, though as seen below, in order to keep costs down we only get three audio outputs (due to the codec), and SATA ports coming out of the motherboard. Also note that the Z77-HD4 is thinner than normal ATX, and is missing the far end screw holes.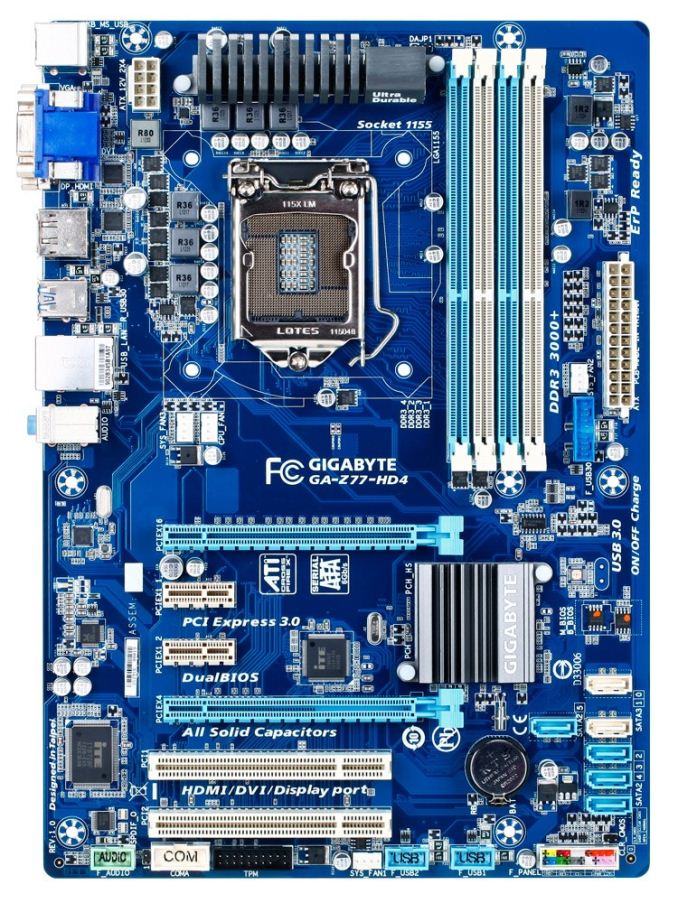 The socket area is a little different to most of what we have reviewed in the past, as the VRM heatsink is above the socket and comparatively quite far away from the Intel minimum recommended distance, giving plenty of room for large CPU coolers. Unlike the G1.Sniper M3 reviewed previously, we get a full 8-pin CPU power connector for the CPU, although with few phases it will be interesting to see how well such a budget board overclocks. Around the CPU we have access to three fan headers for fans – two 4-pin headers to the bottom left of the socket, and another beside the 24-pin ATX power connector. The other 4-pin header is on the bottom of the board.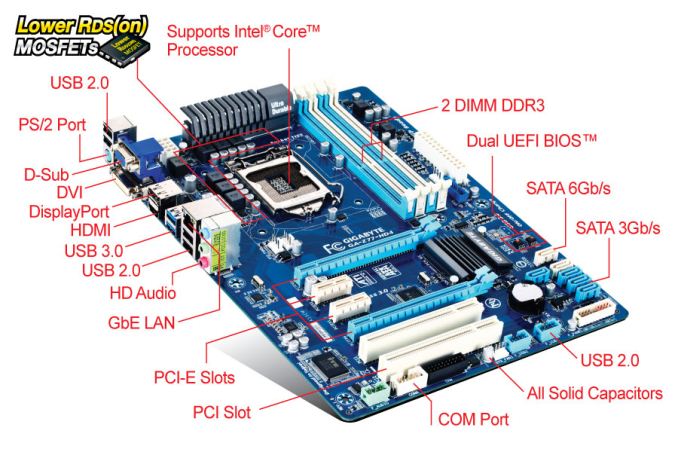 Moving clockwise around the board, we have a full complement of DIMM slots, and as expected these are latched on both sides rather than the single sided latch system that is emerging on some motherboard manufacturers' ranges. Beside this is the 24-pin ATX power connector, one of the aforementioned fan headers, and a USB 3.0 port. Moving down is our chipset heatsink – small enough to cover the chipset but not connected to any other heatsink. The SATA ports are all coming out of the board, with two SATA 6 Gbps in white and four SATA 3 Gbps in blue. Even though the second full PCIe slot could cause some of the SATA ports to be blocked if large GPUs are used, this second PCIe only runs at PCIe x4 from the chipset, and although CrossFireX compatible, is not suggested for gaming GPU usage.
Along the bottom of the board we have our front panel connectors, two USB 2.0 headers, a fan header, a TPM header, a serial port header and the front panel audio header. The PCIe slots are arranged in an x16, x1, x1, x4, PCI, PCI layout. Seeing two PCI slots on a Z77 motherboard is not as common as it once was, with the PCI standard no longer included as part of the chipset specifications (and requires a controller). However it is cheap, and users can purchase PCI to USB or PCI to Firewire cards if extra functionality is needed.

The main point that Gigabyte marketing are trying to sell with this motherboard is the use of HDMI certification on a cheap product. Normally products in this price range are limited to D-Sub and DVI-D, and there is apparently a market for HDMI on board. Gigabyte also pairs this with the DisplayPort connector. Aside from the four video outputs, we also have four USB 2.0 ports, a combination PS/2 port, two USB 3.0 ports, a Realtek gigabit Ethernet port, and three audio jacks from a Realtek ALC887 chip.
Board Features
Gigabyte Z77-HD4
Price
Link
Size
Slim ATX (30.5cm x 21.5cm)
CPU Interface
LGA-1155
Chipset
Intel Z77
Memory Slots
Four DDR3 DIMM slots supporting up to 32 GB
Up to Dual Channel, 1066-2800 MHz
Video Outputs
D-Sub
DVI-D
HDMI
DisplayPort
Onboard LAN
Realtek 8111E
Onboard Audio
Realtek ALC887
Expansion Slots
1 x PCIe 3.0 x16
1 x PCIe 2.0 x4
2 x PCIe 2.0 x1
2 x PCI
Onboard SATA/RAID
2 x SATA 6 Gbps (Chipset), RAID 0, 1, 5, 10
4 x SATA 3 Gbps (Chipset), RAID 0, 1, 5, 10
USB
4 x USB 3.0 (Chipset) [2 back panel, 2 onboard]
8 x USB 2.0 (Chipset) [4 back panel, 4 onboard]
Onboard
2 x SATA 6 Gbps
4 x SATA 3 Gbps
1 x USB 3.0 Header
2 x USB 2.0 Headers
4 x Fan Headers
1 x SPDIF Output Header
1 x Serial Port Header
1 x Clear_CMOS Header
1 x TPM Header
Power Connectors
1 x 24-pin ATX Power Connector
1 x 8-pin CPU Power Connector
Fan Headers
1 x CPU
3 x SYS
IO Panel
1 x PS/2 Combination Port
D-Sub
DVI-D
DisplayPort
HDMI
2 x USB 3.0
4 x USB 2.0
1 x Intel GbE
1 x Optical SPDIF Out
3 x Audio Jacks
Warranty Period
3 Years
Product Page
Link
For a cheap board, we are going to get the basics and not a lot else. As mentioned previously, the main draw for this motherboard is the inclusion of all four video outputs. We get a fairly cheap audio codec used to bring costs down, but in my opinion I would still like motherboard manufacturers to place power/reset/Clear_CMOS buttons as well as a two digit debug in order to diagnose issues. Users who want a PCIe GPU, an x1 WiFi card, a PCIe RAID card and a pair of PCI devices will be well catered. Ultimately this board is probably aimed at the internet café market in China, where cheap and cheerful rule the roost, although I cannot see why they would want overclockable motherboards, unless it is used as a point of advertising.