MSI Z77A-GD65 Gaming BIOS
I enjoy good BIOS design – a system that is both easy to navigate but also nice to look at covers two of the bases by which I judge a BIOS. The MSI graphical BIOS implementation was visually a breath of fresh air when it was released, but was starting to look dated. It had a good system of informing the users of the system underneath, but the myriad of options to select followed no specific pattern, especially when it came to overclocking.
With the new gaming range of motherboards comes a new look BIOS. Unfortunately, the look is all that has changed – the functionality is still leaving elements to be desired. The new look means dragons: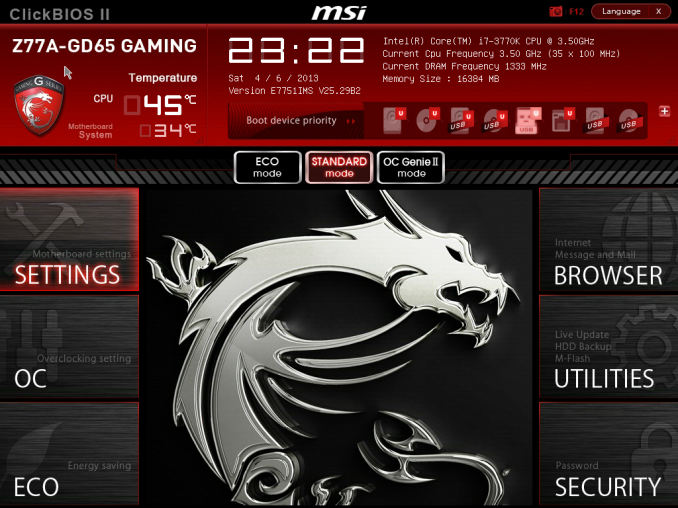 Our front screen not only looks good but contains vital information that many other manufacturers fail to deliver. Right from the word go we know what motherboard we are dealing with, what BIOS version it is, what CPU is installed, what overclock we are running, and how much memory is present. For added measure, the CPU and chipset temperatures are also given. All that is missing is perhaps a fan speed indicator for the CPU fan, or the CPU voltage, then all would be well. I am infuriated with motherboards that do not tell me what they are or what the system I am dealing with is at the start – I enjoy having this information on every single page as a constant banner. MSI has got this right.
Unfortunately the good stuff stops here – the option selection from MSI needs a big change in both ease of use and information. We can select one of the six options around the dragon for additional menus, such as that for Settings: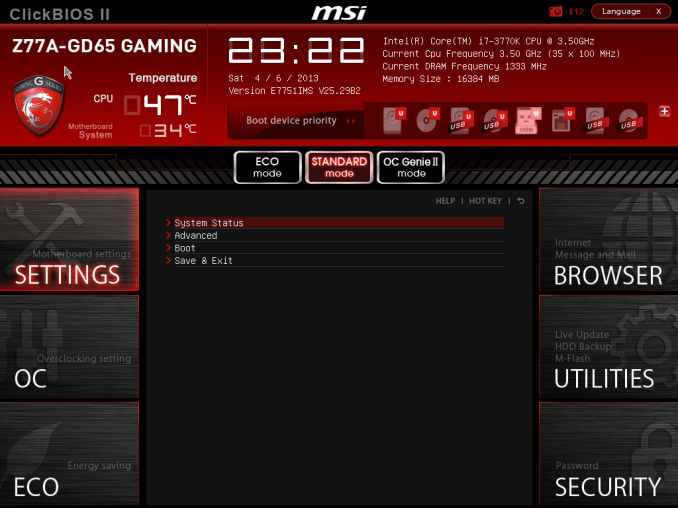 Users new to BIOSes will not know what these options are, and the BIOS does not even try to help new users understand. Moving through to the Advanced Menu gives the actual bulk of the BIOS options: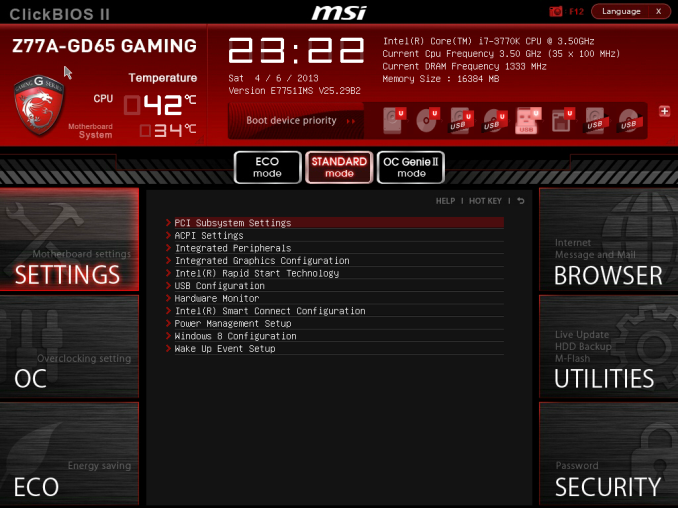 Ask a new user what ACPI or Rapid Start is, and they will not have a clue. Also somewhat frustrating is that without actually going into the menus, we cannot tell where the SATA configuration modes are, or how to enable Firewire/network ports. These are hidden in the Integrated Peripheral menu: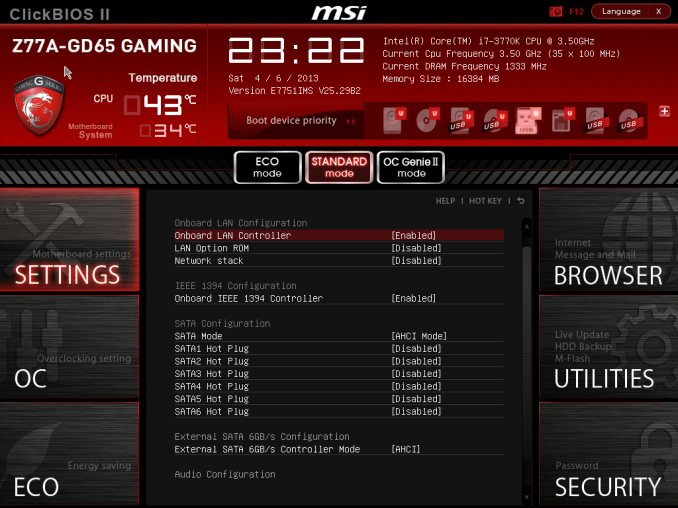 Aside from the glaring error in this menu ("External SATA Configuration" is not external, it is the internal ASMedia controller), I am at least glad that AHCI is enabled by default. Elsewhere in the Advanced menu options are our BIOS fan controls under Hardware Monitor. The fan controls in the BIOS are pretty poor, offering only a 'Smart Fan' target for the CPU header and pure % options for the two 4-pin SYS fan headers: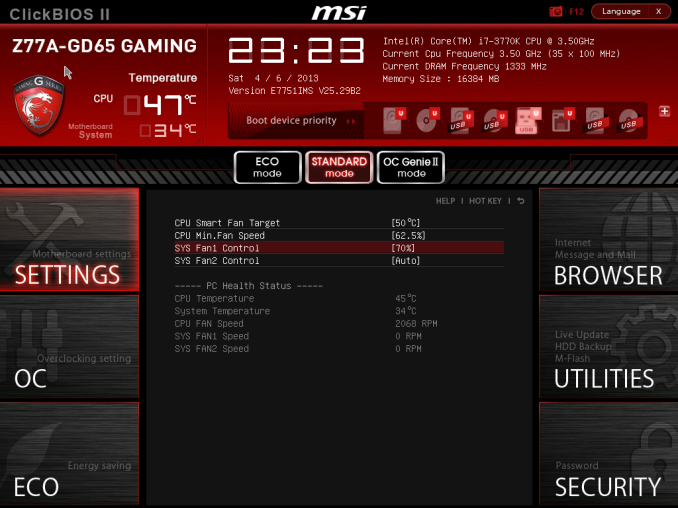 The OS software gives better fan controls, but MSI are making the BIOS options too quick and dirty for my liking. These BIOS options also undermine the actual way that fans work, by assuming that power applied is directly proportional to the fan speed, then offering the fan speed as an option when the BIOS only deals with the power applied. I have ranted quite fervently in the past, on both the Gigabyte Z77X-UP7 and ASUS Maximus V Formula review and will not mention it here for the sake of not sounding like a broken record.
Elsewhere in the Advanced menu is the Windows 8 Fast Boot options, and back out in Settings are our boot configuration. MSI also offers a Boot Override, allowing a single device to have boot priority on the next boot only – good for OS installs, though the option is too hidden away in menus for my liking.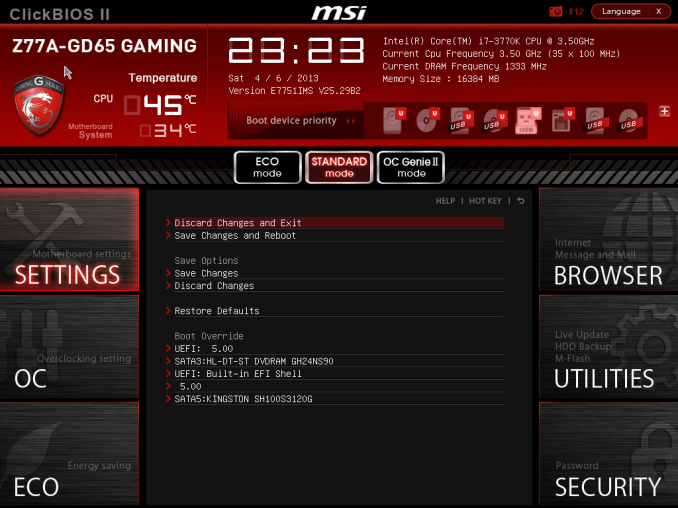 The overclock options is where most people will head and I am aghast with the disorganized nature of how MSI present them. Take a look for yourself:
There is no segregation between CPU options, memory options, voltage options, or any sense of order. It seems like the BIOS engineer just decided to shake options in a bag and put them in as they came out, lottery style. We get a basic CPU BCLK/multiplier option at top, along with Turbo options then memory. XMP on our kit works fine, although at 2400 C10 the system did not like S3 sleep modes that often. MSI also repeat their utterly confusing options relating to 'Digital Compensation' without a whiff of actually explaining what the option does, and then offer a series of voltages with no indication of what the safe values are. Users are also limited to absolute voltage values rather than a choice of an offset, and no automatic overclock options are offered beyond OC Genie.
Elsewhere in the BIOS are options to disable the Phase LEDs, update the BIOS via M-Flash (make sure your USB stick is valid), overclocking profile saving and CPU feature analysis. Adventurous users can play with winki, an MSI Linux install that allows users to access the browser through the BIOS.