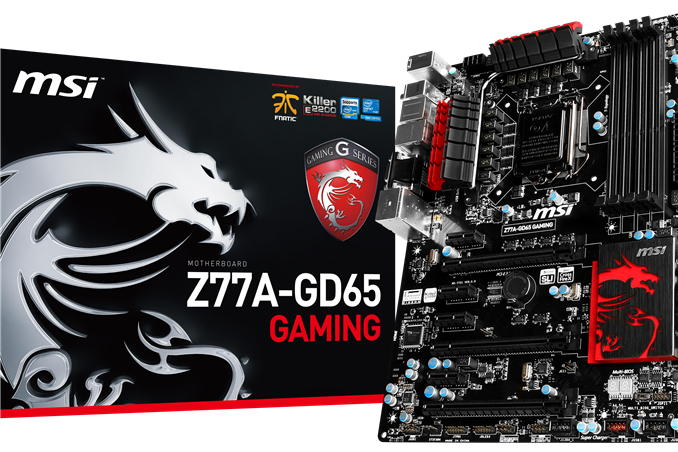 In recent motherboard generations, the 'in style' thing to do is to separate the SKU line of a company into several compartments – channel/mainstream, overclocking, budget, smaller-than-ATX, X feature enabled (such as Thunderbolt), and gaming. The latest addition to the gaming scene is MSI, who have recently released their Z77 Gaming range, despite being a stones throw away from Haswell launch.
So when a reviewer comes across a product designated 'gaming', we are clearly wanting to see and feel why it is a gaming product. This would mean specific features aimed at the gaming crowd, to help reduce lag, boost frame rates, and increase the experience of the whole package. We already have contenders in this space aside from MSI – ASUS has their Republic Of Gamers range which we have rated very highly, Gigabyte has the G1 range, and ASRock wheels out Fatal1ty. Off the back of CeBIT 2013, MSI have launched four gaming boards in the Z77 range: the Z77A-GD65 Gaming, the Z77A-G45 Gaming, the Z77A-G43 Gaming and the B75A-G43 Gaming.
These motherboards come off the back of a successful gaming laptop range for MSI. In the wake of the global depression, every motherboard manufacturer needed to diversify its portfolio in order to cover itself, and MSI did this in the notebook arena. The gaming notebooks feature a red and black color scheme, which seems to be the going rate for gaming product lines:

From left to right – ASRock Fatal1ty Z77 Professional, MSI Z77A-GD65 Gaming, ASUS Maximus V Formula
The only company that bucks this trend is Gigabyte, aiming for a gaming green instead, or orange for the overclocking range. MSI aim for yellow with their overclocking range – the MPower and Lightning GPUs being the prime examples (the XPower is still relatively undefined in the blue end of the spectrum). However MSI is tying their ranges together, at least in color scheme – the Gaming range will have GPUs featuring a red Twin Frozr 4 cooler, and there have been a lot of images online featuring these two with red-LED Avexir memory.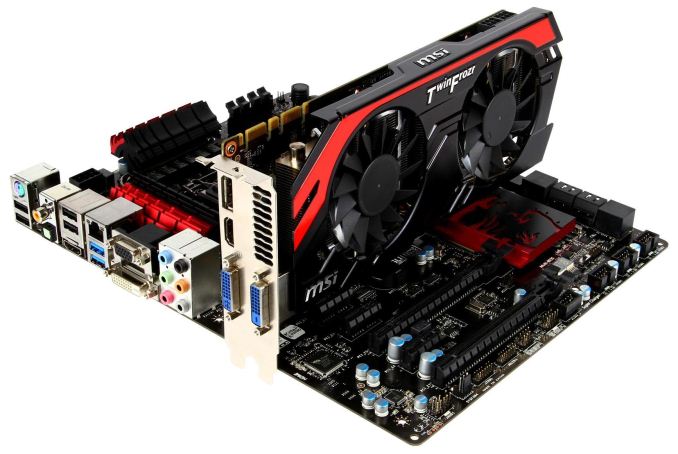 While MSI have had great success of their GPU lines (the Lightning range constantly breaks overclocking world records and is more often than not the fastest pre-overclocked version of each card), the motherboard range needs a boost. MSI is aimed primarily low to mid-range, as seen by the lack of a Z77 PLX 8747 enabled motherboard in the lineup for three-way and above – even the GD80 and MPower are non-PLX. Thus if they want to release a gaming motherboard, gamers will want the best available, especially if they have that extreme setup. The Z77A-GD65 Gaming, despite being the top of the range so far, is the one we are reviewing today. It hits the line down the middle, going for that single and dual GPU gamer, but given how close we are to Haswell, was it worth the effort?
MSI Z77A-GD65 Gaming Overview
Speaking to MSI Europe, the reason for releasing a Z77 Gaming product line was due to the Haswell delay. They have had plans for a Z87 Gaming range since they got the specifications through for Haswell, but the additional 4-6 month delay means that the gaming range was brought forward. The only issue was that the gaming range on Z87 will have a different naming; the Z77 gaming range is a naming hybrid for now.
One of the first thoughts that popped into my mind when I started this review is 'this looks like a normal GD65'. There are a large number of similarities: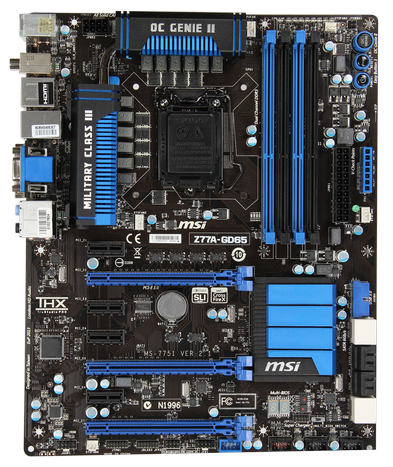 In actual fact, we are dealing with almost the exact same layout. Same number of SATA ports, same VRM configuration, same location for OC buttons, USB ports, voltage check points, fan headers, the lot. The difference it seems is in the 'gaming details'.
Over the base GD65 model we get a Qualcomm Atheros Killer NIC E2205-B gigabit Ethernet controller, a regular feature on the MSI Gaming notebook range. This NIC is designed to offload network features, such at packet priority, onto the NIC itself rather than the CPU, as well as bypassing the Windows network stack for high priority applications. Most motherboards now offer some form of network management tool, however these usually require CPU intervention in order to keep everything in the right order. While I cannot say that a Killer NIC is vital in improving FPS or response times, it could help reduce the 'user' end side of the lag in gaming. Though if you are suffering from lag due to your own computer, turn off downloads, Facebook and updates during competitions.
Similar to ASRock's Fatal1ty range, the MSI Gaming also has a 'Gaming Device Port', which should allow for higher polling rate mice (500-1000 Hz) to be used. Whether a higher polling mouse rate is useful is still debatable depending on the frame rate – if you are polling up to 16-32x more than the FPS of the game, the PC has to decide on the average acceleration and location vs. the latest acceleration/location and inject it into the gaming stream appropriately.
Aside from these two features, our expectations of a gaming motherboard in terms of hardware actually fall fairly short, no matter how much marketing material from Fnatic (the gaming team used to help promote the hardware) is produced. There is a clear line between marketing bumpf and actual useful features, and the bumpf is best left to press releases. A dragon image on the motherboard is not a feature; it is a design tool to add only aesthetic quality, not actual performance or connectivity. Almost all the other features on board are identical to the standard GD65 - Military Class III, OC Genie, overclocked memory, fan controls, Click BIOS II, Super Charger and voltage check points. As a gaming board, I would have expected an improved audio codec for one – the GD65 Gaming sits on a Realtek ALC898 with no additional hardware to improve audio, despite having a Sound Blaster Cinema license and software.
I may be judged for being too critical; if I saw a GD65 and GD65 Gaming side by side, I know what the differences are: software visuals, Killer NIC vs. Intel 82579V, and a Gaming Port. Do these differences make it a proper gaming motherboard, or just an iterative update? I would expect a gaming motherboard to have a lot more features – support for chipset water cooling, a better audio codec, another NIC, gaming WiFi, more overclocking features, LEDs under the heatsinks, anything. It also seems odd to include three of the four supported video outputs on the rear IO when this is an ATX motherboard aimed at gamers. All MSI needed was a HDMI if any gamer wanted to use the IGP.
Performance wise, the GD65 Gaming is a typical Z77 motherboard. MSI have enabled MultiCore Turbo for processors when XMP is enabled which gives it the edge at stock over non-MCT enabled boards, though efficiency against similar ASUS and Gigabyte boards is still lacking in certain parts. Overclocking was straight forward, although aside from OC Genie, MSI really need to supply a set of automatic overclock options, not just one, in order to be considered for awards. The one big plus in the system is Live Update 5, the software MSI use to help users update motherboard drivers and software. No other manufacturer offers something as good as this, though there is room for improvement.
The Z77A-GD65 has retailed for $150-$165 at Newegg.com this week, and the Gaming needs to be around that price, perhaps +$5, to justify its position. At $175+, the extra green would be better suited on other upgrades.
Edit: Current price on Newegg is $180. It seems that style adds in cost, or manufacturers/etailers want more margin.
Visual Inspection
The MSI Z77A-GD65 Gaming is here to promote MSI's foray into the gaming hardware industry; alongside the laptops we have a design theme and a culture in the form of the 'MSI Dragoon Army'. This is of similar ilk to the Republic of Gamers from ASUS, with separate forums and community. Similarly in style to hardware is the color scheme, which offers red and black but also a Dragon motif on the motherboard. Someone should inform MSI that a Dragoon is technically light mounted cavalry, or in the case of several RPGs such as Cid from FF7, infantry specializing in the killing of dragons. In the latter context, it may make sense if the person specializing in the killing of dragons would exhibit a dragon motif on their hardware.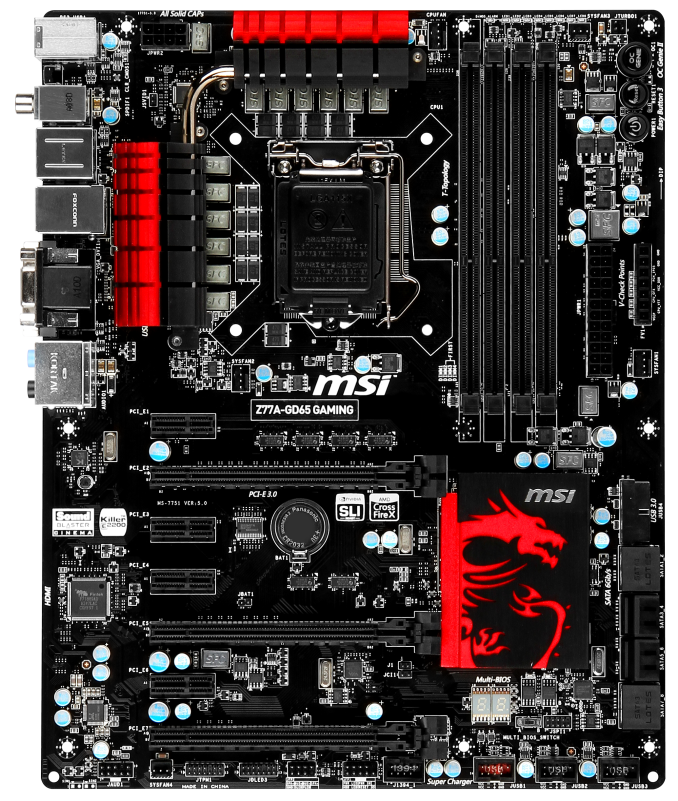 The Z77A-GD65 Gaming, as mentioned earlier, an essentially a copy of the normal GD65. The socket area conforms to Intel specifications, with the power delivery and super ferrite chokes covered in a conjoined heatsink above and to the left of the socket. The heatsink is 28mm above the PCB, and uses curved fins in the shape of a dragon to increase surface area for heat transfer.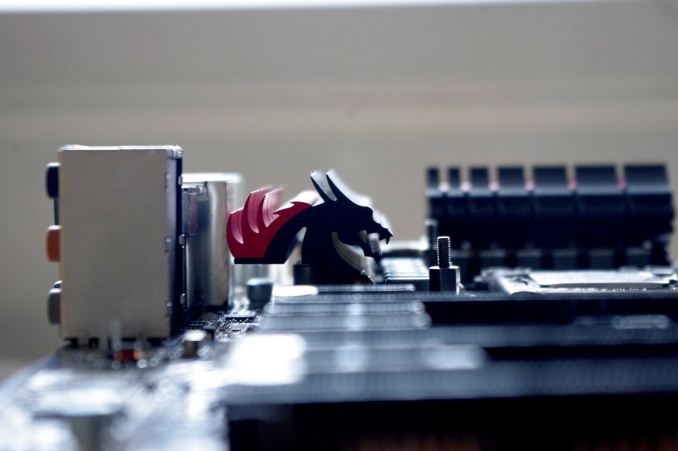 The CPU has a single 8-pin 12V connector for power, and has access to four fan headers within easy reach. The CPU 4-pin is just above the socket between the heatsink and memory, and a 3-pin SYS fan in the top right on the other side of the memory. A 4-pin SYS fan is below the socket above the first PCIe x1 slot, and another 4-pin is center-right on the board beside the 24-pin ATX power connector. The board has one other fan header, a 3-pin SYS fan on the bottom left of the board next to the front panel audio.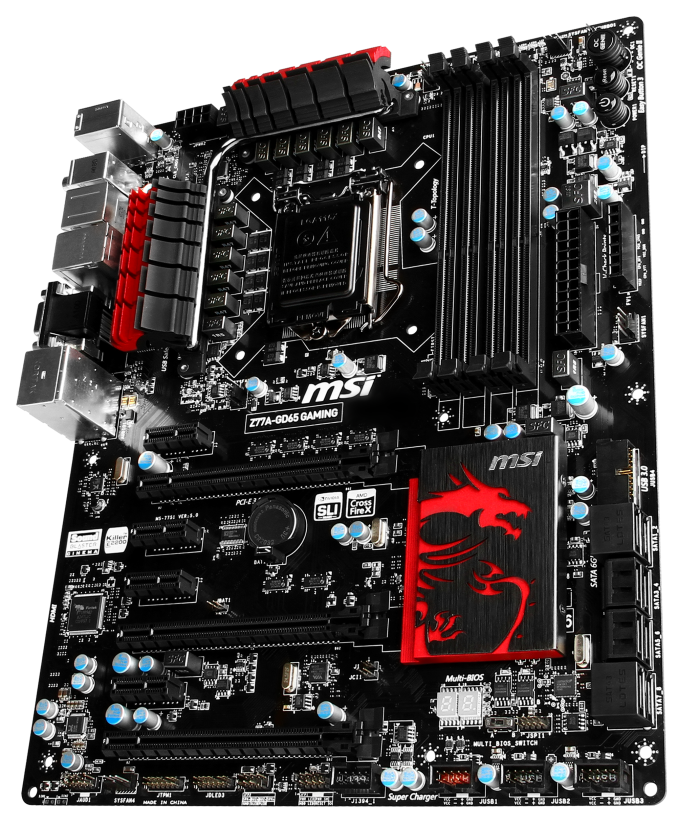 Moving around the motherboard in a clockwise direction, and our memory slots are all black but with a diagram beside them to tell the user which ones to populate first. Unfortunately these are not the single sided latch memory slots we have become accustomed to on high end motherboards. We also see writing on the motherboard saying 'T-Topology', referencing how the memory channels connect to the IMC of the processor in a way that should increase peak memory clocks when all memory slots are populated. T-Topology was designed as an incremental update for Haswell, however ASUS were first to jump the gun with their initial Z77 launch – it now seems that the other motherboard manufacturers are following suit.
Above the memory slots are a set of LEDs to let the user know how many of the CPU phases are in action at any one time – an option to turn these lights off comes with the MSI software. Continuing clockwise and we get to our Power/Reset buttons, along with an OC Genie button. The power and reset buttons are a similar height and shape to each other, meaning the errant overclocker may accidentally press the wrong one; I would urge MSI to offer different shapes for these buttons, or to put one each side of the OC Genie button. We cover the OC Genie button usage in our overclocking section later in the review.
Below the power/reset buttons are the 24-pin ATX power connector, with a set of voltage check points and 4-pin fan connector alongside. The voltage check points are a regular feature on MSI motherboards, allowing users concerned about real voltage numbers under extreme overclocking scenarios to check values accurately rather than via software.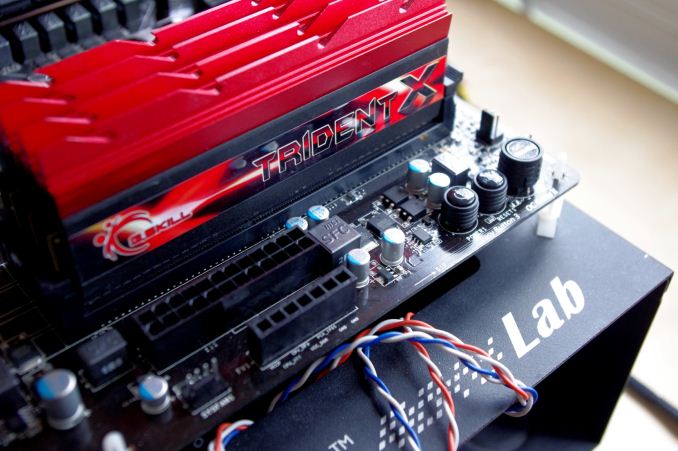 Our USB 3.0 port, powered by the chipset, is above the SATA ports, as well as right angled with respect to the motherboard. As with the base GD65, this is an odd configuration, supported more by cases that are deeper – if you already have trouble getting the SATA cables to fit, the USB 3.0 connector will also be an issue. Normally a manufacturer would put the USB 3.0 where the voltage check points are on the MSI, but as a result MSI have to move it down the board and place it at this angle due to its proximity to the first PCIe slot. Note that this is not an extra USB 3.0 controller, this is just one provided by the chipset, meaning four USB 3.0 ports overall on the motherboard. The SATA ports consist of the two SATA 6 Gbps from the chipset, four SATA 3 Gbps from the chipset, and two SATA 6 Gbps from an ASMedia 1042 controller.
Just beside the SATA ports and below the chipset heatsink is a two-digit debug display, which handily doubles as the CPU temperature readout after booting. This is a feature I quite like and I wish more motherboards had it! Beside this is a multi-BIOS switch, allowing users to switch between the two soldered BIOS chips on board.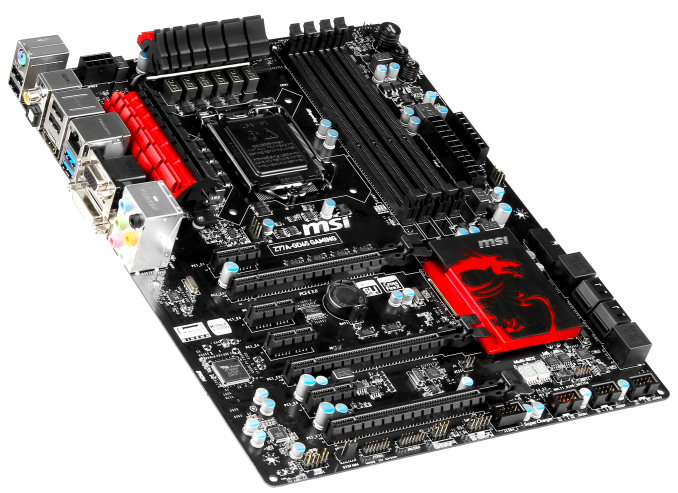 Along the bottom of the board is the usual state of affairs with headers, identical in fact to the GD65 layout. From right to left we have three USB 2.0 headers (the one in red being the SuperCharger enabled header), a FireWire/IEEE1394 header, the front panel header, a TPM header, a 3-pin fan header, and the front panel audio header.
The PCIe layout is standard for a motherboard in this price bracket – from top to bottom we have a PCIe x1, x16 (x8 when more than one GPU is installed), x1, x1, x8 (x4 when more than two GPUs are installed), x1, and x4. This final x4 is CrossFireX and SLI compatible for Ivy Bridge processors but disabled for Sandy Bridge. As demonstrated in previous reviews, at three-way GPU setups, having an onboard PLX chip makes sense as frame rates would be slightly better.

The rear IO is one of the critiques I have with this motherboard – as a gaming motherboard, one would expect users to be using a discrete GPU. Now there is scope to use Lucid Virtu MVP in the setup, though I would be interested to know the number of gamers, especially members of Fnatic, which use Virtu MVP. But even still, a single video output would be sufficient for this, rather than HDMI + DVI-D + VGA. Even with these three, there does exist DVI-D + VGA combination ports (DVI-I in fact), which would then allow the HDMI port to be migrated above the DVI-I, and space for a couple of extra USB 2.0 ports. There is a lot of scope for rear IO, but only a few manufacturers actually optimize it.
Nevertheless, from left to write we have a combination PS/2 port, two USB 2.0 ports which are Gaming Device Port enabled, a Clear_CMOS button, optical and digital SPDIF outputs, two more USB 2.0 ports, a HDMI port, the Killer NIC port, two USB 3.0 ports, VGA, DVI-D, and the set of six audio jacks.
Board Features
MSI Z77A-GD65 Gaming
Price
Link
Size
ATX
CPU Interface
LGA-1155
Chipset
Intel Z77
Memory Slots
Four DDR3 DIMM slots supporting up to 32 GB
Up to Dual Channel, 1066-3000 MHz
Video Outputs
VGA
DVI-D
HDMI
Onboard LAN
Qualcomm Atheros Killer E2205
Onboard Audio
Realtek ALC898
Expansion Slots
3 x PCIe 3.0 x16 (x16, x8/x8, x8/x4/x4)
4 x PCIe 2.0 x1
Onboard SATA/RAID
2 x SATA 6 Gbps (Chipset), RAID 0, 1, 5, 10
4 x SATA 3 Gbps (Chipset), RAID 0, 1, 5, 10
2 x SATA 6 Gbps (ASMedia), RAID 0, 1
USB
4 x USB 3.0 (Chipset) [2 back panel, 2 onboard]
10 x USB 2.0 (Chipset) [4 back panel, 6 onboard]
Onboard
4 x SATA 6 Gbps
4 x SATA 3 Gbps
1 x USB 3.0 Header
3 x USB 2.0 Headers
5 x Fan Headers
1 x FireWire Header
1 x TPM Module connector
Power/Reset Buttons
OC Genie Button
Multi-BIOS Switch
Two-Digit LED Debug
Voltage Check Points
Power Connectors
1 x 24-pin ATX Power Connector
1 x 8-pin CPU Power Connector
Fan Headers
1 x CPU (4-pin)
4 x SYS (2 x 4-pin, 2 x 3-pin)
IO Panel
1 x Combination PS/2 Port
2 x USB 2.0 (Gaming Port enabled)
SPDIF Outputs
2 x USB 2.0
2 x USB 3.0
1 x Qualcomm Atheros Killer E2205 NIC
HDMI
VGA
DVI-D
Audio Jacks
Warranty Period
3 Years
Product Page
Link
The main competition MSI has with the gaming will be with its own Z77A-GD65, followed by other gaming products like the ASRock Fatal1ty Z77, the ASUS ROG MVG and the Gigabyte G1.Sniper M3. Compared to the Z77A-GD65, as mentioned previously, asides from the new skin on the software the hardware upgrades are limited to the Killer NIC and the Gaming Ports, so I would not be surprised if the Gaming edition is eating sales away from the regular GD65. The nearest ATX gaming product in terms of price is the ASRock Fatal1ty Z77 Professional at $195 which we reviewed back in May 2012. The extra price difference means the Fatal1ty had more SATA ports, an IDE connector, a Floppy connector, dual NICs, four more USB 3.0 ports, and a couple of PCI slots instead of x1 PCIe. Both lack a gaming focused audio setup however.