The Chip
The Celeron 766 remains unchanged from the previous Celeron processors.  It is still manufactured by disabling half of the cache on low-yield Pentium IIIs that have bad cache blocks, thus giving the Celeron half the cache as well as making that cache half as associative as the Pentium III's cache.  This ends up hurting the Celeron severely as it, clock for clock, is unable to outperform the Pentium III, even when both are clocked at the same FSB/memory clock. 
The explanation for this is simple, the less associative a processor's cache is, the lower hit-rate it has, and the lower the hit rate, the more times the CPU has to go to main memory to fetch needed information.  In the case of the Celeron, the memory bus is running at a horrendously slow 66MHz which just amplifies the downsides to its 4-way set associative L2 cache versus the Pentium III's 8-way set associative L2. For more information on cache mapping techniques, check out our one page guide here.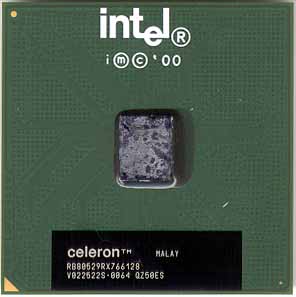 Celeron 766 Specifications
· 0.18-micron Coppermine128 core

· 766MHz clock speed – 11.5x clock multiplier

· 32KB on-die L1 cache running at core speed

· 256-bit Advanced Transfer Cache – 4-way set associative 128KB on-die L2 cache running at core speed

· Advanced System Buffering

· 370-pin FC-PGA Socket-370 GTL+ CPU interface running at 66MHz

· 1.65v core voltage
The Celeron 700 is really no different from the 566/600MHz parts that have been on the streets for a while now. It is still based on the same 0.18-micron Coppermine128 core, features the same amount of L1 cache (16KB Instruction + 16KB Data cache) and the same 128KB inclusive L2 cache.
CPU Specification Comparison

AMD Duron

AMD Athlon

Intel Pentium III

Intel Celeron

Core

Spitfire

K7

K75

Thunderbird

Katmai

Coppermine

Mendocino

Coppermine128

Clock Speed

600 - 800 MHz

500 - 700 MHz

750 - 1000 MHz

750 - 1200 MHz

450 - 600 MHz

500 - 1000 MHz

300 - 533 MHz

533 - 766 MHz

L1 Cache

128KB

32KB

L2 Cache

64KB

512KB

256KB

512KB

256KB

128KB

L2 Cache speed

core clock

1/2 core

2/5 or 1/3 core

core clock

1/2 core

core clock

L2 Cache bus

64-bit

256-bit

64-bit

256-bit

System Bus

100 MHz DDR (200 MHz effective) EV6

100 - 133 MHz GTL+

66 MHz GTL+

Interface

Socket-A

Slot-A

Socket-A
Slot-A (OEM only up to 800MHz)

Slot-1

Slot-1
Socket-370

Socket-370

Manufacturing
Process

0.18 micron

0.25 micron

0.18 micron

0.25 micron

0.18 micron

0.25 micron

0.18 micron

Die Size

100mm^2

184 mm^2

102mm^2

120mm^2

128mm^2

106mm^2

153mm^2

106mm^2

Transistor Count

25 million

22 million

37 million

9.5 million

28 million

19 million

28 million