I'm going to run through our benchmark suite pretty quickly, because we're pretty familiar with the ultra low voltage Ivy Bridge parts by now. The i7-3517U is the most common ULV i7 SKU, and the second most common Ultrabook part after the i5-3317U. Clock speed of 1.9GHz, max turbo of 3.0GHz, and HD4000 are all part of the package.
Performance is very much in line with the Acer Aspire S7 that Jarred reviewed, with the main difference between the two systems being Vizio's single Toshiba 256GB SSD versus Acer's two 128GB Lite-On drives in RAID 0 and the extra RAM in the Acer. Again, being limited to 4GB of memory in the Vizio is a bit annoying, but in the grand scheme probably not a huge deal for most. I've recently been dealing with a number of systems with only 4GB RAM—MacBook Air, Surface Pro, other Ivy Bridge tablets, my trusty ASUS Zenbook Prime—and they've all held up well in casual use. I think anything less than 8GB RAM is a bit rough for any serious system, but 4GB is a livable limit for a machine in this class.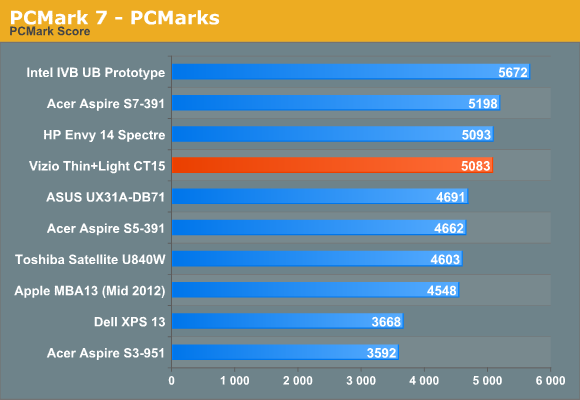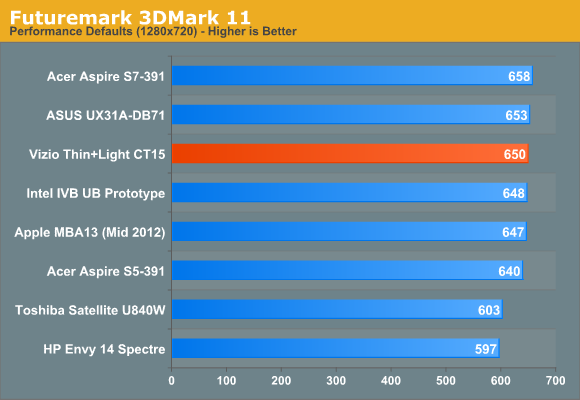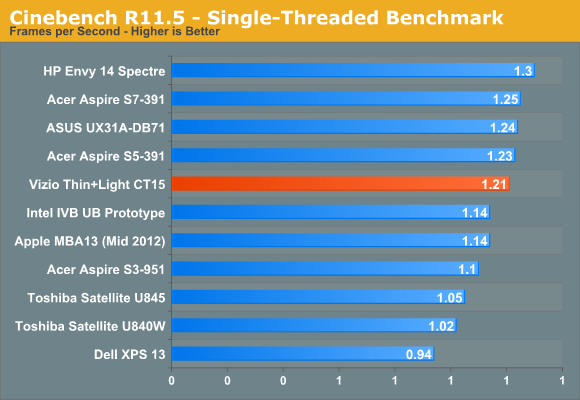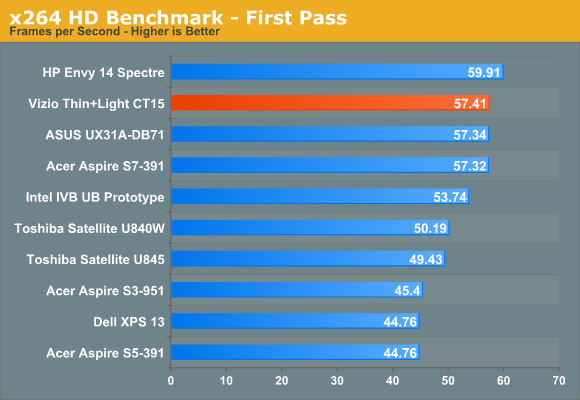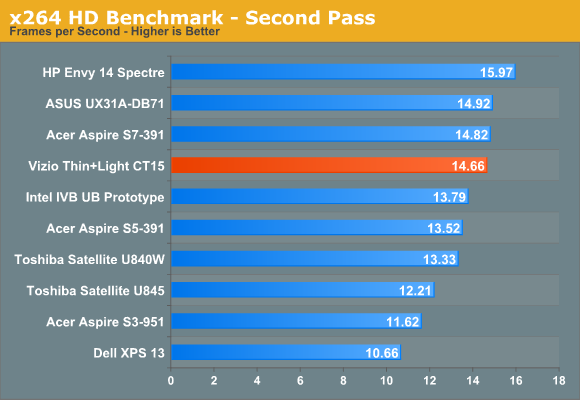 The CT15 has a 52Wh 6-cell li-poly battery that theoretically gives it decent battery life. Unfortunately, it doesn't really hold up to that in real life, though you can point to a few reasons for that. We saw around five hours in our ideal case test and a hair over four in our internet test that tends to be a better barometer of what you can expect in typical daily use.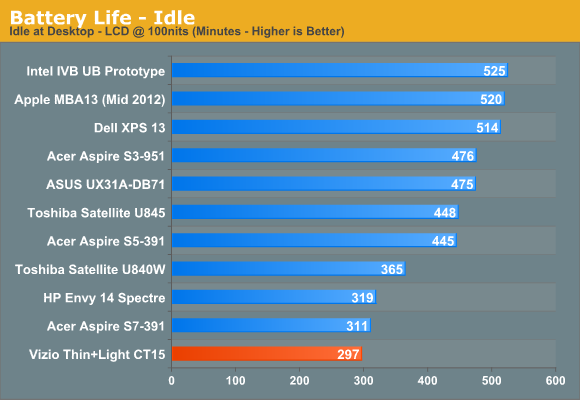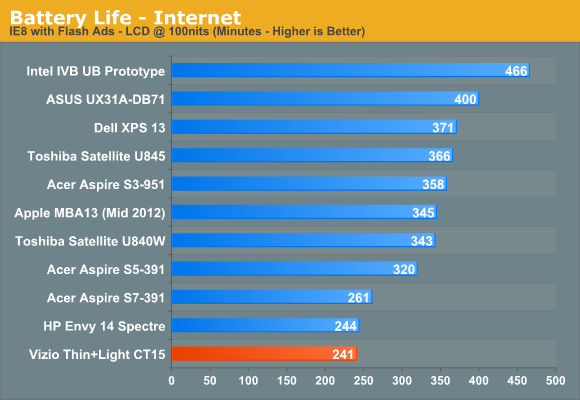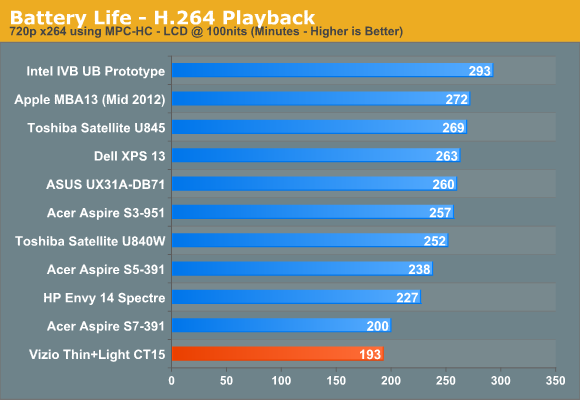 Those numbers seem low, as does the three hours and change in our HD video benchmark, but I think the main culprit is the 1080p 15.6" display. The increase in display size and resolution easily accounts for the increase in overall power draw compared to the 13" Ultrabooks we've seen thus far. Other than the Vizio and the HP Envy Spectre, every other notebook in the graphs is a 13" Ultrabook, which is why both the Vizio and the HP come off looking quite poor. Apple went with a 95Wh battery for the Retina MacBook Pro to end up at the 7 hour mark, versus 77.5Wh for the regular 15" MBP and 63.5Wh for the 13" (all three of which end up in the 7-8 hour range for battery life) so you can see how the 52Wh battery results in a relatively low runtime even with a ULV processor.
This issue gets fixed in the next-gen touchscreen Thin+Light, which has "nearly double" the capacity. I doubt it gets to the 100Wh mark, but even if it ends up near the 15" MacBook Pro in terms of capacity, it should be good enough for something along the lines of 6-7 hours of real world usage.