ASUS PB278Q Introduction and Specifications
Every 27" panel that I have reviewed this year has had two things in common: the panel was IPS based, and it was made by LG. The vast majority of IPS panels are made by LG, and so most high-end monitors use the same panels but have major differences in their electronics and design. In the past two years Samsung has entered the market with an alternative to IPS called PLS, or Plane-Line Switching.
While similar to IPS, PLS is designed to have a advantages over traditional IPS. First, it has a higher level of transmittance, so more light gets through each individual cell. This allows you to use either a lower powered backlight, or to have a brighter display, both of which lower the power output required for a certain screen brightness. Second, as each cell allows more light though, you can pack them tighter allowing for displays with a higher pixel-per-inch count while keeping light output higher. PLS also claims to have better viewing angles for color and contrast in comparison to IPS.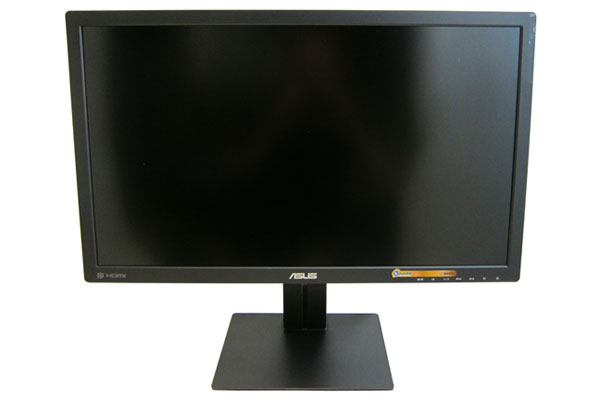 So far Samsung has been the main vendor to use PLS in products, but ASUS has also come out with the new PB278Q panel, which has a 27", 2560x1440 PLS panel with LED backlighting. The I/O options you would expect to find are present with DSub, DisplayPort, HDMI, and DVI inputs. One annoyance here is there is a lip just below the inputs, so if you have a really thick cable, it can be hard to connect it to the PB278Q in the space provided. The HDMI input is also HDMI 1.4 compatible and with a recent NVIDIA or ATI card you can do the full 2560x1440 resolution with an HDMI cable. There is a 3.5mm audio input for the integrated stereo speakers, and a 3.5mm audio output to use with headphones or speakers.
The design of the ASUS PB278Q is finished off by a nicely adjustable stand that allows for height, pivot, tilt, and swivel adjustments. A small channel on the back of the stand allows for routing cables out of the way as well. Controls for the OSD are located on the lower right of the display and are labeled with white text on black plastic. There are markings around the display for use with ASUS' QuickFit software, which we will look at later. Overall the PB278Q has a very utilitarian look, much like monitors from Dell, and I certainly prefer utility to some of the flashy, ergonomic disasters that other companies have released recently.
The OSD for the ASUS PB278Q is decent but still a bit behind other manufacturers that have been improving in this regard. The main flaw is continuing to use one set of arrows, which move up and down, while having adjustments that go from left to right. Main menu and sub-menu selections are done using Up and Down, but individual adjustments move in a different direction and just add confusion. The labels for the OSD are on the monitor bezel and don't have labels that pop-up on screen while in use, so adjusting the display in a dark room is difficult unless you have memorized the position of each button.
The OSD menu does contain a good amount of adjustments for end users. There are multiple preset modes, with the sRGB one being the closest to the targets we use for calibration and the one that I selected for initial measurements. The User mode allows for a two point white balance where most displays still only offer a single point, but omits the CMS system that is found in their ProArt monitors. The PB278Q offers more adjustments than most monitors do in the OSD, and overall it was pretty easy to use, but it could still be improved upon.
Looking at viewing angles on the PB278Q, they are very good, much like an IPS monitor. You see some contrast shifts at the extremes, but you aren't seeing the color shifts that you do with a TN panel. Even set up in portrait mode and working very close to the PB278Q I didn't notice this shift during real world use, and I can't imagine that most users would ever notice them unless they are looking at another user's monitor.
ASUS PB278Q
Video Inputs
HDMI 1.4, DispayPort 1.2, DualLink DVI, Dsub
Panel Type
PLS
Pixel Pitch
0.233 mm
Colors
16.7 Million
Brightness
300 nits
Contrast Ratio
80,000,000:1
Response Time
5ms GTG
Viewable Size
27"
Resolution
2560x1440
Viewing Angle
178/178 Horizontal/Vertical
Backlight
LED
Power Consumption (operation)
< 60W
Power Consumption (standby)
< 0.5W
Screen Treatment
Anti-Glare
Height-Adjustable
Yes
Tilt
Yes, +20~-5 degrees
Pivot
Yes
Swivel
Yes
VESA Wall Mounting
Yes, 100mm
Dimensions w/ Base (WxHxD)
23.3" x 21.7" x 8.5"
Weight
19.4 lbs.
Additional Features
3.5mm audio input and output, Kensington lock port, 3W stereo speakers
Limited Warranty
3 years, part and labor
Accessories
DVI cable, VGA cable, Audio cable, DisplayPort cable, HDMI cable, Power cable
Price
$699 (10/17/2012)
On paper the PB278Q and its PLS panel seem to offer everything that we need in a 27" display, but can it perform as well as IPS in our testing environment? Let's see how the PB278Q fares.