Introduction, Design, and OSD
The price model for 27" IPS displays has been turned on its head recently by imported models from Korea that you can buy on eBay. Selling for as little as $350, these are stripped down models that lack inputs beyond DVI, have no OSD, have very minimal stands, and often have very little in the way of support. They also use A- grade panels where tolerances for stuck pixels and uniformity errors might not be as high as they are with A or A+ panels that are used in most displays.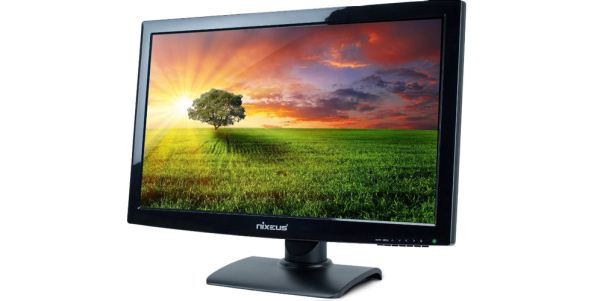 However, these panels offer a large amount of value for people that want a high-resolution display and can't afford the $650 and up that the cheapest US model, the HP ZR2740w, typically costs online. Nixeus has come out to change that with their $500, 27" NX-VUE27 monitor. (Note: When it first went on sale, the price was $430, so we may see pricing drop over the coming months.) Using a Grade-A panel with an OSD and a wider variety of inputs that the Korean imports, the Nixeus is priced to compete with both the Korean imports as well as existing US models. Does it offer performance that competes with the higher priced US models by shaving costs in other areas, or does performance also suffer because of these cuts?
Despite all of the comments about the Korean panels, I've never been one to recommend them as the lack of a real warranty or support always turned me off. Thankfully the Nixeus has a warranty, support, and a dead-pixel policy, as you would expect it to. From the outside of the box, the Nixeus looks like any other display that has been showing up at my door recently, but once you open it up you can see where they started to cut costs.
Inside of the box the LCD panel is held between a pair of Styrofoam blocks, and all the included parts are housed in cardboard boxes that are both glued and taped shut. It lacks the elegance of recent Dell monitor packaging, but everything you need is included. Parts are distributed in the boxes in small bags, with paper labels letting you know what the screws are for. On that note, I wish they would have used different screws for attaching the support column to the display than they did for the base, to make it easier to differentiate. I also wish that a single page, unpacking, and assembly sheet was at the top of the box. The included manual covers it, but it also covers the OSD and other areas and is hidden away in a box.
Removed from the box the monitor is finished in a glossy, black plastic and covered with protective film to make sure it arrives in good condition. I did notice some cosmetic flaws on the rear of my display, though the stand or a VESA mount will hide them. It also appears that the protective film is added before panel assembly is finished, so parts were stuck at the plastic joint where the bezel is assembled and it took some work to get all of the film out. Once assembled the base is sturdy and allows for multiple adjustments, though the tilt adjustment was hard as the joint was very tight. There is an external power brick for the display, which seems to be something we have to accept at this price point. The screen finish is glossy as well, not the more common anti-glare you find on other 27" models.
Unlike the imported displays, the Nixeus has an OSD that allows you to control Brightness and Contrast, image modes, as well as a user mode with adjustable color temperature, input selection, and volume control for an integrated pair of speakers. The OSD was certainly functional and let me adjust the settings, know my current brightness level, and adjust the color temperature to get it more accurate, but it was a pain to navigate with the way the buttons are laid out, and so I wanted to avoid it as much as possible once it was configured. Another issue is that when brightness drops below 19, the screen goes completely black as the backlight it disabled. For someone that doesn't know the menu system, they could get stuck with the light disabled and no way to see the menu to correct it, which is a big deal I think.
For the color modes, I found the "Standard" setting works the best for initial testing. There is a dynamic backlight mode that certainly makes a noticeable change in images, but it was so overly strong that I disabled it quickly. It crushed all highlights in images and also disables all brightness and contrast settings, so just leave it disabled and you'll be happier. For most testing I used the DVI-DL input using a StarTech MiniDP to DVI-DL adapter on my MacBook Air, as recent experience with a monitor showed that MiniDP on the Mac could lead to inconsistent results. I also noticed the DisplayPort connector is reversed from most displays, so the release button on the cable is facing the monitor, making it harder to disconnect.
Viewing angles are as you expect them to be on an IPS panel, with some contrast shifting at the extremes but no serious color shifting. There is some backlight bleeding at the corners, but it's typically only visible and bothersome on totally black backgrounds.
Nixeus NX-VUE27
Video Inputs
DVI-DL, DisplayPort, HDMI 1.4, Dsub
Panel Type
IPS
Pixel Pitch
0.23mm
Colors
16.7 Million
Brightness
380 nits
Contrast Ratio
1500:1
Response Time
Not Specified
Viewable Size
27"
Resolution
2560*1440
Viewing Angle
178/178 Horizontal/Vertical
Backlight
LED Edgelit
Power Consumption (operation)
72 Watts
Power Consumption (standby)
Not Specified
Screen Treatment
Glossy
Height-Adjustable
Yes (4.5" of range)
Tilt
Yes
Pivot
Yes
Swivel
No
VESA Wall Mounting
Yes, 100x100mm
Dimensions w/ Base (WxHxD)
25 7/8" x 18 7/8" x 8 1/4"
Weight
20.2 lbs.
Additional Features
3.5mm Audio Input, Stereo Speakers
Limited Warranty
1 Year
Accessories
DVI Cable
Price
$500
Now that we've had a full overview of the display build quality and specs, let's see how the Nixeus NX-VUE27 performs.