ASUS P8Z77-V Premium Software
The software ASUS produces, much like their BIOS, is some of the best available in the motherboard arena today. Where some other companies offer no software at all for things like fan support and overclocking, or perhaps the company may have a simple monitoring tool, ASUS goes the whole way to ensure that almost everything that has a control that the user would be concerned about is available to select in the software.
The heart of the software comes from AI Suite. This bit of software acts as the central hub for all other ASUS software features, which means that it is a very simple installation when it comes off the CD.
The install CD is quick and painless - one click of 'InstAll' will get you all the drivers needed, and if a user selects to customize their install, it allows selection and de-selection of various software features (anti-virus et al.).

AI Suite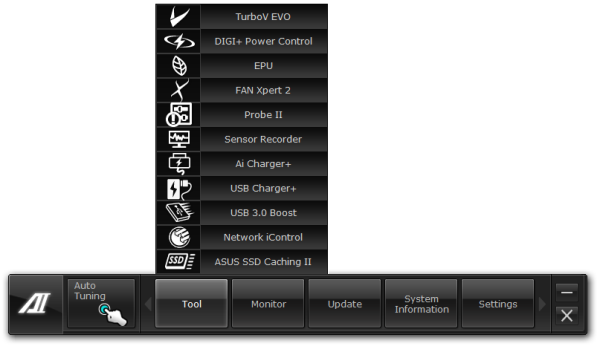 AI Suite starts as a simple bar with buttons for the software tools, monitoring and updates, as well as a tuning button to allow the software to perform overclocking. As part of our reviews of the P8Z77-V Pro and the P8Z77-V Deluxe, we have covered most of this software, including:
TurboV Evo: Overclocking tools.
DIGI+ Power Control: Adjusting power delivery to the system.
EPU: Energy saving functionality.
Fax Xpert 2: Fan control and management.
Probe II: Monitoring temperatures, voltages and fan speeds.
Sensor Recorder: Time comparison charts for Probe II.
AI Charger+: Fast USB 3.0 charging for BC 1.1 compliant devices.
USB Charger+: Fast charging while in sleep, hibernate or shutdown.
USB 3.0 Boost: Increased USB 3.0 speed.
Network iControl: Manual control over network priorities.
ASUS SSD Caching II: SSD Caching using ASUS technology and Marvell controllers.
Here are the key features:
TurboV Evo
The overclocking heart of AI Suite is TurboV Evo, which allows users to adjust the voltages and BCLK of the system in real time. I typically use this software to find basic OS limits, and then attempt to boot into OS at that speed to give a little headroom.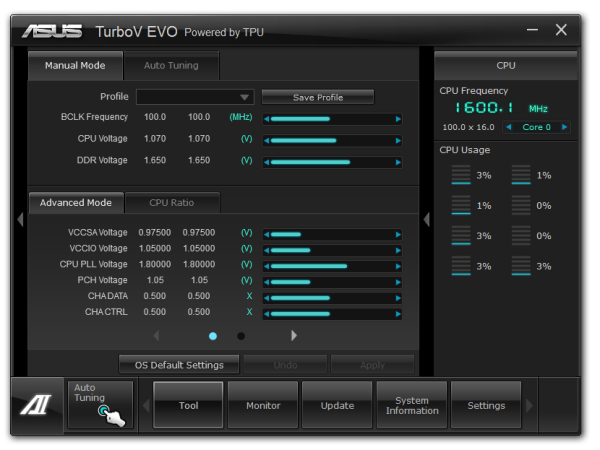 Part of TurboV Evo is the Auto Tuning section, which gives users two choices for automatic overclocks - Fast and Extreme. Both of these are covered in the Overclocking part of the P8Z77-V Premium section of this review.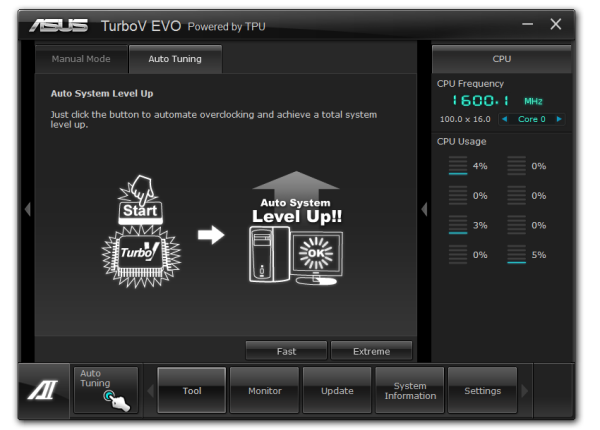 DIGI+ Power Control
One of the features that ASUS likes to advertise as part of their motherboard range is the ability for the user to adjust how the power delivery responds to load. These options help maintain constant voltage under busy periods (useful for stability testing and overclocks), or can be used to reduce the power usage of the motherboard and increase life expectancy. Along with the BIOS controls, ASUS also offers software tools in AI Suite to perform these operations.
Fan XPert 2
In order to separate itself from the rest of the motherboard manufacturers, ASUS does like to parade their fan technology. By using upgraded fan controllers on board, a combination of hardware and clever software allows ASUS to control their fans like no other. From the software perspective, we have Fan Xpert 2.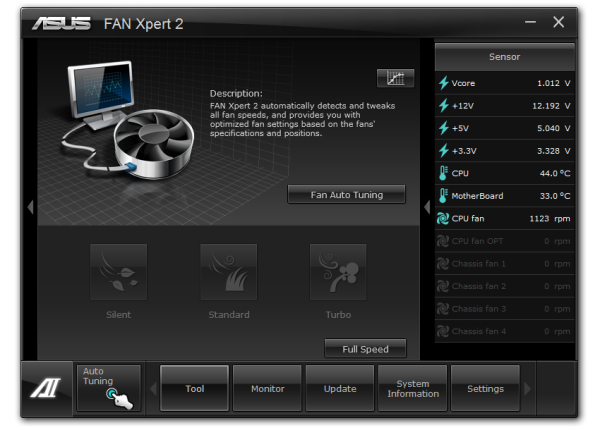 Fan Xpert will auto tune the fans, giving each one a power vs. RPM curve (as fans do not linearly increase in speed with applied power). The user can then adjust a multi-point power against temperature curve for each of the fans in the system. In my case, I like to have my fans run as quiet as possible when idle and during videos, and as fast as they can during gaming.