In the car industry, there is a large variety of cars to choose from - both the cheap and the expensive will get you from A to B, but in various amounts of luxury, with different engines and features under the hood. In comparison the motherboard industry, we have nothing like this - products are built to specifications and have to remain price competitive. Very rarely do we get a price competitive motherboard with a ton of features that also stretches the wallet in the same way a luxury car might do. For this analogy, we have the P8Z77-V Premium from ASUS to review, which comes in at $450 MSRP, but features Thunderbolt connectivity, dual Intel NIC, an onboard 32GB mSATA SSD, a PLX chip for 4-way PCIe devices, onboard WiFi, Bluetooth, and extra SATA/USB ports.
ASUS P8Z77-V Premium Overview
For our first PEX 8747 board, heads will turn when the price is mentioned. The ASUS P8Z77-V Premium comes in at a staggering $450 USD. That amount of money could pay for an ultra-low end Z77 motherboard and an i7-3770K all on its own! So why does a board in such a platform cost so much? If our pockets were this deep, then Sandy Bridge-E is only around the corner and a consideration.
The way ASUS are justifying the cost is through the sheer amount of functionality added to the Premium. The Premium enjoys the following additions to the basic chipset:
- Dual Intel NIC, one Server Grade (82579V), one normal (82583)
- mSATA port with 32GB LiteOn mSATA SSD
- PLX PEX 8747 for x8/x8/x8/x8 PCIe 3.0 operation
- Trusted Platform Module
- Included Dual Band (2.4 GHz/5 GHz) WiFi and Bluetooth v4.0 module, with antenna
- Thunderbolt Port
- A total of 12 SATA ports, including a SATA 6 Gbps Marvell 9230 controller for four capable ASUS SSD Caching ports
- Included USB 3.0 Front box
- iNetwork Control
- Fan XPert II Sofware
- ASUS Premium Service (for North American customers)
No other Z77 motherboard on the market offers such a package. We have the option of using IGP or multi-PCIe setups, SSD caching with the 32GB SSD onboard to help, dual Intel grade NICs but also WiFi, Thunderbolt connectivity for displays and storage, as well as extra SATA ports and USB 3.0 front box functionality. That is a lot of extra, and hence with it comes a lot of price. Through this review, we will determine just how well these features add up.
In terms of the overview, the ASUS P8Z77-V Premium does come with MultiCore Enhancement by default, which allows the processor to run at the maximum Turbo bin at any load, giving extra MHz under full loading situations (video conversion) and thus better performance. With IO, the addition of the Thunderbolt port allows any TB device to leave our USB testing suite in the dust, and the standard IO is not too bad either.
Gaming wise was a little different – the inclusion of the PEX 8747 chip means that single GPU performance is slightly down on non-PEX 8747 motherboards due to extra routing, but with four 7970s at 2560x1440 and all the trimmings, we hit 229 FPS in Dirt 3.
Visual Inspection
For a motherboard that has all this functionality, it is a small victory that ASUS have managed to fit it all into a normal ATX sized motherboard rather than the E-ATX form factor. Our first focus is the socket area, which has on two sides a very substantial pair of heatsinks covering the power delivery. Compared some other boards at a similar price range, these heatsinks are not connected via a heatpipe to each other, like the P8Z77-V Deluxe. This could show that ASUS are confident in their cooling solution for their high end channel boards.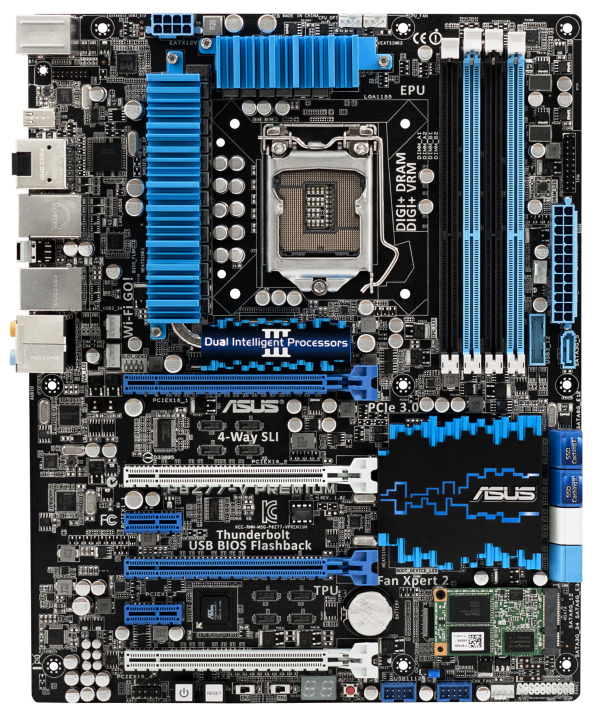 The socket area has five 4-pin fan headers nearby for use by CPU coolers – two north of the top heatpipe, two next to the bottom of the IO panel, and another by the 24-pin ATX power connector. The other 4-pin fan header on board is located on the bottom near the front panel connectors.
The P8Z77-V Premium uses a single 8-pin 12V CPU power connector for CPU power, and also has ASUS' single ended memory latch design for the DIMMs. Down the right hand side we have the TPM header, a MemOK button (in case memory settings are too tight), the 24-pin ATX power connector, a USB 3.0 header and a single SATA 3 Gbps port pointing out of the board. I used this single SATA 3 Gbps (powered from the chipset) for my primary disk, such that I would always know where it was connected.
The SATA ports are color coded – the top four in dark blue come from a Marvell 9230 controller (so SATA 6 Gbps) and are used for the ASUS SSD Caching II. Underneath this are the two SATA 6 Gbps from the chipset in white, and then two SATA 3 Gbps from the chipset in light blue. Next to this is the chipset heatsink, which is large to cover the chipset, but also both the Marvell SATA controllers. It should be noted for the Marvell controller uses an x2 PCIe interconnect rather than an x1 – this allows the use of multiple SSDs to be used in the caching system. The setup also allows multiple caching scenarios (SSD + mechanical and another SSD + mechanical) and stacked SSD caching, which is something ASUS has implemented due to the request of users. This is all adjustable via a simple GUI provided as part of AI Suite.
Our mSATA port comes below the chipset heatsink and the SATA ports. This is a single mSATA 3 Gbps from the chipset to power a 32GB LiteOn SSD. ASUS calls this their 'Complete System Boosting Solution'. While it is nice to have an extra 32GB SSD as part of the system build, ASUS expect the primary focus will be with the SSD caching – users having a mechanical hard drive and using the onboard SSD as a smart cache. My perception on the other hand is that if a user is laying down $450 for a motherboard, chances are they can buy a fully blown SATA 6 Gbps SSD as an OS drive. This leaves the 32GB SSD as either storage, somewhere to offload the pagefile, or as an OS drive itself – note that 32GB is below the recommended amount for Windows 7 64-bit.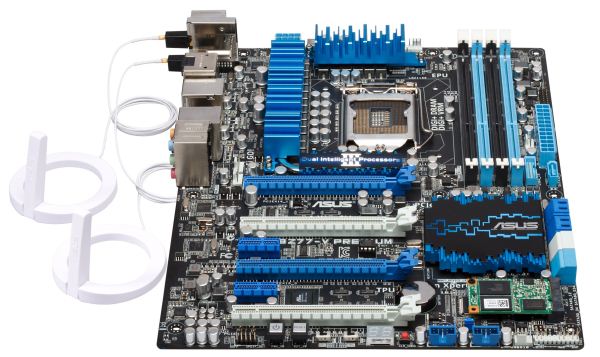 On the bottom of the board, ASUS have gone for the additional extras rather than the standard swathe of USB 2.0 headers. While we do get two of the USB 2.0 headers, we also have a 4-pin fan header, a ClearCMOS header, a two-digit debug, TPU and EPU switches, power and reset buttons, and an onboard audio header. Users deciding to equip the Premium with double-sized GPU at the bottom will come up against one issue, particularly with the USB headers and the front panel: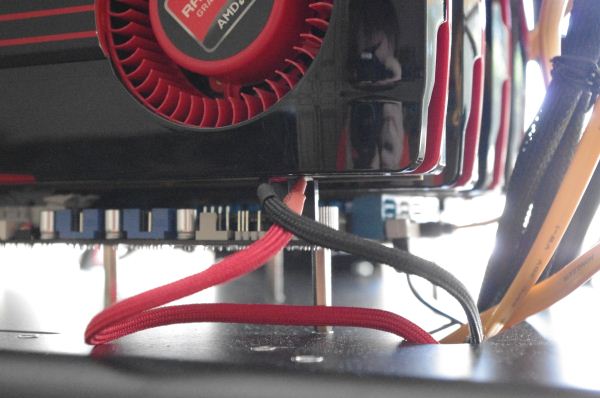 My two power and reset connectors ended up propping the GPU above the height of the other GPUs, leading to less than ideal contact with the PCIe pins in the bottom fourth slot.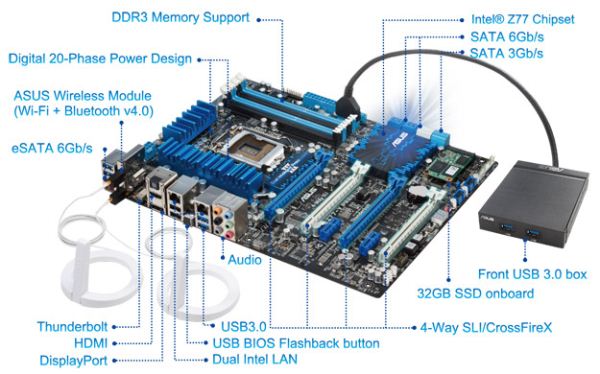 The PCIe layout starts with the PLX PEX 8747 chip hiding behind a small heatsink connected to one of the power delivery heatsinks. This sends the 32 electrical PCIe 3.0 lanes from the PLX to the blue PCIe slots at 16 a piece. In getting to these blue slots, the lanes can be switched such that eight of the sixteen go to the white slots, leading to x8/x8/x8/x8 peak bandwidth through each of the slots. Users of three GPUs can decide to go x8/x8/x16/- or x16/-/x8/x8, depending of if those bottom panel headers are of importance.

Due to a couple of features that ASUS use, the IO panel does not look as substantial as previous iterations – however part of this is due to including a Thunderbolt controller, the WiFi module, and USB BIOS Flashback. From left to right, we have two USB 3.0 in blue (chipset), two eSATA 6 Gbps (ASMedia), a dual band WiFi and Bluetooth v4.0 module, a Thunderbolt port, HDMI output, DisplayPort output, SPDIF output, dual Intel GbE, two USB 2.0 (black), two USB 3.0 (blue), the USB BIOS Flashback button, and standard audio jacks.
The Thunderbolt port is limited to its current location of the PCB due to the tracing on board, which is limited to less than an inch from the controller, compared to USB tracing which can be longer than 10 inches. Perhaps ASUS in the future can organize the USB BIOS Flashback button (and perhaps ROG Connect) above this Thunderbolt port in order to increase the available real estate on the back panel.
Board Features
ASUS P8Z77-V Premium
Price
Link
Size
ATX
CPU Interface
LGA-1155
Chipset
Intel Z77
Memory Slots
Four DIMMs, Supporting up to 32GB DDR3
1066-2800 MHz, Non-ECC
Video Outputs
HDMI
DisplayPort
Thunderbolt
Onboard LAN
Intel 82579V
Intel 82583
Onboard Audio
Realtek ALC898
Expansion Slots
2 x PCIe 3.0 x16 (x8 when slots underneath are occupied)
2 x PCIe 3.0 x8
2 x PCIe 2.0 x1
Onboard SATA/RAID
2 x SATA 6 Gbps (Intel), Supports RAID 0, 1, 5, 10
3 x SATA 3 Gbps (Intel), Supports RAID 0, 1, 5, 10
1 x mSATA 3Gbps (Intel) with 32GB SSD
4 x SATA 6 Gbps (Marvell 9230), Supports RAID 0, 1, 10
2 x eSATA 6 Gbps (ASMedia)
USB
4 x USB 3.0 (Intel) [2 back panel, 2 onboard]
2 x USB 3.0 (ASMedia) [2 back panel]
6 x USB 2.0 (Intel) [2 back panel, 4 onboard]
Onboard
6 x SATA 6 Gbps
3 x SATA 3 Gbps
1 x USB 3.0 Header
2 x USB 2.0 Headers
1 x mSATA Connector
6 x Fan Headers
1 x SPDIF Out Header
1 x MemOK! Button
1 x TPU Switch
1 x EPU Switch
Power/Reset Buttons
Clear CMOS Button
CPU/DRAM Overvoltage Jumpers
Power Connectors
1 x 24-pin ATX Power Connector
1 x 8-pin CPU Power Connector
Fan Headers
1 x CPU Fan Header (4-pin)
1 x CPU-OPT Fan Header (4-pin)
4 x CHA Fan Headers (4-pin)
IO Panel
1 x Thunderbolt Port
1 x DisplayPort
1 x HDMI
2 x eSATA 6 Gbps
2 x Intel GbE
4 x USB 3.0
2 x USB 2.0
1 x Optical SPDIF Out
1 x Dual Band WiFi/Bluetooth
1 x USB BIOS Flashback Button
Audio Jacks
Warranty Period
3 Years
Product Page
Link
As specified in the overview, we have a wealth of additional functionality on the P8Z77-V Premium. Here are my estimates for the BOM costs of individual parts and features:
- Dual Intel NIC ($20 combined)
- 32GB LiteOn mSATA SSD ($60)
- PLX PEX 8747 ($40)
- WiFi and Bluetooth module ($40)
- Thunderbolt ($40)
- Marvell controller for 4 extra SATA ports / SSD Caching ($20)
- Included USB 3.0 Front box ($20)
- iNetwork Control ($15)
- Fan Xpert II Software (comparable $50 controller would not give similar options)
- USB 3.0 Boost + Specific ASMedia controller ($15)
- ASUS Premium Service (for North American customers) (??)
Totaling these up (please note, these are my own interpretations) would come to $320 – a sizable sum which would pay for three low cost Z77 boards by itself! Removing these would come to $130, or the price of the P8Z77-V LX. A lot of research and development goes into many of these features (such as the Marvell controllers have x2 PCIe interconnect, or the research/development to put the WiFi module onto the backplane as a card rather than an x1 addition) which we cannot quantify. This puts the Premium at good value for the features it provides.
So as long as the user can use the above options, then this would make the Premium a good buy (assuming all else is equal). Otherwise, we come up against the luxury car scenario. Nevertheless, ASUS tell me that during the first three months of the X79 release, the Rampage IV Extreme was their best selling X79 board, despite being the most expensive and having a range of included features that many of the users on the board would not consider using. Therefore, despite what common sense from a reviewer's perspective may believe, expensive boards can sell well.
One other point to note is the lack of additional PCIe power supplied to the motherboard. Typically on products using two or more GPUs we see an extra power connector which supplies extra power to the PCIe slots. Each PCIe slot should get up to 75W from various power sources, which means that ASUS are confident in pulling at least 300W from the 24-pin ATX power connector. The usual response to having additional power connectors is to help with grounding or in overclocked situations. However, I feel it would be useful for any 4-GPU configuration. So it is odd not to have included something like a SATA power connector for more PCIe juice.