For the most part, the market for 27", 2560x1440 monitors has been dominated by the higher end brands. The one main exception has been DoubleSight, which has made a pair of 27" monitors including the DS-277W we're reviewing today. Besides the PLS panels used by Samsung, every other 27" monitor on the market is using one of the 27" IPS panels from LG at this point, so much of the difference in designs comes from the electronics and case that are engineered around the monitor.
DoubleSight's approach with the DS-277W is to make a monitor that can work with all of your devices, not just your computer. It has multiple AV inputs (HDMI, Component) for your Blu-ray player or video game systems, and there are integrated speakers for audio from these devices as well. Does this approach set the DS-277W apart from the crowd, or does it lead to issues in trying to integrate everything together?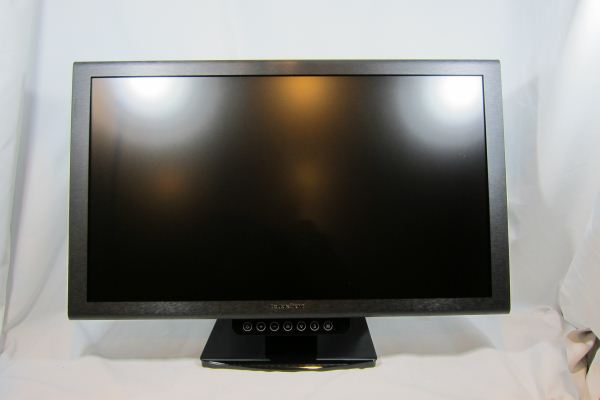 The DS-277W is seemingly constructed to survive in a harsh environment. The case is incredibly heavy duty and measures a couple inches thick with a nice, metal feeling to it. Unfortunately it was built for toughness and not ergonomics. The connectors are located on the bottom and are hard to access as the stand stays close to them. With 27" displays that pivot it is easy to hook them up, but in this case it is more of a challenge. There is also no integrated power supply and instead you have a large, external brick like you might find with a printer.
The OSD controls also follow the monitor manufacturer trend of using touch-sensitive controls, which needs to end soon. Many devices have moved to the touch sensitive inputs, but they either space them too close, or they are too sensitive, or they're not sensitive enough. With standard controls it is easy to adjust the brightness up by 1 or 2 clicks, but that is often a challenge here. With as much room as there is on the case, it would have been easy enough to locate controls there, with tactile response, and it would be a better interface to use.
The stand is likewise heavy duty, with with a limited amount of tilt available. You can use a standard 100mm VESA mount with the DS-277W, though it will have to be sturdy to deal with this case design. It seems that DoubleSight was going for the industrial chic look here, but in doing so have gone with some style over substance.
The OSD is hampered by the touch sensitive controls mentioned earlier. Whereas Dell has long been superb with the OSD interfaces, and BenQ has recently changed theirs to be more like Dell, the DoubleSight continues the sins of most vendors. Menus are laid out with Up-Down and Left-Right controls, but you have no 4-way D-pad to make navigating it easier. Up-Down controls work well if all the interface is designed to only move Up and Down, but once you add Left-Right in there and don't have a 4-way pad, it becomes unnecessarily complicated to control the OSD.
Most controls are available in the OSD, though some menus are not available and you can never seem to select them. They might be options when using the analog inputs, like Component Video, but as I discuss later that didn't work for me. Overall the OSD would have been much better had the input mechanism been better designed, but as it is I was not a fan of it.
Since all 27" panels use very similar IPS panels from LG, the viewing angles here are what we expect. If you get to very extreme angles you can get some backlight washout on the image, but not at any angle you would use while working or watching the display. There is no color inverting or other issues as you would see on a TN display, and I didn't find the level of anti-glare coating to be bothersome. I think it has more than the HP or NEC monitors that I've tested, but I am not nearly as bothered by it as many of our readers are.
DoubleSight DS-277W
Video Inputs
1x DVI-DL
1x HDMI
2x Dsub (VGA)
1x Component
Panel Type
IPS (8-bit native, 10-bit with A-FRC)
Pixel Pitch
0.23mm
Colors
1.07 Billion
Brightness
300 nits
Contrast Ratio
1000:1
Response Time
6ms
Viewable Size
27"
Resolution
2560x1440
Viewing Angle
178/178 Horizontal/Vertical Degrees
Backlight
CCFL
Power Consumption (operation)
121W
Power Consumption (standby)
121W
Screen Treatment
Anti-Glare
Height-Adjustable
Yes
Tilt
Yes
Pivot
No
Swivel
Yes
VESA Wall Mounting
Yes, 100x100mm or 100x200mm
Dimensions w/ Base (WxHxD)
25.75" x 22.50" x 8.50"
Weight
25 lbs.
Additional Features
Stereo LR Inputs, 3.5mm Input and Output, Optical Output
Limited Warranty
1 Year
Accessories
Price
$955 Online (as of 6/12/2012)
All of the specs are what you would expect from the LCD panel, but it's in the other areas that we see some deviation from the norm. For one, there are the numerous input options, though I have to admit including two VGA ports rather than a second HDMI or DVI-DL port seems odd, and despite listing a DisplayPort interface on the manufacturer's page, one isn't present on the actual monitor. Whoops! There are also some audio input/output options. Note that there's no pivot available, if you were hoping for a 27" portrait display, though you could do that with a separate VESA mount if you so choose. And with our tour of the outside and specifications complete, it is time to get it on the test bench and see how it performs.