One major feature of mobile Sandy Bridge is support for Intel WiDi 2.0. For those of you who aren't familiar with it, WiDi 2.0 uses SNB's Quick Sync engine to encode, in real time, the frame buffer and send it over 802.11n to a compatible WiDi receiver attached to your TV. The WiDi receiver decodes the content and displays your mobile desktop on whatever TV you have attached to the WiDi receiver, wirelessly. All you need is a SNB laptop with an Intel WiFi controller. Unlike wireless HDMI, the cost is much lower since you're relying on the host CPU to do the video encoding. All you have to pay for is the cost of the WiDi receiver.
With the original WiDi, Netgear was the only company that made a WiDi receiver. The receiver was fine but generally it's nice to see more than one company offering a technology. This time around Intel plans to have many more partners with WiDi receivers. At CES last week Intel had a D-Link WiDi receiver hooked up to a SNB notebook: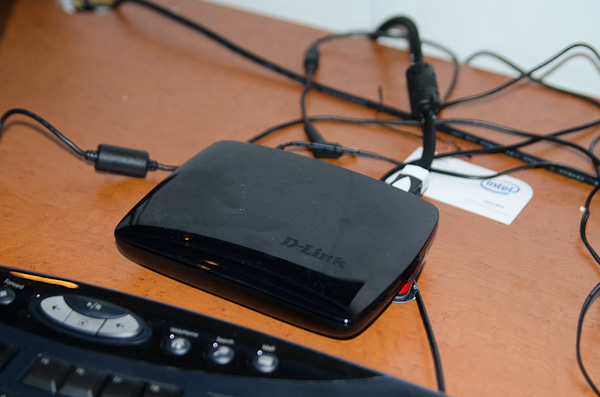 Sandy Bridge WiDi also supports HDCP and 1080p, so you can now stream Blu-ray content from a SNB notebook to a TV connected via WiDi.