The DualHead2Go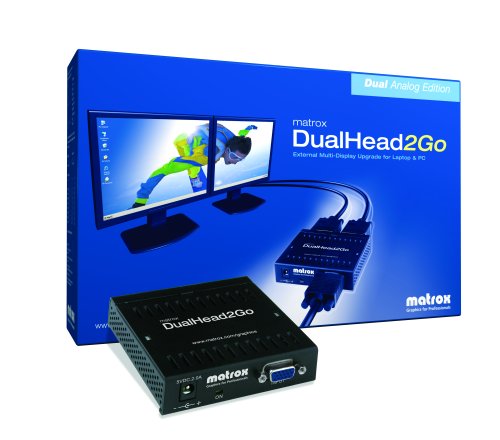 The DualHead2Go is simply a box with one VGA input and two VGA outputs. What it's for is to divide one signal into two in order to add another display to your system. It basically digitizes the anolog VGA signal from your laptop or computer, splits (or clones) the signal, and sends it out into two DACs to connect to monitors or projectors. This could have a few different applications, but it's somewhat limited in terms of what it can actually do.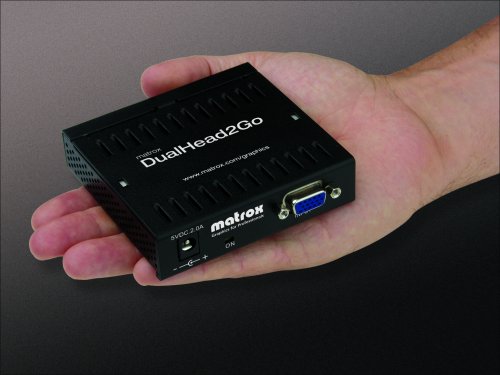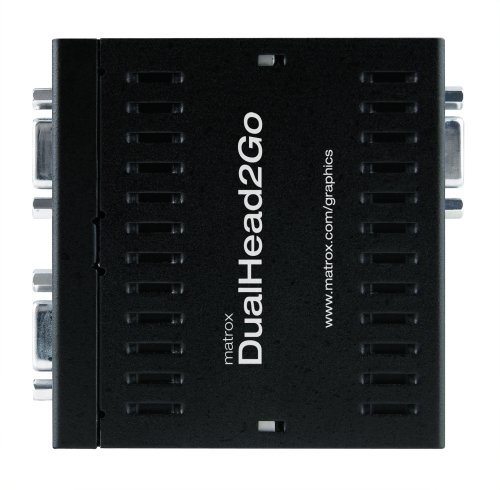 As you can see, the box is small and compact, with three VGA connections and one 5VDC power connection. The DualHead2Go logo is on the top and there is a power light indicator by the power connection to show that it's on. The small size makes this very portable, which is a plus for laptop users. When we open it up, here's what we see: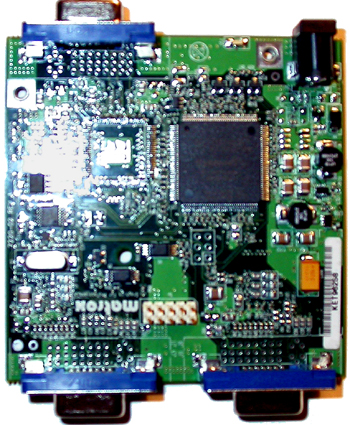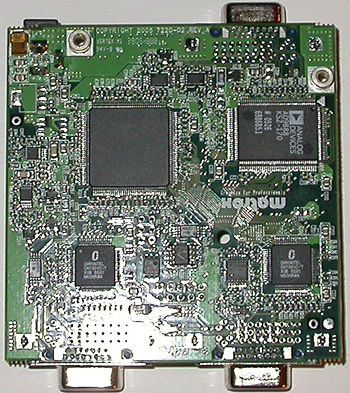 On the back of the board rests the Analog Devices AD9888 Graphics Digitizer. This part can accept an input bandwidth of 500MHz, which is enough to handle the 2048x768 and 2560x1024 wide screen resolutions possible with the DualHead2Go. The AD9888 takes the analog input from the computer, converts it into a digital signal, and passes it along to the heart of the DualHead2Go: two Cyclone EP1C FPGAs from Altera programmed by Matrox.
The Cyclone EP1C chips used are what drive the capabilities of the DualHead2Go. As there are no custom Matrox ASICs on the board, we can conclude that the one or both of the FPGAs handle taking the output of the AD9888, splitting the image into two (or clone the image depending on the resolution and PowerDesk settings), and then sending the resulting data along to the Chrontel CH7301C-T display controllers. These devices also likely manage the rest of the board and use the DDC (Display Data Channel) to report the DualHead2Go's EDID (extended display identification data) to the display device.
The CH7301C is a single link DVI transmitter, which supports analog output over three 10-bit DACs for analog RGB displays. This suggests that a digital version of the DualHead2Go wouldn't be that difficult to implement. This part of the design could also be reused if Matrox were to develop a version of the DualHead2Go that supports up to 3200x1200 (or two 1600x1200 displays). Of course, a device such as this would require a dual-link DVI input and a beefier digitizer than the AD9888. The FPGAs may also need an upgrade for a higher resolution version (it would entail more I/O and might require something larger), but the functionality of the device should be easily extendable, so added design time would be minimal.