nVidia nForce4
nForce4 launched on October 19
th
. Now, some 3 months later, you can only find 3 or 4 nF4 boards for sale at New Egg - two expensive SLI boards, a Gigabyte based on the lower-end 4X version of the chipset, and a value Chaintech Ultra. Based on what was on display at CES, that is about to change as the nF4 floodgates open.
DFI
DFI was displaying two of the more interesting nForce4 boards at CES, and they tell us that you will be able to buy either of their new nForce4 boards by late January.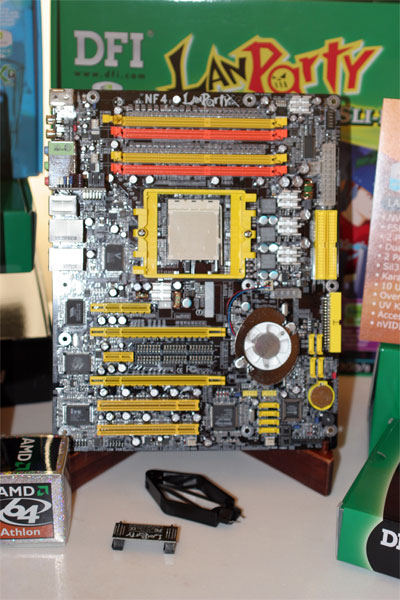 The full-blown DFI LANParty version is based on the nVidia nForce4 SLI chipset and has the kinds of features that enthusiasts have come to expect from DFI. This includes memory voltage to 4.0V from a default 2.5V, which should handle any memory overclocks and any memory that you might have in mind for this nF4. vCore is a similarly wide range to 2.1V from the default 1.5V. The single-chip nF4 is cooled by a new super low noise, long-life "magnetic levitation" fan. Audio is provided by the HD version of the Realtek audio codec on a Karajan module for the best possible Signal-to-Noise ratio. Yes, it is nVidia SLI with an x16 PCIe that can be split to two x8 with switches and a bridge. You will also be happy to see both an additional x4 and an x1 PCIe slot.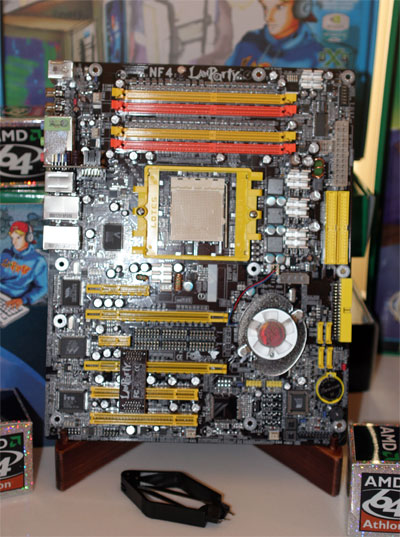 DFI was also showing a lower cost LANParty UT version of the new nForce4 based on the nForce4 Ultra chipset. Features were essentially the same as the NF4 SLI LANParty - even to the pair of x16 video card slots. DFI says that two video cards can be used together on the LANParty UT, but that each card operates at x2 on the UT board. They claim that the real performance of this solution is about 90% of true SLI on the LANParty SLI board. It will be interesting to see if this low-cost implementation offers performance this close to SLI. If it does, DFI will have a winner with their new board - unless nVidia decides to kill it by withdrawing support in their video drivers.
Both motherboards use jumpers instead of a switchable card to enable the use of two PCIe graphics cards. In order to save costs, DFI told us that they used the simple, but proven, method of jumpers instead.
For those still in the AGP camp, DFI also had the nForce3 250 socket 939 LanParty on display, but not in final PCB.
MSI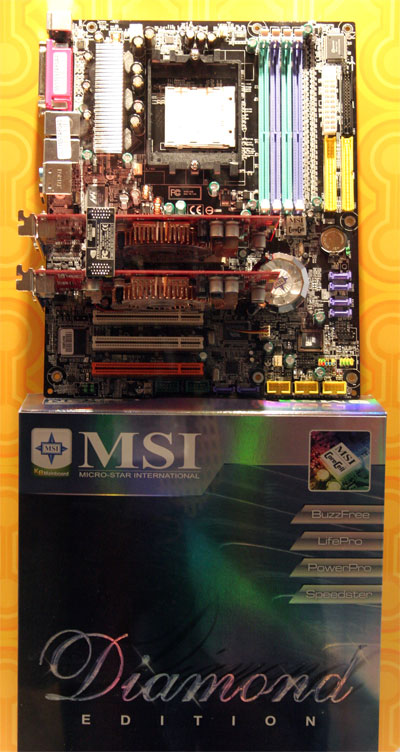 It has taken quite a while to arrive on the market since Anand first saw the MSI SLI board in Taiwan in late October. In the journey from
NVIDIA SLI Performance Preview with MSI's nForce4 SLI Motherboard
to CES, surprisingly little has changed - at least on the surface.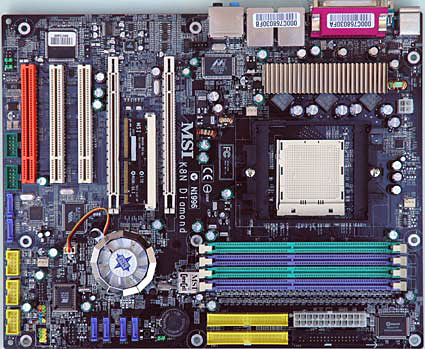 The most significant improvement on the MSI is the addition of Creative 24-bit SB Live audio on the motherboard. MSI was showing performance charts claiming their 24-bit Creative solution to be outperforming Intel's new Azalia High-Definition audio. While the shipping board still has two x16 slots for video cards and no x1 slots at all, MSI tells us that x16 slot 2 can handle an x1 PCIe card in a pinch.
MSI confirmed with us that they are canceling their plans for an "SLI"-like motherboard based on the nForce4 Ultra chipset after pressure from nVidia to drop the project. The MSI "semi-SLI" Ultra has been mentioned a
few times
in the past, but apparently, the newest NVIDIA drivers prevent this SLI hack from working. EPoX and DFI are both introducing boards using a very similar principle to MSI's DBS solution, but they both also face the threat of NVIDIA pulling the plug with next generation drivers.
Abit
Abit has been closely tied to VIA chipsets in their recent Athlon 64 offerings. This time around, it was a bit of a surprise to see
both
an nForce4 Ultra Abit, called the AN8, along with the expected Abit board based on the VIA chipset.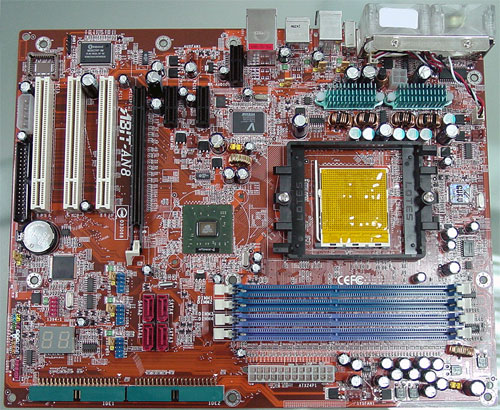 Abit lists 3 different versions of the AN8: the base AN8, based on the nF4 Ultra chipset; the Fatal1ty AN8, based on the same nF4 ultra chipset, but geared toward top gaming with a price of over $300; and, an AN8 SLI. The only board at CES was the Fatal1ty AN8. Abit tells us that the SLI version is slated for later this year.
ASUS
Although there were only a few new products at ASUS, they were very excited to announce to us that they are working on a dual socket 940 solution to finally give MSI's Master series a run for its money.
AMD's dual core
socket 939
processors were also running in a back room on ASUS' A8N-SLI Deluxe motherboards - without modification. Although we had known for some time that dual core would only require a BIOS update on AMD motherboards (at worst), the knowledge that off-the-shelf motherboards running AMD's newest gave us a further boost of confidence for the future. This is also in stark contrast to Anand's report that Intel dual-core will not run on current 915/925 chipset motherboards.