System Performance
It's been a long time coming for Chuwi to make the leap from Atom to Core. Intel historically also likes to ensure it has strong product separation in its lineup, so the jump from Atom to Core comes with more performance, but also a sharply higher price. That being said, the latest Gemini Lake based Celerons have made some significant gains, so there is a question of what kind of performance delta there will be between a dual-core Skylake-Y based Core m3 compared to a Goldmont Plus Celeron with four actual cores.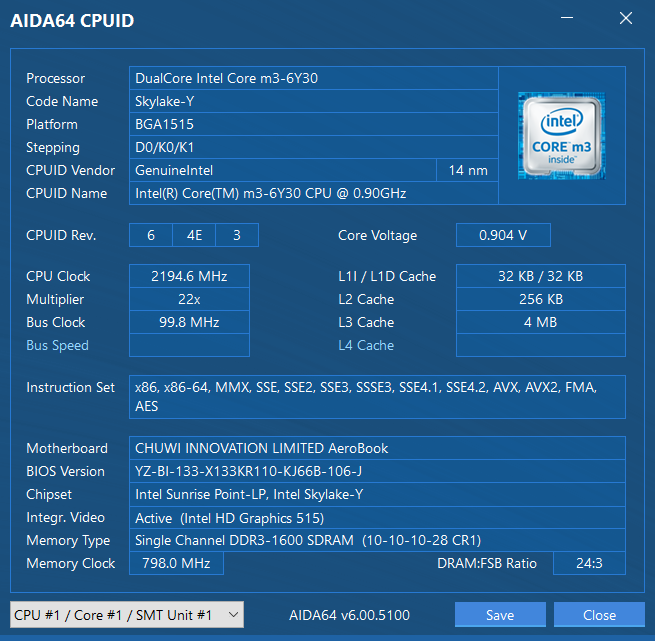 To see how the Chuwi AeroBook performs, it was run through our Laptop workload. For our graphs a variety of devices were chosen to compare it to. The Chuwi LapBook 12.3 is the older Apollo Lake N3450, with four Atom cores from 1.1 to 2.2 GHz. The Chuwi LapBook SE is the latest Gemini Lake N4100, featuring four updated Atom cores from 1.1 to 2.4 GHz. Both of these notebooks cost less. The Microsoft Surface Go features a Y-Series Kaby Lake Pentium 4415Y, but being a Pentium it offers no Turbo at all, so it's just a 1.6 GHz CPU. The HP Spectre Folio is a Core i7-8500Y, and while being far more expensive, it should show the maximum capabilities of the latest Amber Lake Y Series processor. Finally, the Surface Pro 6 is there to give a reference as to where these fanless devices stack up against a 15-Watt U series Kaby Lake-R with four cores. Once again it's not direct competition, but was included just to see where these Y series compare against a U series that is also fanless.
PCMark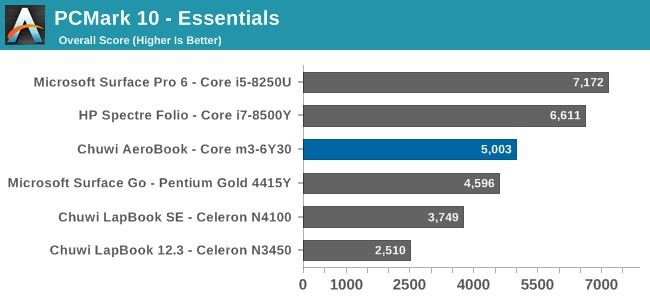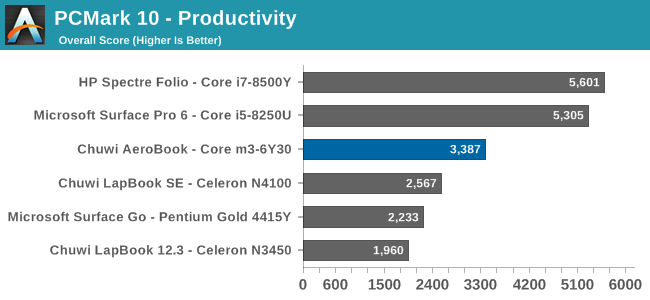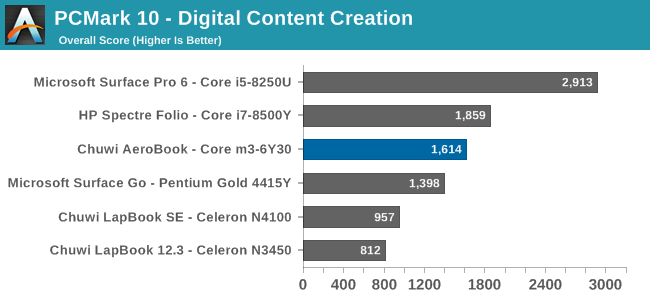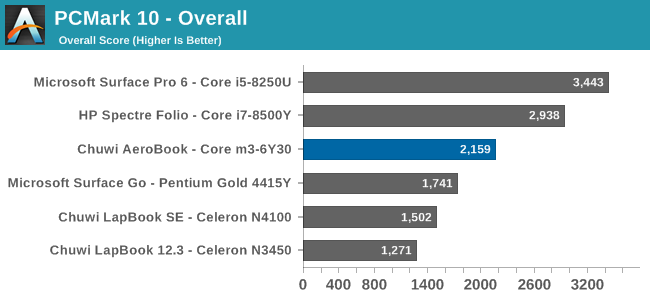 UL's PCMark suite tests all aspects of a system, with varying workloads depending on the scenario. Some are more stressful on the GPU, such as the Content Creation, and it gives a nice overall look at total system performance including the memory and storage subsystems. There's no doubt that the move to a Core m3 processor has been a nice bump in performance, easily outclassing the earlier Atom powered Chuwi notebooks. Performance is well off the Amber Lake Spectre Folio though, so while it's great to see Chuwi move to Core, it would have been nice to see them utilize a more recent version.
Cinebench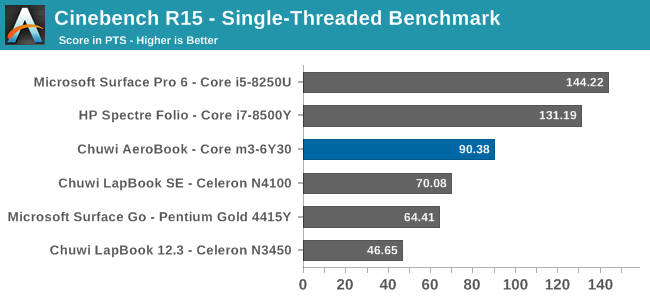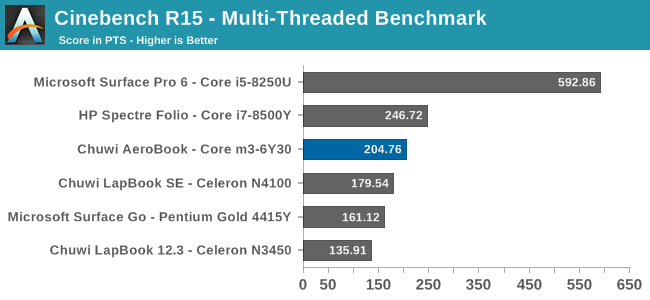 Cinebench is a purely CPU task, and is a great tool because it offers both single-threaded and multi-threaded workloads. The AeroBook once again surpasses the older Atom based Chuwi laptops handily, especially in single-threaded where Core is so much more powerful. On the multi-threaded test the Gemini Lake claws back some of that gap though since it does offer four cores compared to just two on the AeroBook. Four Gemini Lake cores are quicker than two Kaby Lake cores in the Surface Go because the Pentium, despite being a Core architecture, offers no Turbo, but the Core m3 in the AeroBook does offer some boost up to 2.2 GHz and can win the day. However, all of these Y series and Atom powered notebooks are far below the performance of a quad-core U series.
x264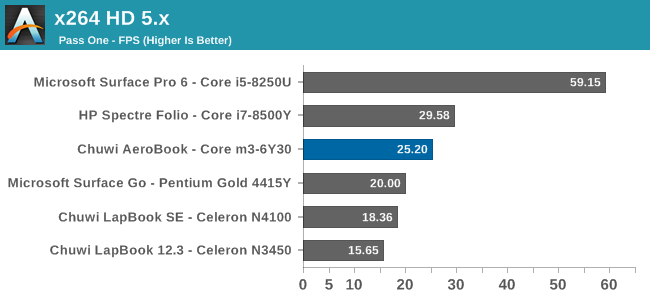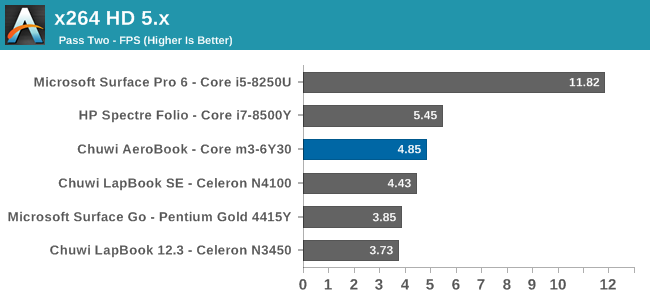 Similar to Cinebench, x264 uses the CPU to encode video and works well with more cores. Once again the Core m3 in the AeroBook offers a nice performance bump over the previous models, but all of these are surpassed dramatically by the Core i5-8250U in the Surface Pro 6.
Web Results
Web workloads tend to be short, and Intel's aggressive pursuit of ramping up to their maximum Turbo via their Speed Shift mechanism has helped tremendously here. Web is influenced heavily by the browser as well, so for consistency we test with Microsoft Edge. Microsoft is currently migrating away from their EdgeHTML rendering engine to Chromium though, and once they do that we'll refresh our tests with updated ones.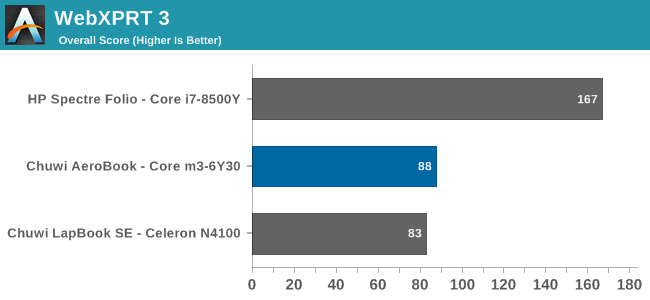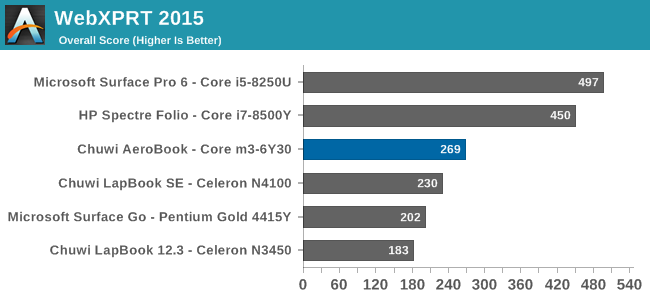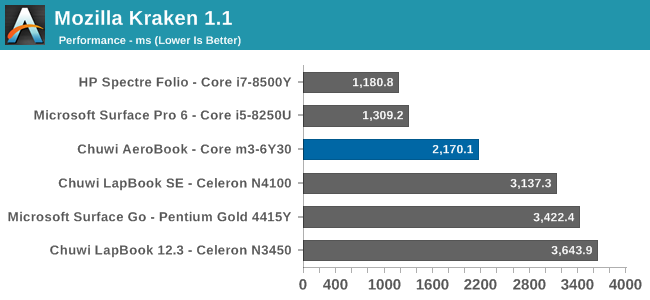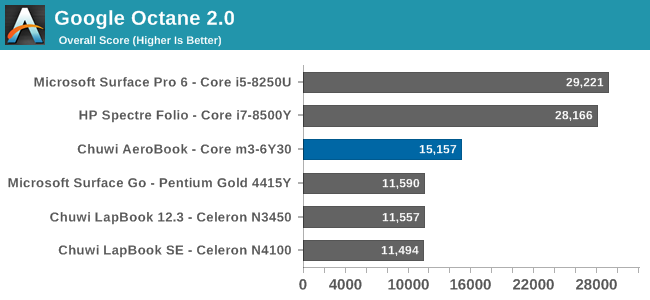 There is a definite gap where the AeroBook slots in. The 2.2 GHz maximum Turbo helps ensure that in light workloads the Core m3 can stay ahead of the Pentium and Celerons, but there's also a massive gap to the latest Amber Lake Y series in the HP Spectre.
System Performance Conclusion
Despite Chuwi not leveraging the latest Amber Lake processors in the AeroBook, they've still added in some noticeable performance with the move away from Atom. Unlike the Surface Go, which offers a Kaby Lake based Pentium, the Core m3-6Y30 does offer a mild Turbo boost to 2.2 GHz, which makes all of the difference compared to Atom. The Pentium 4415Y with just two Kaby Lake cores at 1.6 GHz would trade blows with the four Goldmont Plus Atom cores in the LapBook SE, but the AeroBook, with even just that slight Turbo, easily jumps ahead and stays ahead in pretty much every task.