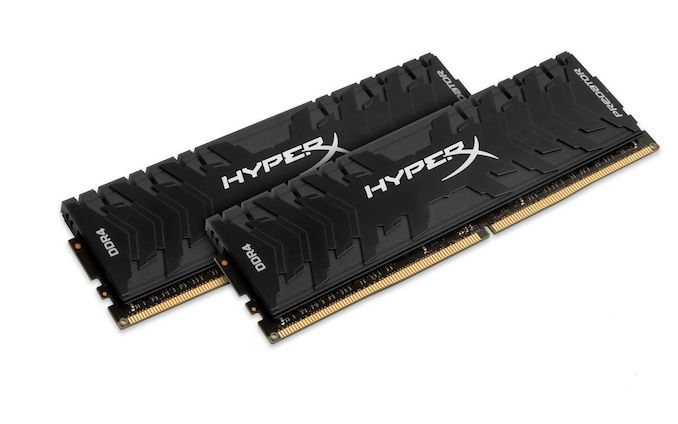 HyperX has unveiled two new kits of DDR4 memory from its Predator range, offering speeds of DDR4-4266 and DDR4-4600. The new kits come in 2 x 8 GB sets and are designed for high-performance scenarios, featuring the same sleek black aluminium heatsinks we have come to expect from previous versions of the HyperX Predator series.

The new HyperX Predator memory is the company's fastest yet, with two different variants being offered; the DDR4-4266 (HX442X19PB3K2/16) with CL19 timings at 1.4 V, and the DDR4-4600 (HX446C19PB3K2/16) with CL19 timings with a higher voltage of 1.5 V. Both kits are XMP 2.0 compatible and are currently available in 2 x 8 GB kits. HyperX is the gaming division of Kingston Memory and as a result, is targeted at both enthusiasts and gamers looking to squeeze every last bit of performance from the user's system. Each kit of HyperX Predator DDR4 memory is put through a stringent testing procedure to ensure each kit matches the rated standard and HyperX does provide each of its kits with a lifetime warranty.

Both kits follow the same design as the rest of its Predator range with an aggressive looking black aluminium heatsink with white branding on a fully black PCB. While there is no word whether or not HyperX will release the kits with their Predator RGB heatsinks, it could be a possibility in the future. Measuring in at 42.2 mm in height, the HyperX Predator kits should fit under a wide variety of tower coolers without too much fanfare, but it is still recommended to check cooler clearance prior to purchasing.
HyperX has stated that the new Predator DDR4-4266 and DDR4-4600 kits are available through its retail channels, but the official MSRP is still currently unknown. We did find the HyperX Predator DDR4-4600 2 x 8 GB kit at Amazon with a list pricing of $611 which dwarves the pricing of its Predator DDR4-4133 CL19 2 x 8 GB kit which is currently listed at $250.