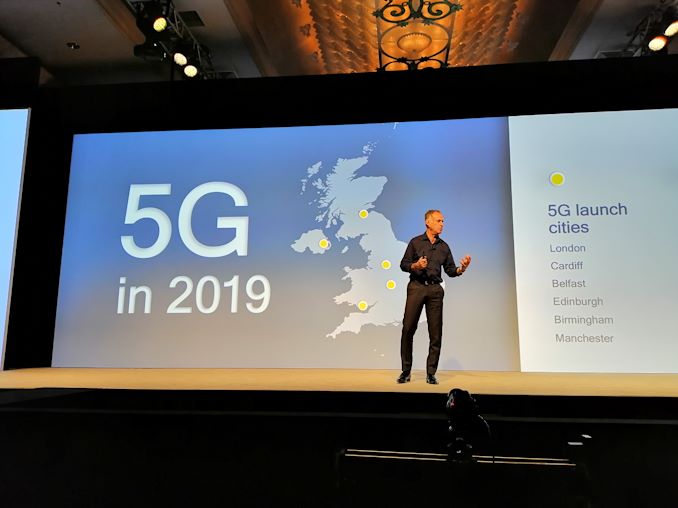 As a Brit, having one of our local companies get on stage at Qualcomm's Snapdragon Summit and talk about the deployment in the UK was certainly an interesting twist in the proceedings. Fotis Karonis, The BT/EE Group Executive Advisor on 5G, presented a list of the first cities in the UK to get 5G as well as the second wave, but before this we also got a peak at the first 5G trial sites in London.
UK and EE Deploying 5G
Everything Everywhere, commonly known as EE (formed when Orange and T-Mobile came together), was acquired and rolled into the British Telecom group in recent quarters. As a result of BT's enablement of the UK mobile infrastructure, it makes sense that it would be the first provider to provide 5G connectivity. To start with, EE is going to launch 5G to six cities:
London
Cardiff
Belfast
Edinburgh
Birmingham
Manchester
These are the most densely populated areas of the UK, which makes overwhelming sense. Fotis explained during his part of the keynote that the UK has just over 90,000 mobile network base station sites from top to bottom, however only 1500 of these are needed to enable data and call services to 25% of the traffic required. That's a highly lopsided deployment based on population density for sure, and so it is these 1500 sites that will be targeted first.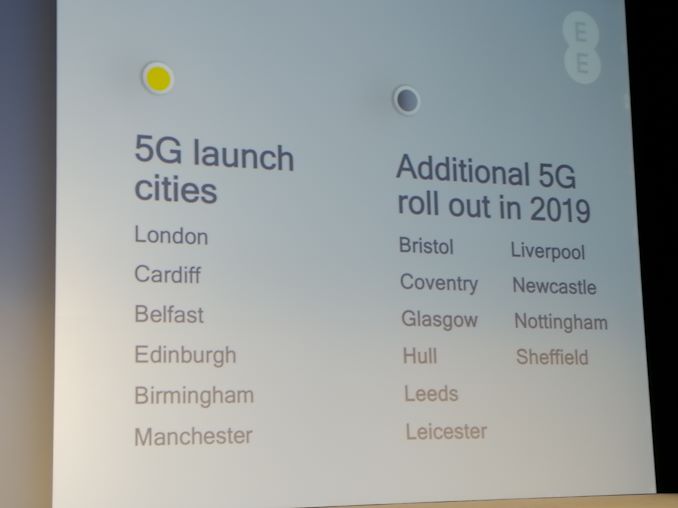 The second wave of deployment, listed as being in 2019, will cover the other major metropolitan areas of the country (in alphabetical order):
Bristol
Coventry
Glasgow
Hull
Leeds
Leicester
Liverpool
Newcastle
Nottingham
Sheffield
It should be noted that with all this going on, it was recently mentioned to the press that BT/EE is currently removing Huawei infrastructure from the core of Britain's 3G and 4G network backbone, with the company opting for other alternatives. Huawei hardware is still deployed at the edge, but not for crucial services, as explained to the BBC. The UK government is looking into whether it should analyse Huawei's infrastructure options for full 5G rollout.
Even with that, EE is implementing 5G trials across the country, partly with Huawei. These hardware trials are occurring before on-location trials, which Fotis also mentioned. The following areas, in the East End of London, will be the first for the 5G on-location trials due to the level of foot traffic they receive:
Provost Street
City Road
Central Street
Old Street
Cheapside
St. Paul's
Finsbury Circus Garden
Clerkenwell Street
Bartholomew Square
It is unclear exactly how users will be able to be part of these trials, or if EE will trial the 5G-to-Wi-Fi mobile hotspots for businesses first as we have seen with Verizon in the US.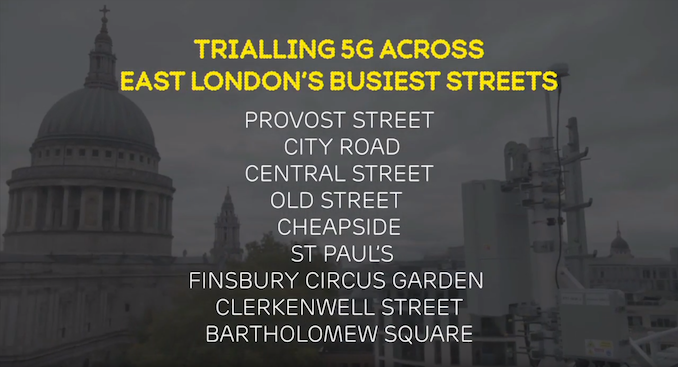 Another factor here is OnePlus. At the Qualcomm event, OnePlus announced that they would be (one of) the first to have a 5G enabled device, and that their devices would enable the first wave of 5G adoption within the UK on the EE network. We're starting to work with OnePlus especially as this rolls out so we can bring you all the relevant information about how 5G is turning out.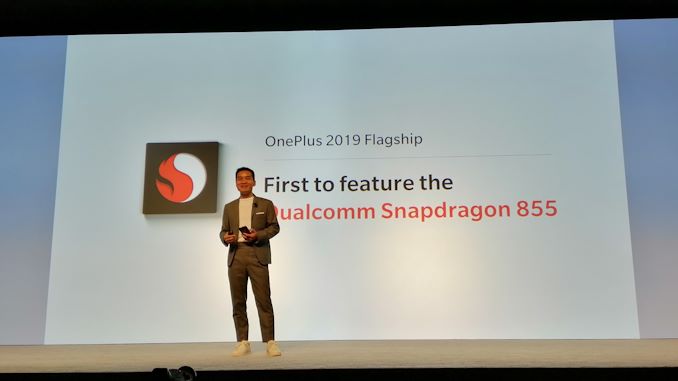 Stay tuned for more information as it is announced.