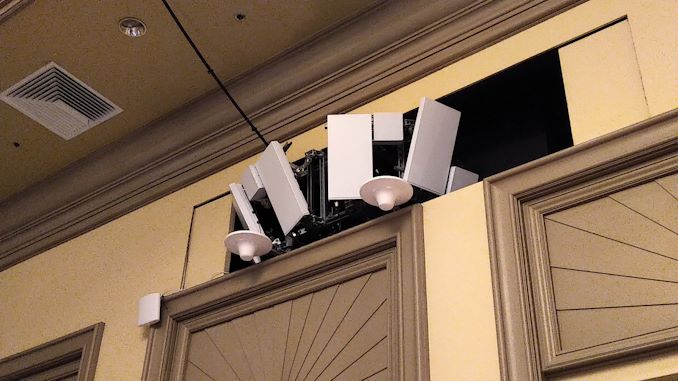 My inbox has been awash with emails regarding 5G 'firsts' this past year. Every time a company seems to demonstrate the smallest new 'first', such as mmWave through an x-inch wall or sub-6 GHz from base station to small cell, it seems to be something to shout about. A cynical journalist might think that these emails are to eradicate the lack of 5G hype in the air! However despite this, both Verizon and AT&T did set up small 5G transmitters for the demos at Qualcomm's Tech Summit.
AT&T's Attempt at Attachment
In the first demo room, AT&T had its emitters sitting up on high above the room.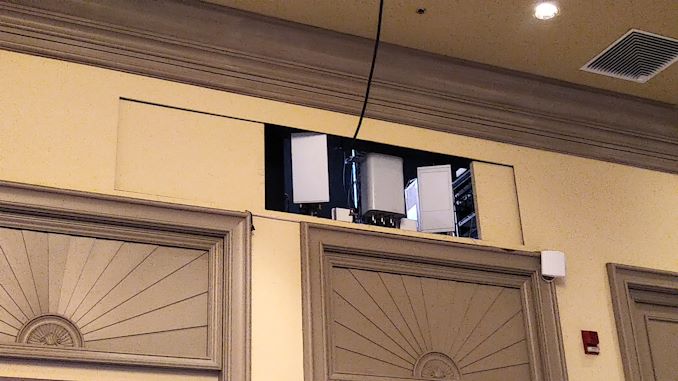 This, we were told officially, was Ericsson hardware running on AT&T's 39 GHz mmWave spectrum, and was being transmitted to access points around the room. These access points were Netgear mobile hotspots, supporting a mmWave input and converting it into an 802.11ac output (or a USB 3.1 Gen 1 tethered output at 5 Gbps). So as a result, all the demonstrations in the room were actually connecting to Wi-Fi produced by these hotspots, rather than connecting to the 5G network itself. We suspect that this will be the use case for the first wave of 5G, rather than direct to device.

For the demonstrations, AT&T had mostly VR-enabled delivery demonstrations, suggesting that the bandwidth is high enough to deliver live VR content to a latency-dependent environment. Also involved was some level of volumetric recording and transmission of data from point to point, although how exactly 5G was being integrated into the demo wasn't clear.
One source, who doesn't want to be named, stated that this hardware was just the same hardware used in their 4G networks, but with new firmware, so wasn't optimized and that explained some of the unimpressive speed numbers.
Verizon's Vocational Versatility
The way that Verizon had its 28 GHz 5G mmWave network was setup similarly, with a broadcast point above the entry to the room being fed out to devices in the demo areas. Where Verizon's demo differs however is that it was going to both mobile hotspots as well as hand held devices, including both Motorola's 5G moto mod as well as an unspecified Samsung 5G device.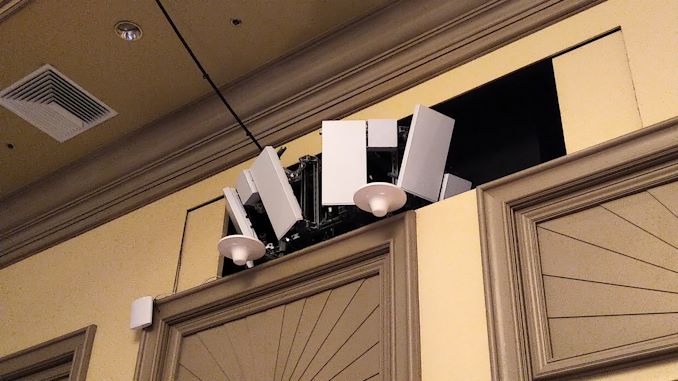 The more impressive demo was the Motorola 5G moto mod, designed for the moto z3. Inside the mod is a 2000 mAh battery, a Qualcomm Snapdragon X50 modem for 5G, a Snapdragon 855 to control the modem, and the required pin outs. In this demo Motorola were showing 5G bandwidth, and how their device could download a 250 MB in four seconds, which is good for 500 Mbps, or about half the current gigabit LTE bandwidth. As we described in our piece, the mod has 10 antennas, four for mmWave and two for sub-6 GHz, and can be charged independently to the phone. We go into some of the reasons why there is an 855 inside as well.

Verizon's 5G-to-wifi hardware was showcased by inseego, this time with a device with an RJ-45 network out port as well as 802.11ac Wi-Fi. This was also being used to demonstrate a VR use case, and we'll have a more in-depth news article about it later.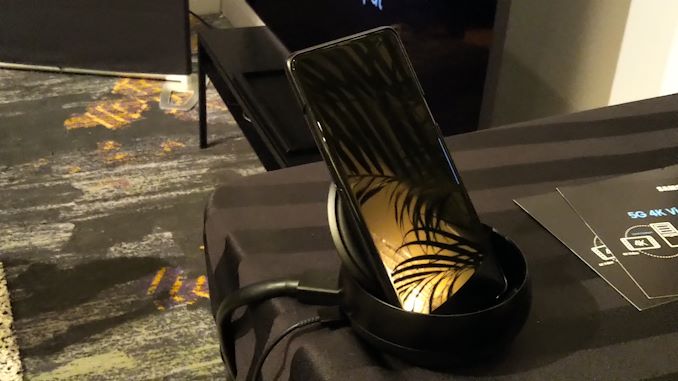 Perhaps the interesting demo was of Samsung's un-named 5G device. So secretive was this that it was demoing a black screen, but connected to the 5G and then broadcasting a Wi-Fi hotspot for 4K video streaming.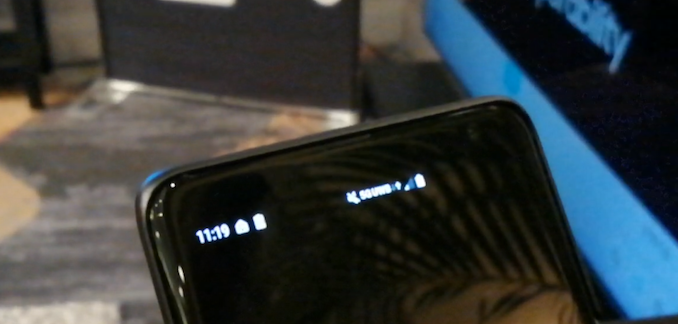 The black screen was so no-one could see the shape of the display, although people have pointed out that there's a funny notch in the corner.
Analyzing The 5G Demonstrations: Infancy
Despite all the talk about 5G being the next frontier, it's clear that while the technology can be effective point to point, it is still very early days and the question of scale out is unanswered. Next year, either at their 5G summit in Hong Kong or Qualcomm's Tech Summit 2019, we need to see 5G enabled at scale. I'm talking dozens of units and devices all being connected showing both latency and bandwidth, the key marketing enablers for 5G. While the 5G-to-Wi-Fi mobile hotspot is the first use case for the technology, getting it into hand-held devices is going to be an inflection point it.
Related Reading