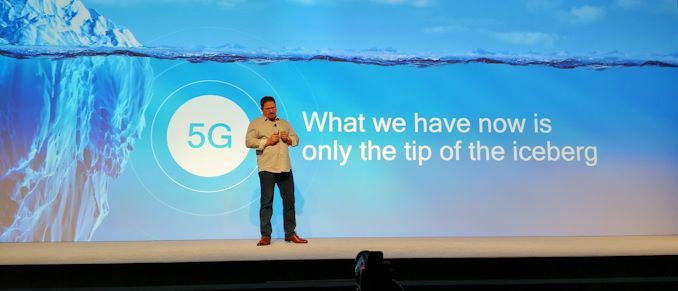 The third annual Qualcomm Tech Summit has just started, and the first announcements from Day One have been made. To start this event, Qualcomm President Cristano Amon is sharing the company's vision for 2019, primarily around 5G networks and 5G enabled devices. The Tech Summit has a few surprises in store over the next couple of days, including the upcoming announcement of the company's first 5G mobile platform, Snapdragon 855.
Qualcomm Tech Summit: Day One Overview
Due to embargo timing, we will be following up this post with a deeper look into the announcements made at the event along with some hands on with the demos.
The march to 5G has been on a major conversation point through 2018, 2017, and discussions about standards and ecosystem deployment even further back. The promises of 5G, according to the main ecosystem players, involve quicker response times, more bandwidth, and with the right deployments, better coverage. Qualcomm took today to expand on its vision for 2019 and how it will be the year of 5G.
For device functionality, as demonstrated in the promotional videos Qualcomm are releasing today, this includes:
Live Multi-Player Gaming over mobile connections
Capturing 4K HDR Video
Professional Video Editing capabilities
Augmented Reality Shopping or Meal Recommendations
Multi-Language Video Chat with Real-Time Voice Translation
Both AT&T and Verizon shared the stage with Qualcomm to discuss their plans for deployments. Ultimately the future, according to all companies involved, will be a mix of 5G, 4G, and Wi-Fi, due to the nature of the technologies. Google, Samsung, and OnePlus are also in attendance at the summit to describe their thoughts on how 5G integrates with their technologies. Qualcomm had said that there are now 20 operators and 18 OEMs committed to Qualcomm's vision of 5G, reinforced through the new 5G hardware being announced this week.
Today being the '5G Day' means that it wouldn't go too far without live 5G demonstrations. In the media mélange of 2018, I have had countless emails about continuous world 'firsts' regarding deployment of 5G hardware, demo testing of 5G inside a mall, inside a city center, inside an office block, 5G trials, connections between different types of devices, and the list never ends. These companies need to be the first at something / everything. However today was more about Qualcomm's action with the carriers, especially in one of its biggest markets, in the US. As a result we had live demos from both AT&T and Verizon showing 5G enabled hardware, using the upcoming Snapdragon 855 Mobile Platform in various device form factors, connecting to a locally established 5G network from each company. After the presentation some of these demos will be available for the press to try afterwards.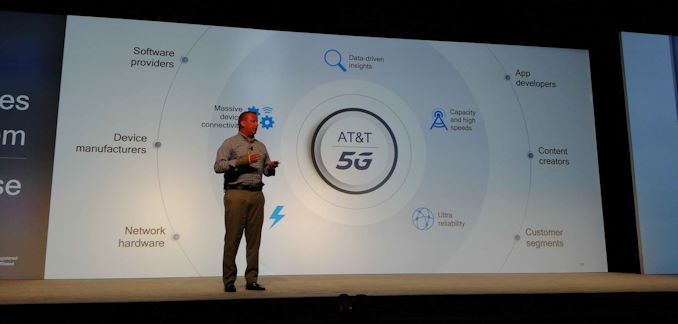 Also included in the discussions at the Tech Summit is one of the major European operators who is also committing to Qualcomm's 5G and discussing its 5G products. At the time of writing, we've not been told who, but it's likely to be either EE or Deutsche Telekom. (Confirmed as EE.)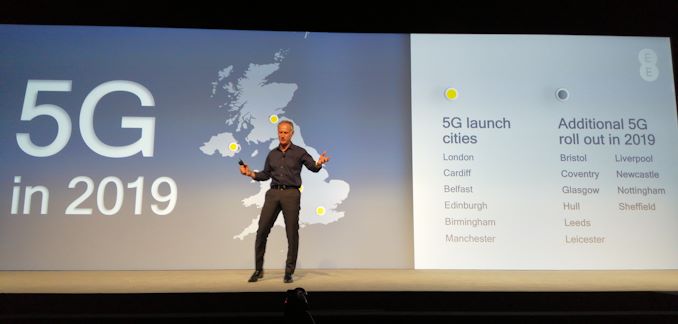 Interestingly enough, some surprise announcements have already been made this week. According to CNET, Samsung has confirmed that it will be partnering with Verizon for a 5G smartphone in the first half of 2019. Samsung's new device will using Qualcomm's X50 modem, but won't confirm which device that is: expectations would be the next Samsung Galaxy, however DJ Koh, Samsung's mobile chief, stated that a separate device in March will be its first 5G phone, focused on Korean carriers.
Samsung is here at the Snapdragon Summit with a prototype 5G mobile device for press to see, and hopefully we'll get a look at it through the week. OnePlus is also here to talk about its plans for 5G, although the expectation is that the device they are planning won't be for the US market. We already know that Lenovo and Motorola intend to launch a 5G 'moto mod' for its Motorola z3 smartphone at around this time, using the X50 modem, and we expect to see this demonstrated at the Summit. Bloomberg is reporting that Apple will not have a 5G-enabled smartphone in 2019, which may have something to do with its recent collaboration with Intel for 4G external modems and presumably 5G modems as well.
Currently Verizon runs a '5G-to-Wifi' service, launched in October, although this isn't typical 5G: it doesn't use industry standards, and requires additional hardware to convert the signal from 5G to traditional Wi-Fi. AT&T is looking to launch a true 5G service soon with a commercially available wireless hotspot built by Netgear in 12 markets, and a further 19 markets in 2019. T-Mobile says it will launch 5G in 30 cities in 2019, while Sprint will be in nine.
Qualcomm also showed off its 5G logos that device manufacturers can use in promotional materials. Expect to see this gold colored icon in a lot of places in 2019: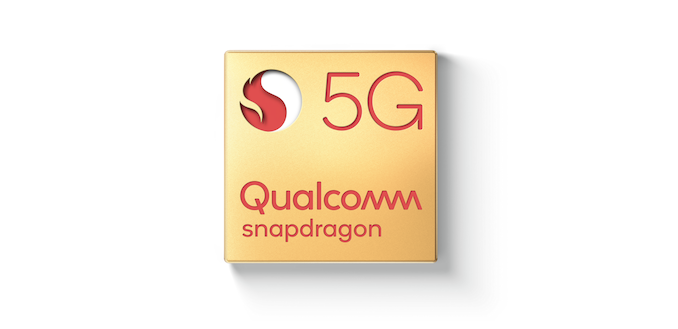 Also on the subject of 5G is exactly how devices will be enabled with 5G modems and antennas. To that end, Qualcomm announced the name of its first 5G supporting chipset, the Snapdragon 855 Mobile Platform. More details are coming on the platform on Day Two, however some details were given today.
Teasing Snapdragon 855 Mobile Platform
The 855-MP consists of two chips, the Snapdragon 855 chipset paired with the X50 modem capable of 5G connections. Qualcomm states that this will be the first mobile platform to support multi-gigabit 5G, along with all the potential that 5G entails.
Also disclosed were some of the chipset targets: the S855, according to Qualcomm, will have industry leading AI inside the chip as well as hardware to accelerate 'extended reality', such as virtual reality and augmented reality. Inside the S855 is Qualcomm's 5th generation multi-core AI-engine, which Qualcomm states will offer up to 3 times the AI performance of the S845 model. Also quoted was that the new S855 includes a separate Computer Vision (CV) image signaling processor, which the company states is an industry first, and will help to enhance computational photography and video capture features. Qualcomm also mentioned gaming, promising next-level gaming experiences to the next generation of premium flagship devices.
From the pictures, it seems obvious that the Snapdragon 855 chipset by itself supports 4G wireless connectivity, and 5G is enabled through the use of the X50 modem as a separate addition. This will add PCB space in mobile devices that previously only used internal modems, reducing volume for other components (such as battery). One would suspect that OEMs intend to offer 5G on only premium devices to begin with, which are often on the larger side of the mobile ecosystem to begin with.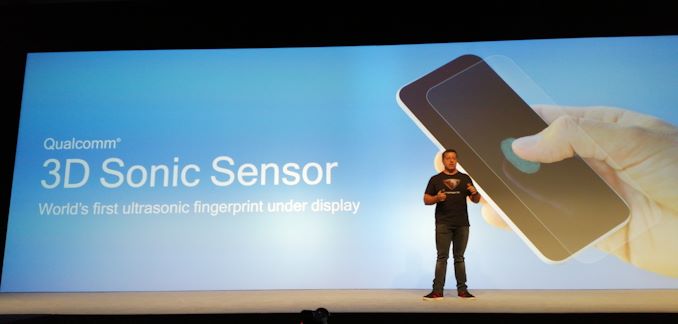 There was also an official mention of Qualcomm's new 3D Sonic Sensor – a commercial ultrasonic fingerprint solution designed to work underneath a smartphone or tablet/laptop display for an in-screen fingerprint area larger than current image sensor based technologies. It was also stated that this technology can work through screen protectors as well as offering additional layers of security compared to other solutions.
Qualcomm Tech Summit: Day 2 and Day 3
Tomorrow QC will go into more detail about the Snapdragon 855 Mobile Platform, which we would naturally expect features higher performance cores, a better GPU, and be made on one of the latest 7nm manufacturing processes. Given the success of the S845 through 2018 in the market, powering most of the flagships not called Huawei or Apple, Qualcomm will be looking to eclipse the others through 2019.
An Interview with Cristiano Amon
Later today, after lunch in fact, I have some time scheduled with Qualcomm's President, Cristano Amon. On the table are all the 5G questions, as well as questions on Qualcomm's widespread portfolio related to everything mobile. If you have any questions, let me know!