Output and Ripple Results
As it can be seen in the following tables, the electrical performance of the Corsair HX850 is outstanding even when subjected to high ambient temperatures. Our instruments recorded a maximum ripple of 28 mV on the 12V line under maximum load, an exceptional power quality figure for line outputting more than 63 amperes at the time.
Main Output
Load (Watts)
171.81 W
427.92 W
637.89 W
849.49 W
Load (Percent)
20.21%
50.34%
75.05%
99.94%
Amperes
Volts
Amperes
Volts
Amperes
Volts
Amperes
Volts
3.3 V
2.23
3.34
5.57
3.33
8.36
3.31
11.14
3.3
5 V
2.23
5.06
5.57
5.05
8.36
5.04
11.14
5.02
12 V
12.62
12.13
31.56
12.08
47.34
12
63.12
11.99
The maximum ripple recorded on the 3.3V and 5V lines did not exceed 20 mV under normal load distribution and was only slightly higher with the HX850 heavily cross-loaded.
Line
Regulation
(20% to 100% load)
Voltage Ripple (mV)
20% Load
50% Load
75% Load
100% Load
CL1
12V
CL2
3.3V + 5V
3.3V
1%
10
14
16
16
10
22
5V
0.9%
10
16
16
20
12
24
12V
1.2%
12
16
20
28
32
18
The voltage regulation is exceptional as well, with the 12V line staying within 1.2% across the nominal load range and the 3.3V/5V lines falling below 1%.
Hot Box Test Results
The impact that high ambient temperature has on the electrical performance of the Corsair HX850 is measurable but, considering the output of the unit and its thermal design, is relatively small.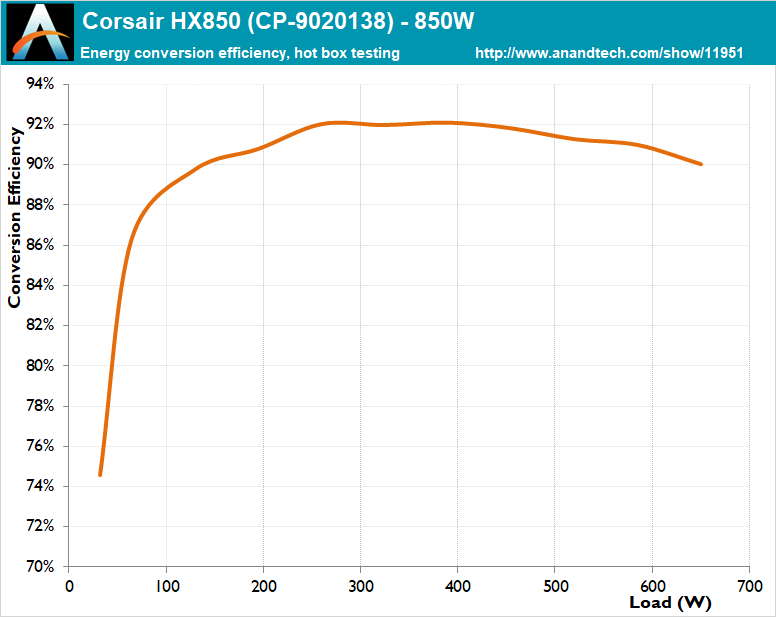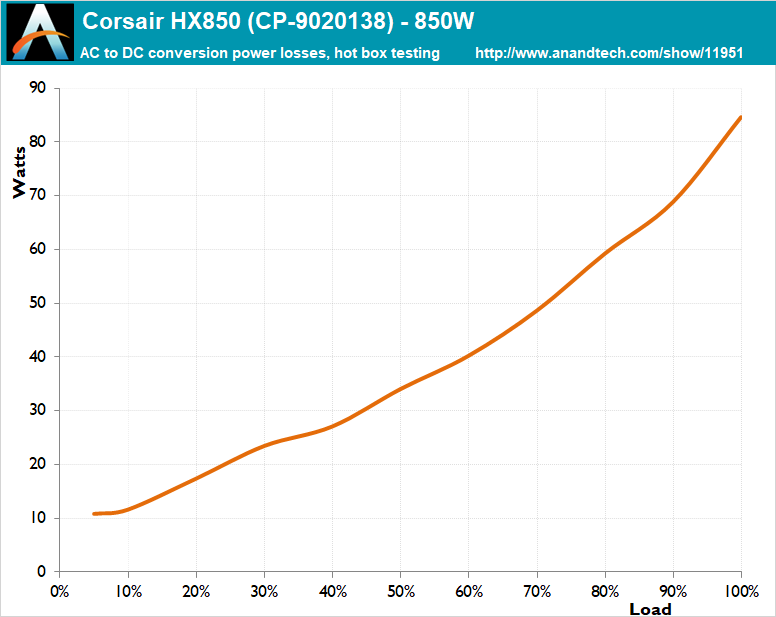 The drop is almost linear across the entire load range, meaning that no components appear to be getting thermally overstressed at higher loads. The average nominal load (20-100%) efficiency dropped down to 91.2% during this test, but with an ambient temperature well above 45 °C.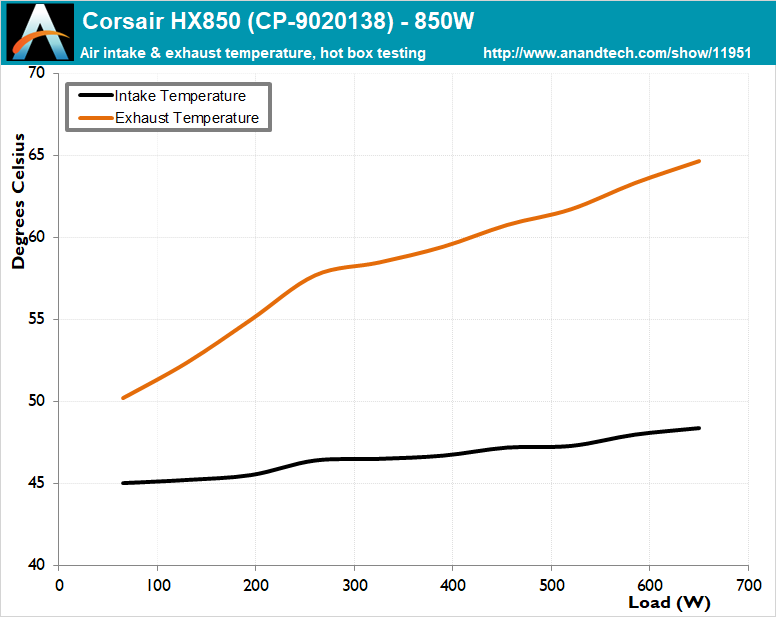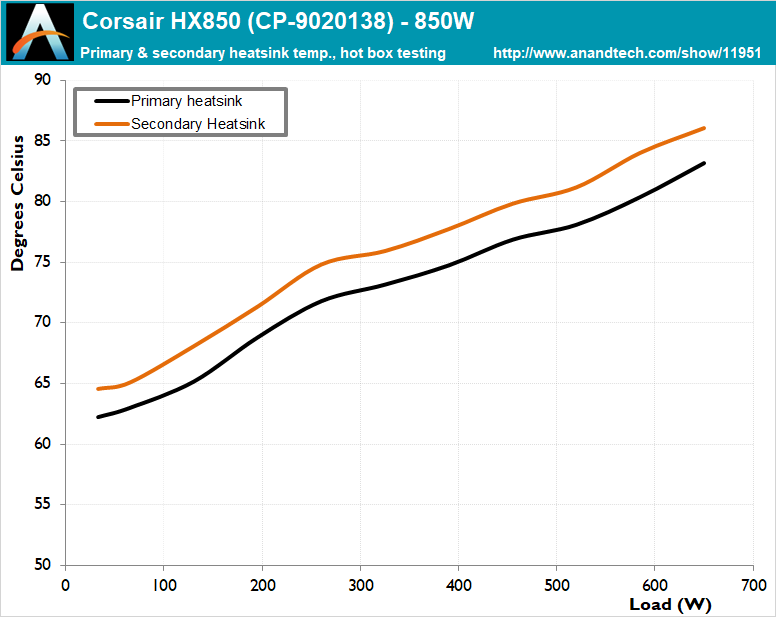 Testing the Corsair HX850 inside our hotbox changes its thermal profile almost completely. The fan started almost right away this time and its speed was constantly increasing alongside with the load. From the relatively low internal temperature of the unit under these conditions, it appears that the cooling profile of the HX850 is aggressive, sacrificing comfort for safety. The unit will be intolerably loud when heavily loaded under such conditions but Corsair ensured that it will keep operating seamlessly and reliably, with its internal temperatures well within safety levels.