AnandTech Storage Bench - The Destroyer
The Destroyer is an extremely long test replicating the access patterns of very IO-intensive desktop usage. A detailed breakdown can be found in this article. Like real-world usage and unlike our Iometer tests, the drives do get the occasional break that allows for some background garbage collection and flushing caches, but those idle times are limited to 25ms so that it doesn't take all week to run the test.
We quantify performance on this test by reporting the drive's average data throughput, a few data points about its latency, and the total energy used by the drive over the course of the test.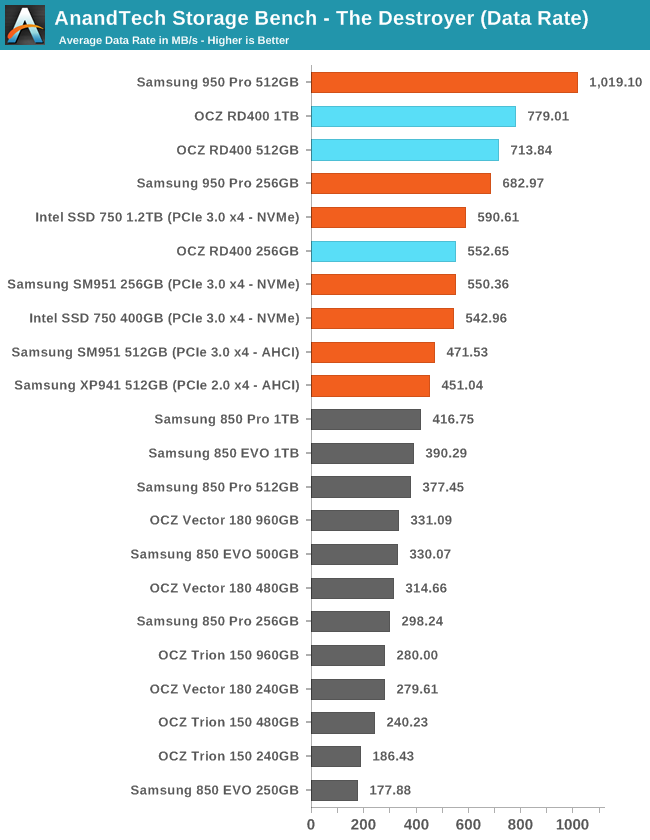 The OCZ RD400 can't keep pace with the Samsung 950 Pro on The Destroyer, but otherwise it beats or ties the other PCIe drives and is substantially faster than any SATA drive.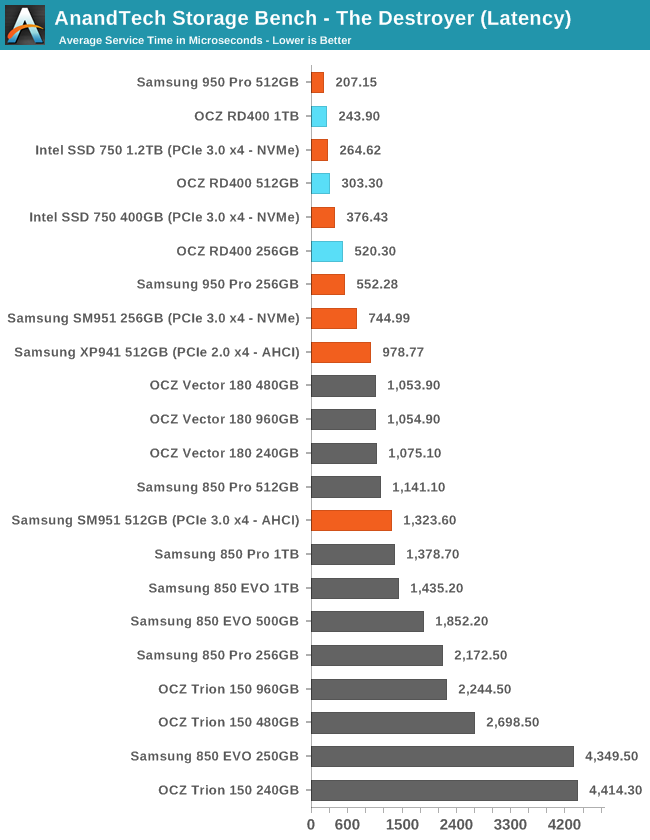 All three RD400 capacities deliver an average service time that falls between the scores of the two 950 Pro capacities. Even the 256GB RD400 almost halves the latency of the best SATA drives.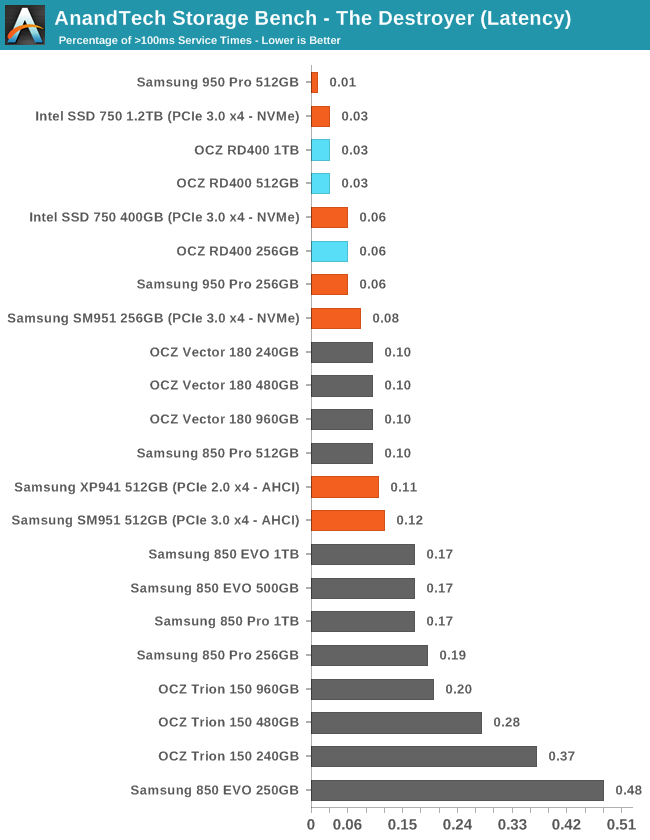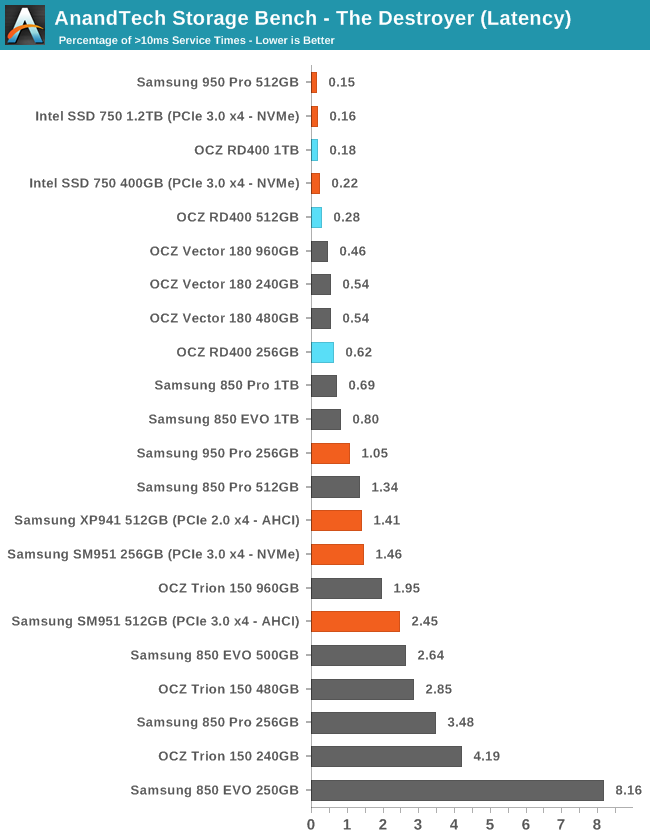 The NVMe drives top the charts for having an extremely low number of severe latency outliers in excess of 100ms, but the 512GB 950 Pro is still clearly the best performer. The NVMe drives are not all clear winners when looking at the number of latency outliers in excess of 10ms: the 256GB RD400 falls behind the Vector 180 and the 256GB 950 Pro is even further behind.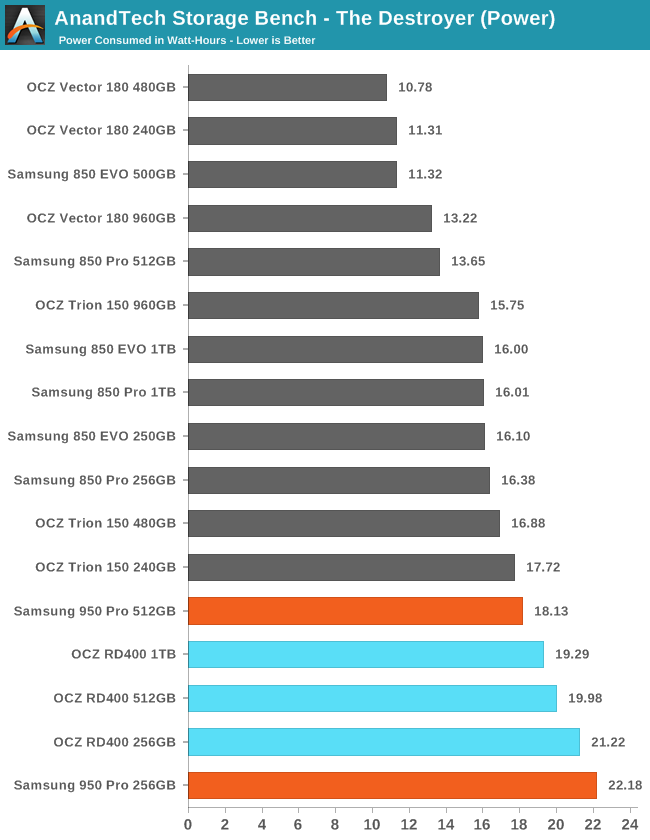 High performance usually carries some cost of high power consumption. The PCIe drives complete The Destroyer far quicker than any of the SATA drives but use more energy overall, and the RD400 falls in between the two capacities of the Samsung 950 Pro.