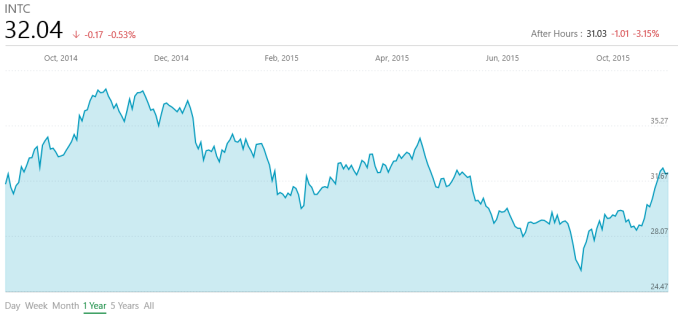 Intel released their third quarter earnings for fiscal year 2015 today, and it was certainly a rocky quarter. Their revenue for the quarter was $14.5 billion, which was in-line with their expectations, and revenues were flat as compared to Q3 of 2014. They actually did very well to remain flat though since the Client Computing Group struggled due to the combination of PC and tablet sales. Gross margin was down slightly to 63%, and operating income and net income were also down 8% to $4.2 billion and $3.1 billion respectively. Earnings per share fell 3% to $0.66.
Intel Q3 2015 Financial Results (GAAP)
Q3'2015
Q2'2015
Q3'2014
Revenue
$14.5B
$13.2B
$14.5B
Operating Income
$4.2B
$2.9B
$4.5B
Net Income
$3.1B
$2.7B
$3.3B
Gross Margin
63.0%
62.5%
65.0%
Client Computing Group Revenue
$8.5B
+13%
-7%
Data Center Group Revenue
$4.1B
+8%
+12%
Internet of Things Revenue
$581M
+4%
+10%
Software and Services Revenue
$556M
flat
+4%
All Other Revenue
$682M
-5%
+19%
In Q3, Intel launched Skylake which is their 6th generation Core processor, and the also announced their 3D X-Point memory technology. Sales of Skylake have just begun, and I would expect to see a broader rollout in Q4. The memory tech is still going to be a while before we see it in a purchasable product.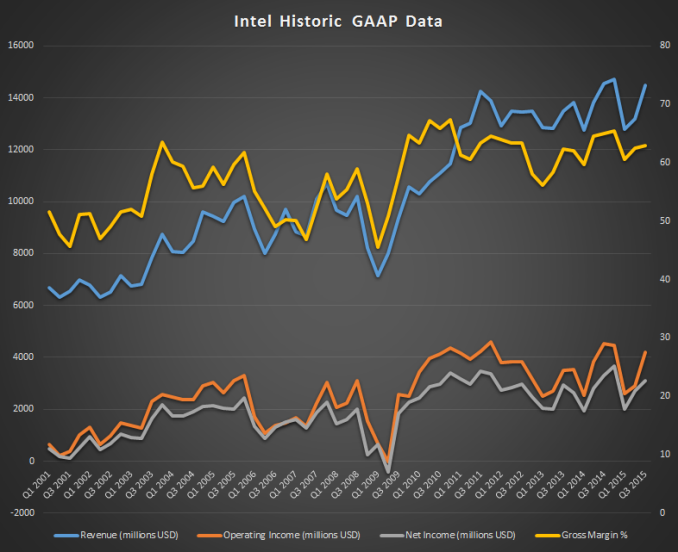 The biggest underperformer from Intel was the Client Computing Group. Revenue for this group was down 7% to $8.5 billion with platform volumes down 19%. This was somewhat helped by an increase in Average Selling Price (ASP) of 15%. Notebooks and desktops were down 14% and 15% respectively, and ASP for these units were up 4% and 8%. The PC market is certainly struggling despite the rollout of Windows 10 and Skylake. The free upgrade for Windows 10 certainly won't be helping matters. But the biggest drop from Intel was in the tablet sector, where Intel powered tablet sales were down 39%. The tablet market is almost like a compressed version of the PC market when looked at over time.
Intel's Data Center Group had a much stronger quarter. Revenue was $4.1 billion, up 12%, which was driven by platform volume up 6% and ASP also up 6%. Much of this was driven by growth in cloud computing which is growing even faster than Intel had predicted.
The remainder of their revenue came from Internet of Things which had growth of 10% to $581 million, Software and services had a flat revenue of $556 million, and the "all other" segment had 19% growth to $682 million.
Looking forward for Q4, Intel is looking for revenues of $14.8 billion plus or minus $500 million, which would be up 2% from Q3, and gross margin is expected to drop 1.0% to 62%. The drop in margin is attributed to a ramp up of their Ireland fab ahead of schedule which is outputting wafers at a higher cost than the more established fabs for the time being. In addition, the costs for 14 nm is still higher per chip than 22 nm, but the percentage of 14 nm to 22 nm is certainly shifting towards the newer process which drives down margins.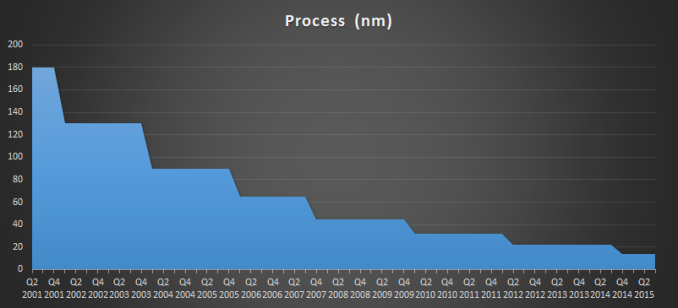 I think the overall quarter is actually fairly good for Intel. Despite a definite drop in the PC market, they managed to make up most of that with a strong showing in cloud computing. The ramp up to Skylake and Windows 10 should start in full in Q4. Intel seems cautiously optimistic that the rollout of Windows 10, especially in enterprise, should be much quicker than the last upgrade which should help sales.
Source: Intel Investor Relations