SMB 3.0 Evaluation and VM Performance Impact
QNAP's QTS 4.x is the only COTS NAS operating system that we are aware of with SMB 3.0 support. As a bit of a background, SMB 3.0 was introduced with Windows 8 and Windows Server 2012 as an update to the file-sharing protocol used in Windows systems. It brought in a number of changes including SMB Direct Protocol and SMB Multichannel. Security enhancements such as end-to-end encryption and a new AES-based signing algorithm also make it attractive for usage in business enviromnents.
QTS allows for setting of the maximum allowed SMB version. While SMB 3.0 shares turned out to be accessible even in Windows 7, enabling the SMB Encryption feature for a Samba share while setting up the shared folder rendered it inaccessible (except under Windows 8 and Windows Server 2012). For our evaluation, we created a Windows 8.1 VM in our NAS testbed and repeated our usual NASPT / robocopy benchmarks on a plain SMB 3.0 share and one on which SMB encryption was enabled. In addition, we also repeated the test with the Windows 8.1 VM on the TS-451 active and being loaded with our heavy Internet browsing workload. The graph below presents our observations.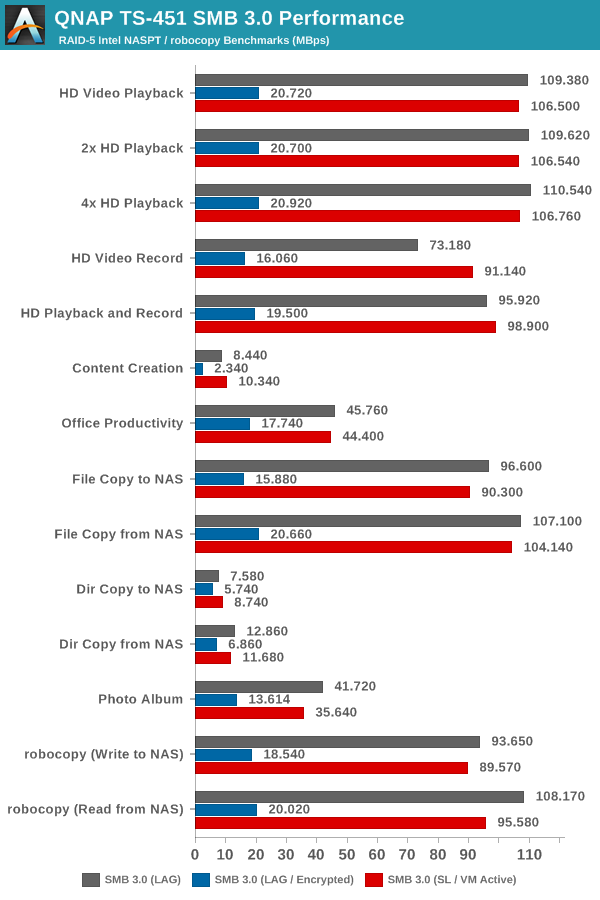 At the very outset, it is clear that enabling SMB encryption causes a huge hit in performance. It appears that the limitation is on the encryption rate, which seems to be topping out at 20 MBps. In the more interesting case of VM vs. non-VM, we find that, with the VM active, there is definitely a loss in performance. However, we doubt that it is much of an issue for even power users in home scenarios. Obviously, the penalty is much bigger for multi-client scenarios since the network ports can't be link-aggregated any more. That said, most home users don't even have routers supporting 802.3ad link aggregation. For such consumers, with the help of Virtualization Station, the second network port of the QNAP TS-451 can actually be put to better use (as a dedicated link for a VM / 'computer') than just a failover link for the NAS.