Catalyst 13.8 Results in Summary, Cont
Up next, let's take a quick look at how the 7990 with frame pacing compares to NVIDIA's GTX 690. NVIDIA's frame pacing has been the gold standard thus far, so let's see how close AMD has come to NVIDIA on their first shot.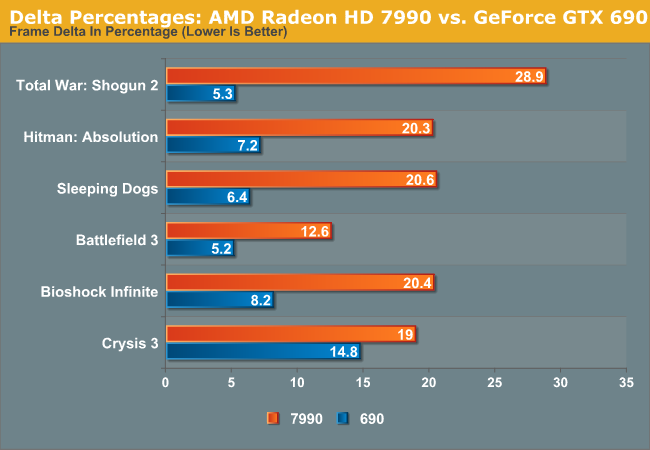 Frankly the results aren't flattering for AMD here, although keeping things in perspective they're not terrible. In every last game GTX 690 has much lower frame time variability than 7990. NVIDIA has been working on this problem a lot longer than AMD has and it shows. Ultimately while it's true this is an absolute metric when it comes to comparing results – AMD experiences more than two times the frame time variation in 5 of the 6 games – keep in mind we're looking at the variance in frame times, rather than the frame times themselves, a first order derivative. What it means is that AMD clearly still has room for improvement, but AMD's approximately 20% results are not a poor showing in this metric; for every individual there exists a point below which the frame time variations cease to be perceptible.
While we're on the matter of this comparison, it's very much worth pointing out that while AMD can't match NVIDIA's delta percentages at this time the same cannot be said for runt and dropped frames. Throughout our tests on Catalyst 13.8 AMD delivered 0 runt frames and dropped 0 frames. This is a massive improvement over Catalyst 13.6, which would regularly deliver runt frames and drop frames at times too. In fact even NVIDIA can't do this well; the GTX 690 doesn't drop any frames but does deliver a small number of runt frames (particularly towards the start of certain benchmarks). So in their very first shot AMD is already beating NVIDIA on runt frames, a concept pioneered by NVIDIA in the first place.
We've also posted the FCAT graphs for the 7990 versus the GTX 690 below. We can clearly see the higher variation of the 7990, while we see a few more instances of late frames on GTX 690 than we do 7990.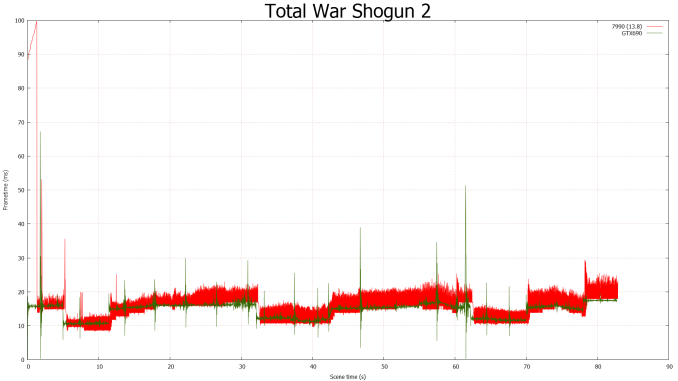 Moving on, we wanted to quickly compare D3D9 to D3D11 performance on the 7990. As a reminder AMD's frame pacing mechanism isn't enabled for D3D9, so this gives us a quick chance to look at the difference. The only title in our collection that is D3D9 capable is Total War: Shogun 2, so we'll use that.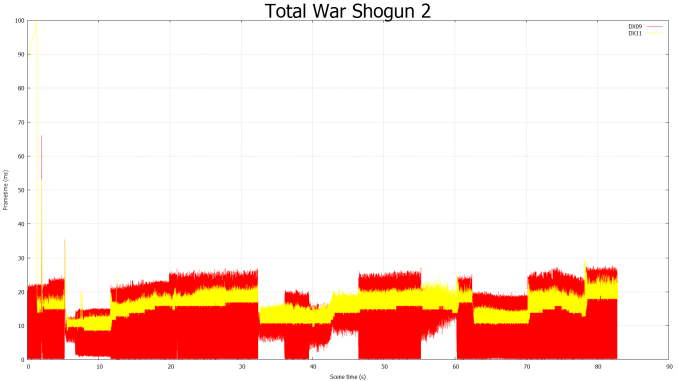 And there you go. Frame pacing is not available on D3D9, leading to much more variable results for the 7990 when using the D3D9 path, even though it's otherwise faster due to the simpler effects. AMD will ultimately address D3D9 in a further phase, but in the meantime this reinforces the need for a switch to turn off Crossfire on dual-GPU cards like the 7990. NVIDIA allows this, and AMD lets you do it on multi-card setups, but with the 6990 and 7990 you are unfortunately locked into Crossfire mode at all times.
Finally, while it's not something we can properly measure, we did want to touch upon the matter of input lag. AMD's earlier position that frame pacing and input lag are inversely related was not wrong. At some level adding frame pacing is going to increase the input lag due to frames being held back. The question is, to what extent and is it acceptable?
The short answer is that while we can't really give the issue the full attention it deserves without a high speed camera (something we don't have), subjective testing is quite good. If there is a difference in input lag from enabling frame pacing, it's not something we're able to perceive. Despite AMD's concerns about input lag from what usage testing we've done we have no problem saying that enabling frame pacing by default was the right move. In our experience there's simply no reason not to enable it.