ASRock X79 Professional Visual Inspection
Naming aside, the Professional instantly comes across as a version of the Champion that has been stripped down, aiming for its $265 price point. The most obvious detail in this is the reduction down to four memory slots, giving one per channel of the CPU. The motherboard is also normal ATX sized, rather than the E-ATX of the Champion, meaning that the memory slot reduction helps fit everything on the motherboard. Similarly to the Champion, the PCB looks very busy indeed, and the black PCB is hidden under the components, unlike the MSI Z77 MPower we recently reviewed that was fairly clean by comparison.
Due to the fewer memory slots, the power delivery heatsink is larger than that of the Champion, both above the power delivery itself and the heat sink extra mass to the side of the memory slots (connected via heatpipe). Rather than have an extended affair across the whole motherboard with heatsinks, the chipset heatsink on the Professional is a separate unit that attempts to maximize surface area.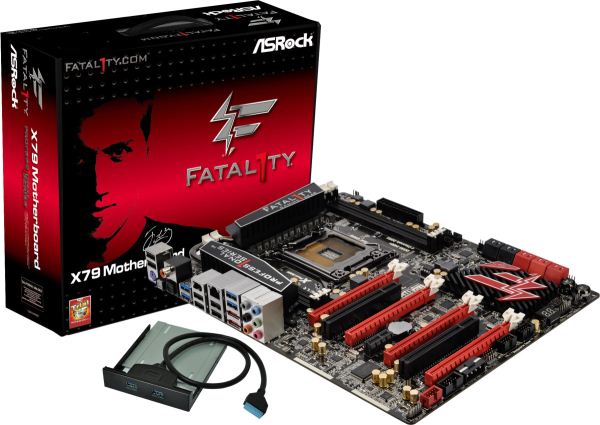 The socket itself is given ample room beyond Intel specifications in both the x and y dimensions, suggesting that all manner of CPU coolers are applicable here. However the distance between the inside memory slots is approximately 127 mm (5"), which means that the Noctua DH-14 would have issues if both fans were fitted and all the memory slots occupied. For fan headers, the socket area has four within easy reach – two CPU fan headers to the top right (4-pin + 3-pin), a PWR fan header to the bottom left beside the memory slots (4-pin), and at a stretch a CHA fan header above the SATA ports (also 4-pin). The final two fan headers are 3-pin at the bottom right of the board.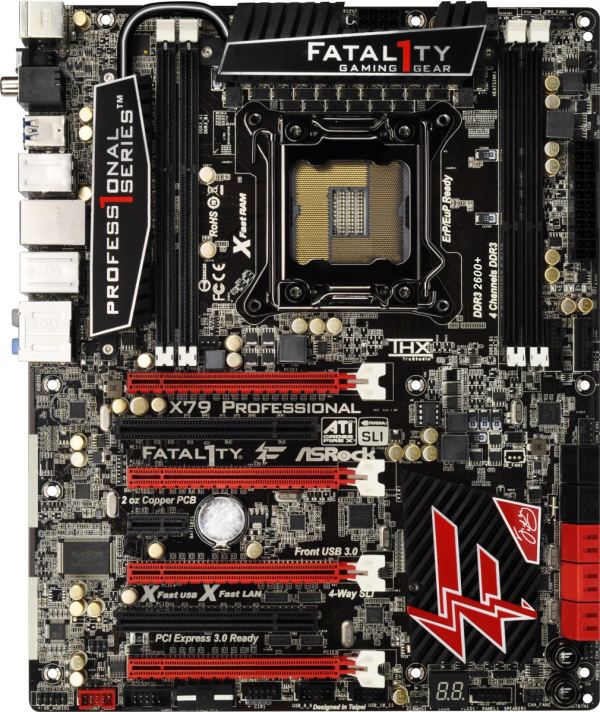 Along the right hand side of the board are two of the aforementioned fan headers, followed by the 24-pin ATX power connector and two USB 3.0 headers. Similarly to the Champion, ASRock are laying on the USB 3.0 with the Fatal1ty series, using TI controllers unlike others (ASMedia and Etron are more common). Below the USB 3.0 is another 4-pin fan header, then the SATA ports, and other fan header. The SATA ports give the typical chipset output (four SATA 3 Gbps, two SATA 6 Gbps), but we also have four more SATA 6 Gbps ports from Marvell controllers. The chipset ports are capable of RAID 0, 1, 5, 10, whereas the Marvell ports are only rated for RAID 0 and 1.
Much like the Champion, we get the power/reset buttons to play with, as well as a two digit debug display. As mentioned many times before, even though these have limited uses when the motherboard is set up inside a case, for debugging or testing they are a great asset to have.
The bottom of the board is the usual array of headers, including front panel audio, the front panel header, three USB 2.0 headers, a COM port header, an IEEE1394/FireWire header, the power/reset buttons, the two-digit Debug LED display, and a 4-pin Molex connector for VGA power. As mentioned with the Champion, even through the PCIe slots may need extra power when going 3-way or 4-way on the GPUs, I'd rather have a SATA power connector or 6-pin PCIe connector to use, ideally near the 24-pin ATX power connector if possible. At least we have moved away having the 4-pin molex between the socket and PCIe slots.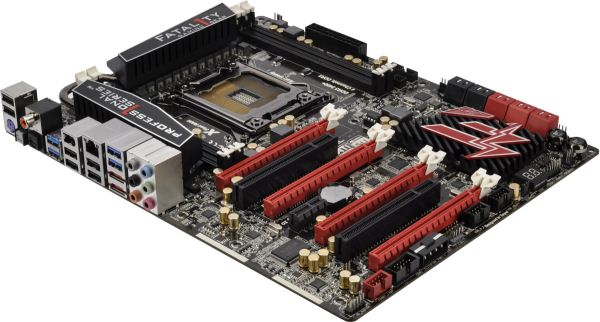 The PCIe layout is thankfully very simple, with the red slots indicating PCIe 3.0 x16 lanes available in an x16/x8/x16/- or x16/x8/x8/x8 configuration. In between these is a pair of PCI slots and a PCIe x1 such that the PCIe x1 is still available when two triple width GPUs are plugged in.

Personally I find the rear IO of the Professional a little more sensible than that of the Champion, as we have a more balanced number of USB 2.0 and USB 3.0 ports. I often use three USB 2.0 ports when installing an OS (mouse, keyboard, USB stick with OS image), and it can be frustrating when none of the USB 3.0 are initialized by the OS installer – it depends on the source of the USB 3.0 (Chipset or Controller) and the image whether it is initialized on install. Hopefully if/when the test suite is moved from Windows 7 to Windows 8, this will be less of an issue, or I may have to use onboard headers for USB 2.0 ports in the future.
Ranting aside, from left to right we get a PS/2 Keyboard port, a total of six USB 2.0 ports, a ClearCMOS button, a coaxial and optical SPDIF output, four USB 3.0 ports (TI controllers), an IEEE1394/FireWire port, a Broadcom BCM57781 gigabit Ethernet port, two eSATA 6 Gbps ports (Marvell) and a set of audio jacks.
Board Features
ASRock X79 Fatal1ty Professional
Price
Link
Size
ATX
CPU Interface
LGA-2011
Chipset
Intel X79
Memory Slots
Four DDR3 DIMM slots supporting up to 32 GB, ECC+non-ECC with Xeons
Up to Quad Channel, 1066-2600 MHz
Onboard LAN
Broadcom BCM57781
Onboard Audio
Realtek ALC898
Expansion Slots
4 x PCIe 3.0 x16 (x16/x8/x16/- or x16/x8/x8/x8)
1 x PCIe 2.0 x1
2 x PCI
Onboard SATA/RAID
2 x SATA 6 Gbps (Chipset), RAID 0, 1, 5, 10
4 x SATA 6 Gbps (Marvell SE9172), RAID 0, 1
4 x SATA 3 Gbps (Chipset), RAID 0, 1, 5, 10
USB
8 x USB 3.0 (Controller) [4 onboard, 4 rear panel]
11 x USB 2.0 (Chipset) [6 onboard, 5 rear panel]
1 x Fatal1ty USB 2.0 Mouse Port (rear panel)
Onboard
6 x SATA 6 Gbps
4 x SATA 3 Gbps
2 x USB 3.0 Headers
2 x USB 2.0 Headers
6 x Fan Headers
1 x COM Port Header
1 x IEEE1394 Header
1 x Front Panel Audio Header
1 x Front Panel Header
Power/Reset Buttons
Two-Digit Debug LED
Power Connectors
1 x 24-pin ATX Power Connector
1 x 8-pin CPU Power Connector
1 x 4-pin Molex VGA Power Connector
Fan Headers
2 x CPU (4-pin, 3-pin)
3 x CHA (4-pin, 2 x 3-pin)
1 x PWR (4-pin)
IO Panel
4 x USB 3.0 (TI)
6 x USB 2.0
1 x Keyboard PS/2 Port
1 x ClearCMOS Button
1 x Optical SPDIF Output
1 x Coaxial SPDIF Output
1 x FireWire/IEEE1394 Port
1 x Broadcom BCM57781 GbE NIC
2 x eSATA 6 Gbps (Marvell)
Audio Jacks
Warranty Period
3 Years
Product Page
Link
Comparing the Professional to the Champion highlights the 'stripped down' feel of the Professional – half the number of memory slots, half the number of Ethernet ports, a move away from the Creative Core3D to a Realtek ALC898, a different PCIe layout, fewer USB 3.0 ports and a reduced heatsink array. A lot still stays the same, such as SATA port count, eSATA, fan headers, power/reset buttons, IEEE1394 functionality and a Fatal1ty mouse port.
As mentioned in the introduction, the Professional squares up against the Rampage IV Gene, a motherboard we awarded a Bronze award to back in our ROG review. The Professional comes in at $15 less, but it almost seems a mismatch given that the Gene is a micro-ATX sized board. The Gene is geared to both gaming and overclocking, and uses the fact that most gamers are unlikely to use beyond two GPUs. While the Professional has 4-way capability, more SATA ports, more USB 3.0 ports, more fan headers and Firewire/COM support, the Gene uses an Intel network interface, upgraded audio (SupremeFX III is a bulked up and optimized ALC898 under the hood), overclockers measurement points (due to board aims), full fan header control, ROG connect and the warranty is part of the ASUS Premium Service program. Aside from BIOS/Software differences which we will get into, the Professional is aiming at 'more of everything', whereas the Gene is 'quality over quantity', and both offer different ways of investing in an X79 system.