Application and Futuremark Performance
I find myself often saying "at this point, Ivy Bridge is pretty much a known quantity," but that really does remain true. What we want to pay attention to with the M17x R4 is the performance difference between the i7-3610QM and the i7-3720QM, since the 3610QM is the baseline CPU for the M17x R4 while the 3720QM is a $150 upgrade.
Unfortunately, our testing of the M17x R4 was not without hiccups. Total War: Shogun 2 crashes during benchmarking, a problem that's been reproduced in NVIDIA's labs. The current BIOS update coupled with most recent drivers are supposed to ameliorate that problem, but that hasn't been the case. When that problem is resolved we'll endeavor to update Bench with those benchmark results.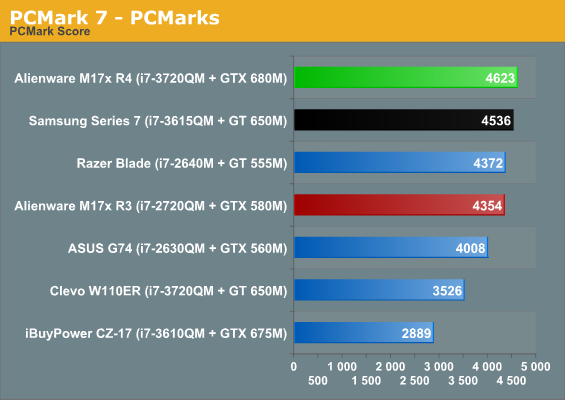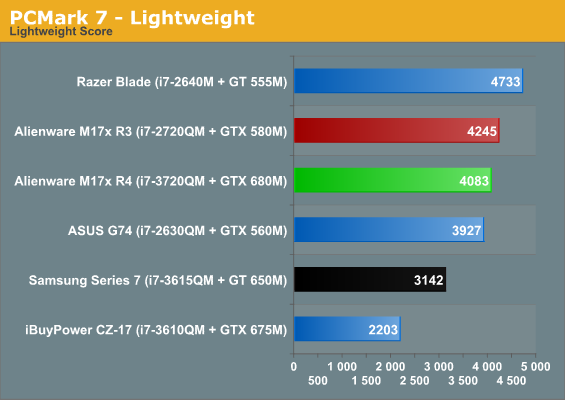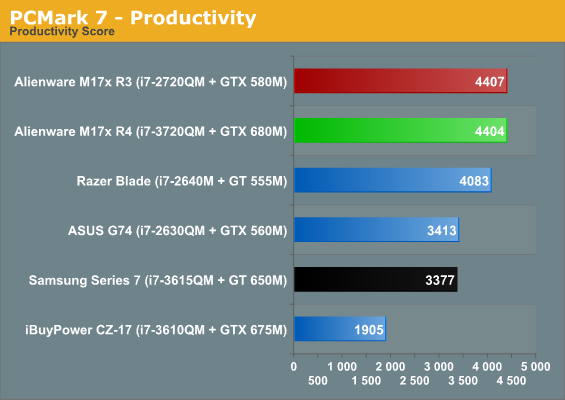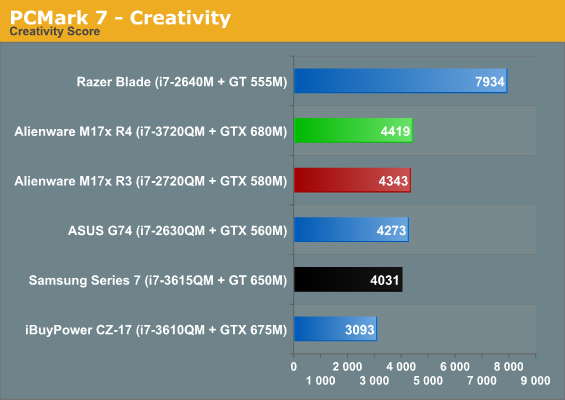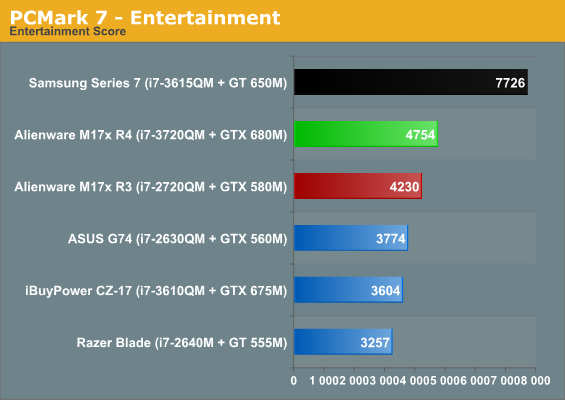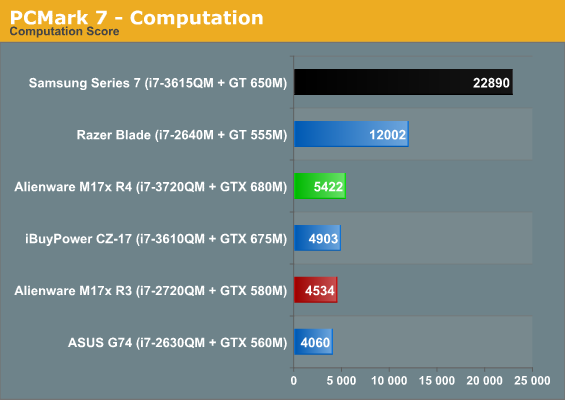 The essential problem in PCMark 7 is that the M17x R4 is relying on SSD caching instead of an actual SSD as our M17x R3 system does. That puts it well behind some of the competing systems we've tested, except for the CZ-17, which doesn't even have the benefit of SSD caching.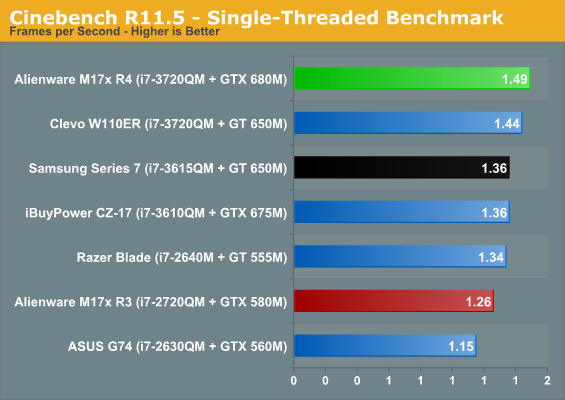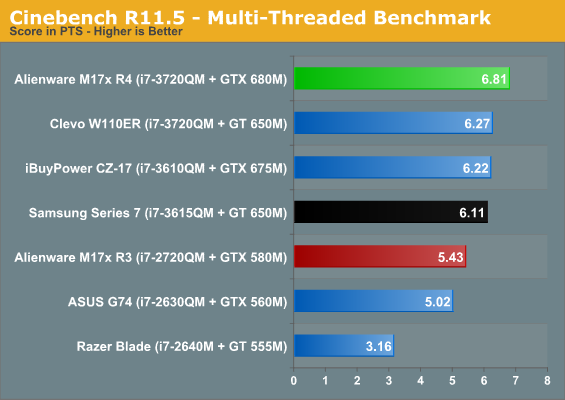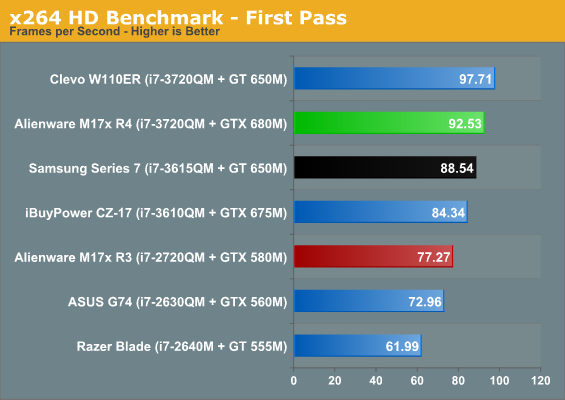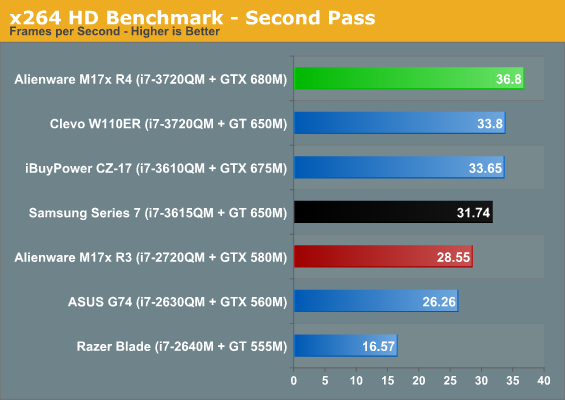 You could reasonably argue that in most cases, the M17x R4's substantial heft compared to the slight Clevo W110ER allows for a more powerful cooling system, in turn allowing the i7-3720QM at the heart of the M17x R4 to run faster longer. The jump from the i7-3610QM and i7-3615QM to the i7-3720QM is incremental at best, though, and doesn't really justify the extra $150. Note that the only differences between the i7-3610QM and i7-3615QM are the socket type and a slight bump in top IGP turbo speed on the 3615QM; these chips are otherwise specced identically.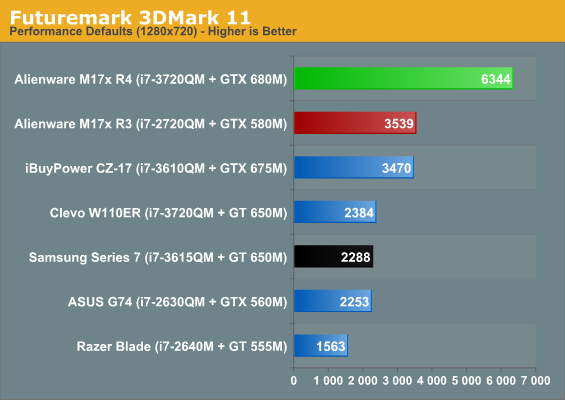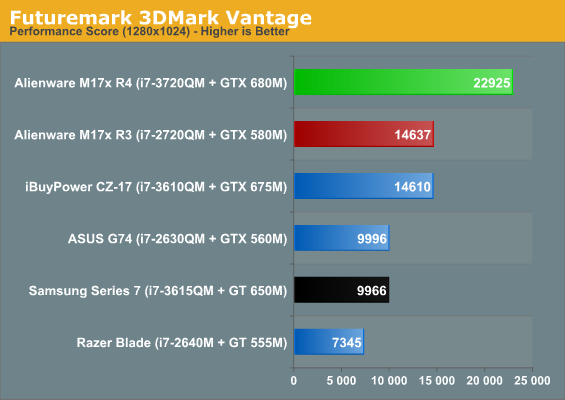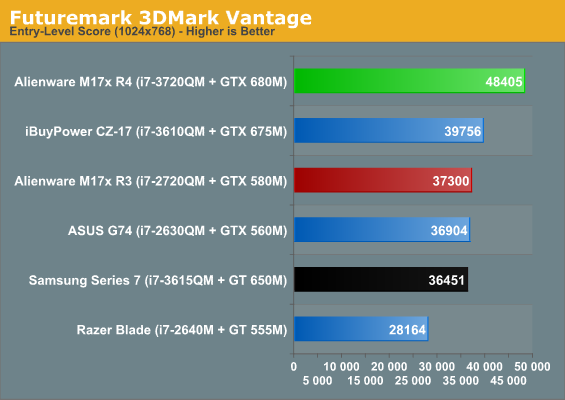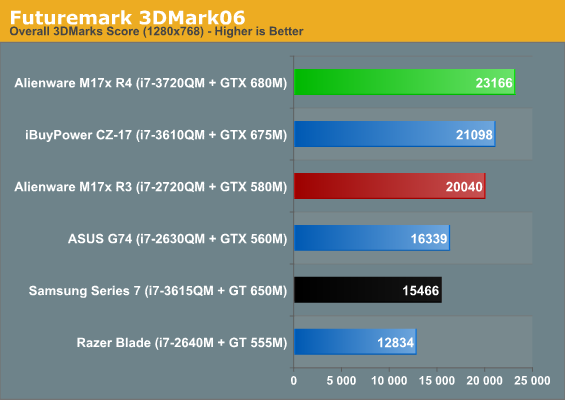 And here's where things start getting real. If you weren't excited to see how the GTX 680M performs in games you should be now, because this is one of the largest jumps in performance we've seen from a top-end mobile GPU in quite some time. Note that the GT 650M is essentially a GTX 660M at slightly lower clocks; with that knowledge in mind, the Samsung Series 7 serves as a suitable proxy for an entry level M17x R4.