Introducing the Puget Systems Deluge
It's been a little while since we've had a Puget Systems desktop in, and so far we haven't yet tested any of their big dog gaming machines. Everything else we've tested, we've liked, but what happens when the fine folks over at Puget Systems pull out all the stops and put together a high end gaming machine? The answer: the Deluge, an X79-based rig in a modified Antec P183, employing a custom liquid-cooling loop. It's big, powerful, and expensive. Did Puget Systems hit another custom out of the park, and is Sandy Bridge-E the enthusiast platform we were waiting for?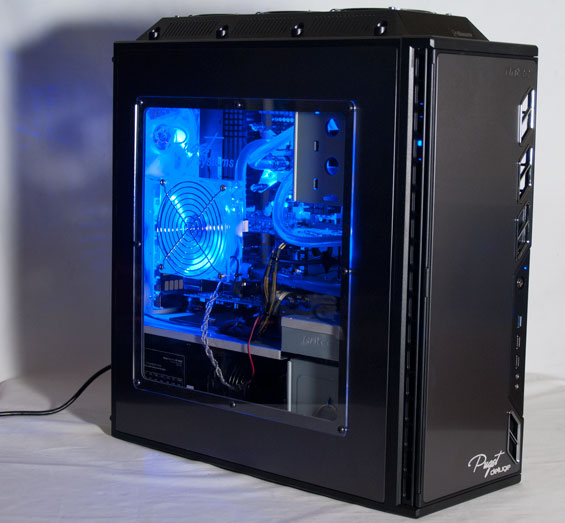 While we're used to seeing liquid-cooled systems around here, the Puget Systems Deluge is one of the few we've had in with a fully custom solution. Puget Systems modified the Antec P183 enclosure substantially, planting a 360mm Koolance radiator in the top and adding a window to the side (complete with intake fan). This is really the first tricked-out system we've received from them, and it's a doozy aimed at demonstrating what Intel's new Sandy Bridge-E and X79 platform can do. Needless to say, the rap sheet comes packed with all the latest and greatest hardware.
Puget Systems Deluge L2 Specifications
Chassis
Antec P183, Modified
Processor
Intel Core i7-3960X
(6x3.3GHz + HTT, Turbo to 3.9GHz, 4.6GHz Overclock, 32nm, 15MB L3, 130W)
Motherboard
ASUS Sabertooth X79 (X79 chipset)
Memory
8x4GB Patriot Viper Xtreme DDR3-1600 @ 1500MHz (expandable to 64GB)
Graphics
2x NVIDIA eVGA GeForce GTX 580 1.5GB GDDR5 in SLI
(2x 512 CUDA Cores, 772/1544/4008MHz core/shaders/RAM, 384-bit memory bus)
Hard Drive(s)
Intel 510 250GB SATA 6Gbps SSD
Western Digital Caviar Black 2TB 7200-RPM SATA 6Gbps HDD
Optical Drive(s)
ASUS BD-RE (BW-12B1ST)
Networking
Intel 82579V Gigabit Ethernet
Audio
ASUS Xonar DX
Speaker, mic/line-in, surround jacks, optical out for 7.1 sound
Front Side
Optical drive
Card reader
USB 3.0
2x USB 2.0
Headphone and mic jacks
Top
-
Back Side
PS/2
5x USB 3.0
6x USB 2.0
6-pin FireWire
Optical out
2x eSATA
Ethernet
4x DVI-D
2x Mini-HDMI
Speaker, mic/line-in, surround, and optical jacks
Operating System
Windows 7 Professional 64-bit SP1
Dimensions
19.9" x 8.1" x 22" (WxDxH)
Extras
Card reader
Antec CP1000 PSU
Custom liquid-cooling loop with 360mm radiator
Warranty
1-year parts, Lifetime labor and tech support (extendable by up to three years)
Pricing
Starts at $3,945
Review system configured at $7,254
Well, I believe that's officially the most expensive configuration I've yet tested, so if you don't need a car but can afford to buy one, Puget Systems is willing to sell you a tricked out desktop in its stead.
We start at the top with Intel's shiny new top-of-the-line Core i7-3960X. Built on a 32nm process, the new chip features eight hyper-threaded Sandy Bridge cores and 20MB of L3 cache, although in this chip 5MB of L3 and two of the cores are disabled. There's an unlocked multiplier and quad-channel memory, and it runs at a nominal 3.3GHz clock speed. Puget Systems, however, pushed this baby to 4.6GHz, and strapped to the four memory channels is 32GB of Patriot DDR3 in eight 4GB DIMMs, running at 1.5GHz due to a tweaked BCLK.
Handling graphics duties are a pair of eVGA GeForce GTX 580s with Koolance waterblocks attached to them. For the first time, I think I'm actually mildly surprised the video cards themselves haven't been overclocked, especially given how much headroom there can be on the GTX 580 (my own is pushing 880MHz on stock voltage). The stock clock speeds of 772MHz on the core (resulting in 1544MHz on the shaders) and 4GHZ on the 1.5GB of GDDR5 is actually kind of disappointing, especially knowing that all of Puget Systems' suppliers offer factory overclocked cards. Even a mild bump, as is found on eVGA's SuperClocked GTX 580, would've been appreciated. But they're running in SLI and the stupefying amount of CPU power on hand should hopefully alleviate any CPU limitations in gaming.
As I've come to expect from Puget Systems, the SSD is an Intel 510. Other manufacturers will use SSDs by Crucial, Corsair, or OCZ, and I personally run a Corsair in my desktop, but Puget is serious about hardware reliability and thus far Intel is one of the best for SSDs. The 510 is rated for 500MB/sec in read speed and 315MB/sec in write speed, making it more than adequate for our purposes. Mass storage is handled by a Western Digital Caviar Black 2TB drive, and given the current shortages in the industry as a result of the Thailand flooding, you pay dearly for the privilege.
Rouding out the Deluge is an ASUS Xonar DX on audio duty and an ASUS BD-RE drive. While I can definitely vouch firsthand for the quality of the Xonar DX (and it's a popular choice among enthusiasts), I'm keen to point out that it becomes a lot less attractive if you're using optical out instead of analog. I use a pair of Antec Soundscience Rockus speakers with the digital out on my motherboard, and found it to be a bit less of a hassle than keeping my Xonar DX installed.
Of course, one of the big things you're paying for is the 360mm Koolance radiator custom mounted to the top of the P183 V3 enclosure along with the 3/8" tubing used for the liquid-cooling loop that runs between the CPU and pair of GeForce GTX 580s. There's also a reservoir mounted in one of the front 5.25" drive bays. It's a very slick and clean installation.
Update 11-30-2011: We've added results for the Deluge in surround gaming.