If you've seen any of the new Thunderbolt Macs torn apart you will recognize the piece of silicon above. That flip-chip package is Intel's first Thunderbolt controller, codename: Light Ridge (clever). It features four Thunderbolt channels (4 x 10Gbps bidirectional = 80Gbps aggregate bandwidth) and up to two DisplayPort outputs. It's used in the 2011 iMac, MacBook Pro and Mac mini.
This is Eagle Ridge, it's little brother: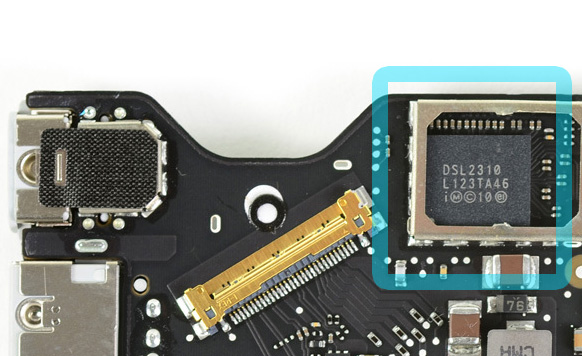 Eagle Ridge is available in two form factors (normal and SFF) and is effectively half of a Light Ridge chip. That means you only get two Thunderbolt channels (2 x 10Gbps bidirectional = 40Gbps aggregate bandwidth) and one DP output. Apple used the small form factor version of Eagle Ridge in its new MacBook Air to cut cost and save on motherboard real estate. The MacBook Air's GPU also doesn't support more than one external display so there was no point in using a Thunderbolt controller with two DP outputs. Note that performance is identical to Light Ridge as we demonstrated in our review here.
I'd expect to see Eagle Ridge, not Light Ridge as the Thunderbolt IC of choice for OEMs going forward. At least if price is a concern.
Source: AnandTech