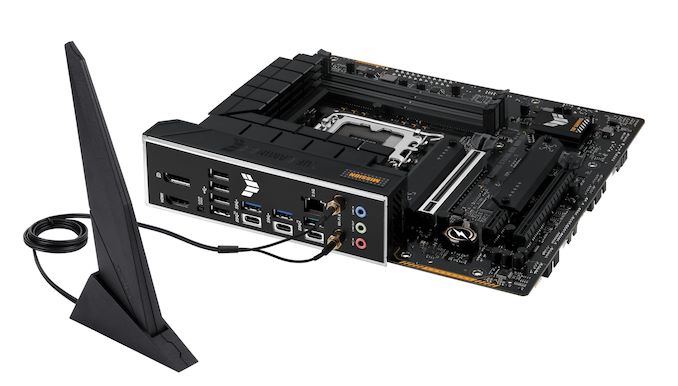 When done correctly and with patience, cable management can be a rewarding experience; for the most part, it's frustrating, especially for premium systems. Much of the onus has been on chassis manufacturers to utilize the space offered to provide ample room for cable management. ASUS looks to go the other way and has announced a motherboard with the primary power connectors and headers on the rear, the TUF Gaming B760M-BTF WIFI D4. Like MSI's Project Zero and GIGABYTE's Project Stealth, ASUS calls its new series Back to 'the' Future, or BTF for short, to distinguish them from the rest of its alphabet spaghetti-named line-ups.
More on the value-oriented side of the fence than their more premium models, ASUS has taken one of its pre-existing motherboards (TUF Gaming B760M-PLUS WIFI) and engineered it so that the power headers and primary connectors such as SATA, fan headers, and front panel USB headers are placed on the rear. Based on the B760 chipset for Intel's 12th Gen and 11th Gen Core series processors, the ASUS TUF Gaming B760M-BTF is a micro-ATX offering and represents ASUS's TUF Gaming series. As it's representative of an entry-level model, ASUS has opted for DDR4 support, as Intel's Alder Lake (11th Gen) and Raptor Lake (12th Gen) both support DDR5 and DDR4.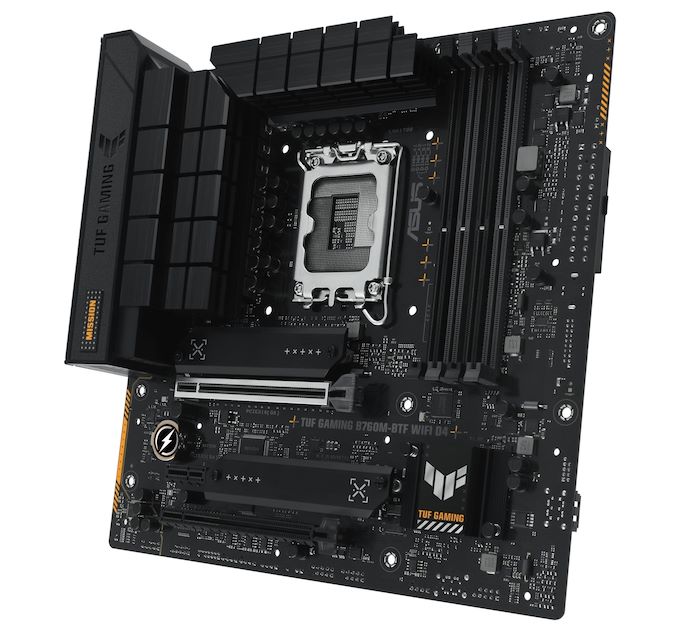 Touching on the core details, the front of the ASUS TUF Gaming B760M-BTF WIFI D4 looks like any typical motherboard sans the connectors on the rear. It has a black PCB with grey highlights and packs an entry-level to mid-range feature set. ASUS includes four memory slots with support for up to DDR4-5333 with a maximum capacity of 128 GB. As a WIFI model, it comes with a WIFI 6 wireless interface, an unspecified Realtek 2.5 GbE controller, and an unspecified HD audio codec. Still, ASUS hasn't provided specifics on these as of yet. ASUS also includes two M.2 connectors on the front with heatsinks, which can support PCIe 4.0 x4 M.2 drives.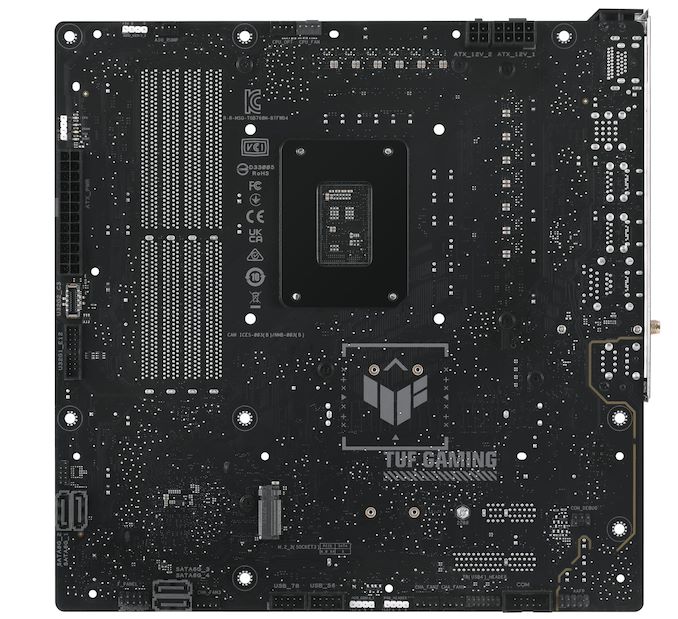 Looking at the rear of the board, this is where all of ASUS's new Back to the Future implementations come into play. All relevant connectors are in the same places as they would be on the front, but they have just been reverse-engineered to protrude out the rear of the case. This includes the 24-pin ATX motherboard, one 8-pin 12 V, and one 4-pin 12 V CPU power input, four SATA ports, front panel USB headers, and eight 4-pin fan headers. There is also a single PCIe 4.0 x4 M.2 slot on the rear, although this doesn't come with a heatsink, so if an NVMe drive is going to be used, it'll likely require a low-profile aftermarket heatsink.
ASUS does include support for USB 3.2 G2x2 on the rear panel through one port, with an additional two USB 3.2 G2 ports (1 x TypeA and C), with two USB 3.2 G1 Type-A and one USB 3.2 G1 Type-C; this means the rear panel has three USB Type-C ports. ASUS also includes four USB 2.0 ports, one DisplayPort, one HDMI output, three 3.5 mm audio outputs, and a clear CMOS button.
Despite the apparent benefits of reducing cable clutter in the main compartment of a system's chassis, an existing chassis will likely need some form of modification to realize its potential fully. This is apparent as the 24-pin motherboard and 12 V CPU power inputs come out of the board and are not at a right angle as we've seen on some boards from other vendors. There is also the likelihood that a new chassis built around this concept will come to market in the coming months. Maybe ASUS has jumped into a DeLorean, time-warped into the future, saw what chassis designs are coming to market, and decided to jump the gun; who knows?
At the time of writing, ASUS hasn't indicated the board's pricing or when the TUF Gaming B760M-BTF WIFI D4 is expected to hit retail shelves. ASUS also hasn't announced whether or not its Back to The Future (BTF) rear-mounted connector design will be featured in other model lines as we go further into 2023.
Source: ASUS