Mushkin Redline XP4000
Mushkin has been providing High Performance memory modules since 1994. While they earned their reputation as an on-line retailer, today, you can buy Mushkin memory from many well-known retailers such as NewEgg, NCIX, AxionTech and many other sources. You can also buy Mushkin memory at their
www.mushkin.com
web site, where you will also find a wealth of information about Mushkin memory products.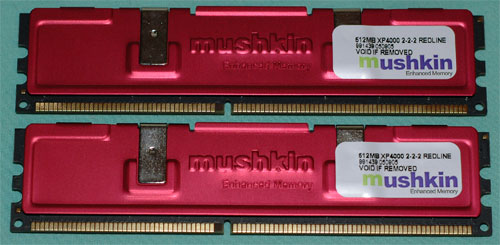 The Mushkin Redline XP4000 modules were supplied as a matched pair of 512MB DIMMs with red heatspreaders. In addition to the DDR500 speed (PC4000), Redline is available as DDR433 (PC3500) parts. Both memory speeds are available as single DIMMs or as a 1GB matched pair of 512MB DIMMs.
It appears that Mushkin uses Winbond CH-die for their Redline memory, the same as OCZ. We say "appears" because most manufacturers using the Winbond UTT chips buy them as blanks and bin them for their speed ratings, so it is very difficult to identify exactly the chips used for the finished product. You can also find BH blanks on the market as well, and the finished product in either CH or BH depends mostly on the "speed-binning" capabilities of the memory manufacturer.
There was some confusion when Mushkin first announced the Redline series regarding the warranty coverage that would be provided, but Mushkin now clearly stands behind their Redline products with the same Lifetime Warranty that they provide for other Mushkin memory. However, Mushkin states that Active Memory cooling
must
be used with Redline modules for overclocking, and we agree.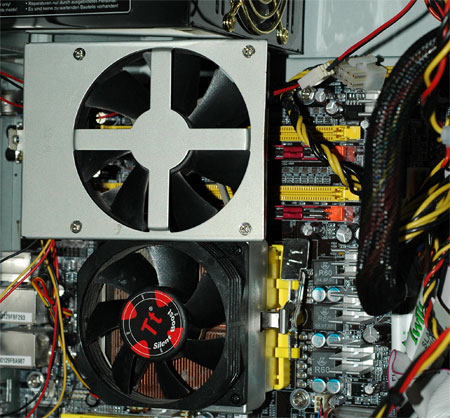 In our own test bed, we mount a 90mm fan over the DIMMs for extra cooling. With the extra voltage required for best performance with Mushkin Redline or OCZ VX, you will find the memory erroring after about 5 minutes unless you provide additional cooling.
Mushkin provides some very sane advice in their Warranty for would-be overclockers of Redline memory:
"Our XP3500 REDLINE eliminates the memory as a potential bottleneck when overclocking. THE REDLINE MEMORY MODULES ARE DESIGNED TO RUN AT HIGHER VOLTAGES UP TO 3.5V AND SUFFICIENT COOLING IS A REQUIREMENT.

Active Cooling Required *----Due to the extreme speed of these modules along with the added voltages used, Mushkin requires end users to Actively cool their memory modules. Modules that are not properly cooled will/may not meet rated timings and speeds, and may become susceptible to premature failure. We generally recommend 15-25cfm of direct airflow over the ram modules which can be easily accomplished with one 60mm or 80mm low rpm fan. This will insure increased stability and lifespan of your Redline modules.

Recommended Platforms--- Mushkin tests all Redline memory modules on Athlon64 platforms. Furthermore, when running two modules, only Socket 939 platforms are validated to run at rated specifications/timings. We currently recommend and validate the Redline memory series on the DFI LanP arty UT NForce4 Ultra-D, DFI LanP arty UT NForce4 SLI-DR, and DFI LanP arty NForce4 SLI-DR boards as they provide the best combination of voltage options and compatibility for the Redline Series. Other motherboards may work, but may require modification for adequate voltages, and may not produce optimal results. Single Channel Athlon64 systems may have a hard time running 2x512mb dimms at rated speeds due to memory load on the single channel memory controller. Pentium4 and AthlonXP systems generally will not obtain rated specifications secondary to motherboard/memory controller limitations. These modules are compatible with most motherboards for Pentium4/AthlonXP CPUs, however end users are advised that lower frequencies achieved."
Mushkin Redline XP4000 Specifications
 Mushkin Redline XP4000 Memory Specifications
Number of DIMMs & Banks
2 DS
DIMM Size
Total Memory
512 MB
Rated Timings
2-2-2-6 at DDR500 at 3.3-3.5V
ACTIVE COOLING REQUIRED
SPD (Auto) Timings
3-3-3-8 (Default 2.6V)
Rated Voltage
3.3V to 3.5V
With Intel's introduction last summer of the 915/925X chipsets with support for DDR2 memory, the primary market for DDR memory has become the excellent AMD Athlon 64 platform. This has been reinforced with the recent 945/955x Intel chipsets, which also use DDR2 memory. It is true that some 915 boards also support DDR, and the continuing Intel Socket 478 also supports DDR memory, but the primary market for DDR memory is now the AMD Athlon 64 platform.
It is worth noting that Mushkin warrants Redline performance
only
for AMD Athlon 64 socket 939 motherboards. Mushkin tells us that the Redline memory may work fine in Intel motherboards at lower voltages, but it is not tested or specified for Intel DDR platforms. In addition, the only unmodified motherboard that can supply the voltages required for top Redline performance is the DFI nForce4 motherboard. For these reasons, Mushkin Redline memory was only tested on the DFI LANParty nF4 SLI-DR Athlon 64 Socket 939 test bed.