Testing Optane Memory
For this review, Intel provided a fully-assembled desktop system with Windows 10 pre-installed and Optane Memory caching configured and enabled. The system was assembled by Intel's Demo Depot Build Center as the equivalent of a typical low to mid-range retail desktop with an i5-7400 processor, a B250 motherboard and 16GB of RAM. Storage is a 1TB 7200RPM WD Black hard drive plus the Optane Memory 32GB module.
Intel Optane Memory Review System
CPU
Intel Core i5-7400
Motherboard
ASUS B250-PLUS
Chipset
Intel B250
Memory
2x 8GB Kingston DDR4-2400 CL17
Case
In Win C583
Power Supply
Cooler Master G550M
OS
Windows 10 64-bit, version 1607
Drivers
Intel Optane Memory version 15.5.0.1051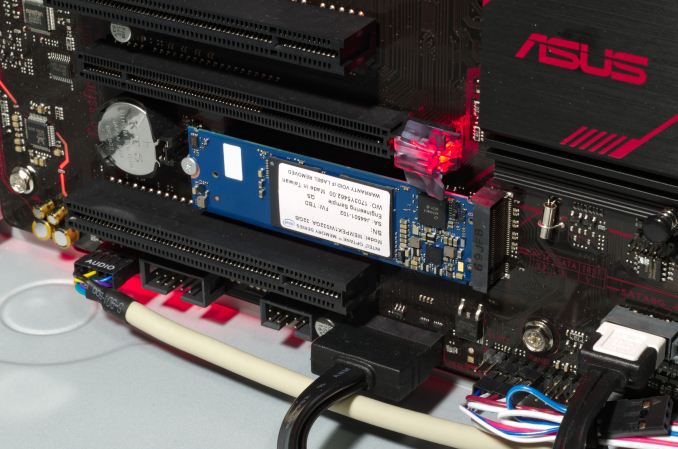 In addition, we tested the Optane Memory's performance and power consumption as a standalone SSD using our own testbed. This allowed us to compare against the Optane SSD DC P4800X and to verify Intel's performance specifications for the Optane Memory.
Unfortunately, this review includes only an abbreviated set of benchmarks, for two reasons: the Optane Memory review system arrived less than a week ago, as I was trying to finish up the P4800X review, and the Optane Memory module did not survive testing. After about a day of benchmarking the Optane Memory review system locked up, and after rebooting the Optane Memory module was not detected and the OS installation was corrupted beyond repair. The drive is not completely dead: Linux can detect it as a NVMe device but cannot use it for storage or even retrieve the drive's error log. In communicating with Intel over the weekend, we were not able to figure out what went wrong, and the replacement module could not be delivered before the publication of this review.
The fact that the Optane Memory module died should not be taken as any serious evidence against the product's reliability. I kill review units once every few months during the course of ordinary testing, and I was due for another failure (ed: it's a bona fide AnandTech tradition). What we call ordinary testing is of course not something that anybody would mistake for just the intended use of the product, and no SSD brand has been entirely free from this kind of problem. However, the fact remains that we don't have as much data to present as we wish, and we don't have enough experience with the product to make final conclusions about it.
For comparison with the Optane Memory caching configuration, we selected the Crucial MX300 525GB and the Samsung 960 EVO 250GB. Both of these are available at retail for slightly less than the price of the Optane Memory 32GB module and the 1TB hard drive. They represent different capacity/performance tradeoffs within the same overall storage budget and are reasonable alternatives to consider when building a system like this Optane Memory review system.
For testing of the Optane Memory caching performance and power consumption, we have SYSmark 2014 SE results. Our synthetic tests of the Optane Memory as a standalone SSD are abbreviated forms of the tests we used for the Optane SSD DC P4800X, with only queue depths up to 16 considered here. Since those tests were originally for an enterprise review, the drives are preconditioned to steady state by filling them twice over with random writes. Our follow-up testing will consider the consumer drives in more ordinary workloads consisting of short bursts of I/O on drives that are not full.